This post may contain affiliate links. Please read my disclosure policy for more details.
Who doesn't love pillowy, creamy, fresh mozzarella cheese? In this collection you'll find 15 terrific fresh mozzarella recipes that are easy to whip up, perfect for any occasion, and absolutely delicious.
Everyone needs some fresh mozzarella in their life! : )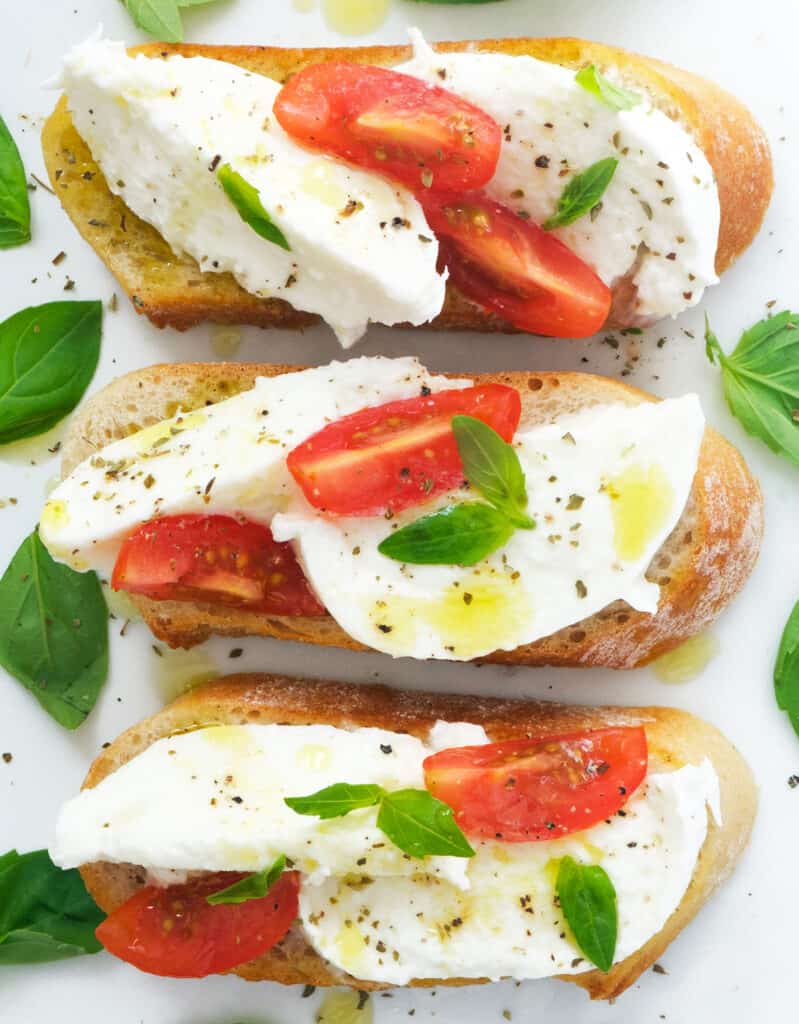 Traditionally, mozzarella was only made from the rich buffalo's milk, and for the purist, that's the only mozzarella. These days, however, mozzarella is generally made from cow's milk and it's available at pretty much any grocery store.
There are two main categories of mozzarella cheese: fresh mozzarella packed in water and low-moisture Mozzarella, commonly known as the "regular Mozzarella" and often sold in pre-shredded bags, string cheese or whole blocks.
In this collection you'll find only recipes that use fresh mozzarella.
The pillowy, bright white cheese, typically produced in the shape of ball and packed in liquid to retain its high moisture content, it's super versatile and goes so well with just about anything.
Creamy and deliciously fresh, it's great tossed in salads, stuffed into sandwiches, stirred into pasta, melted on pizzas.
It's also economical, convenient and takes simple dishes to a whole new level.
Fresh mozzarella is absolutely a must for Italian cuisine and its uses are endless, including baked dishes.
No matter we are after the melty, gooey goodness, Italians always prefer fresh mozzarella over the low-moisture counterpart. : ).
Here you'll find only mouth-watering fresh mozzarella recipes sure to delight! : )
Fresh Mozzarella Recipes
Fresh, melted and deliciously creamy, these fresh mozzarella recipes are sure to please everybody!
If you love these fresh mozzarella recipes…
Gathering similar recipes all in one place is so handy and offers ideas about how to use up basic ingredients that you might have in your pantry or in your fridge!
Here are a few more handful collections of recipes to scroll when you look for ideas:
If you try and love one these fresh mozzarella recipes, or if you have any question, let me know in the comment below. I would love to hear from you!
And for more recipe updates, subscribe my newsletter and follow me on Instagram, Pinterest and Facebook.
Print Recipe
15+ Delicious Fresh Mozzarella Recipes
Who doesn't love pillowy, creamy, fresh mozzarella cheese? In this collection you'll find 15 terrific fresh mozzarella recipes that are easy and absolutely delicious. This simple bruschetta is one of our favorites: easy to make, crispy and full of fresh flavor.Note: Recipe yields 6 servings if you use ciabatta bread and cherry tomatoes (as you see in the picture) and 4 servings if you skip the tomatoes or if you use larger bread slices.
Ingredients
6

cherry tomatoes, ripe and at room temperature (optional)

1 (5oz) 

whole-milk mozzarella ball in water, at room temp.

4 to 6 slices 

ciabatta bread or sourdough (1.5 cm thick)*

1-2

garlic cloves

fine salt or Maldon flaky sea salt

freshly ground black pepper

12

fresh basil leaves, shredded
Instructions
Cut the tomatoes into quarters, the mozzarella into small slices, and your ciabatta bread on the diagonal into slices no thicker than 1.5 cm/ 3/5"

In a small bowl, mix together the tomatoes, ½ Tablespoon of extra virgin olive oil, a pinch of salt, and some shredded basil or oregano. Set aside for 5 minutes.

Place the bread on a baking sheet and toast until crispy and lightly charred if possible. You can use the oven, the broil, the BBQ, a grilled skillet and even a toaster if it's easier for you.

Rub the bread with garlic and top with mozzarella and the tomato mixture. Try to arrange the ingredients nicely.

Sprinkle with salt, freshly ground pepper, and finish with a drizzle of extra virgin olive oil and shredded basil. Bruschetta with mozzarella is ready!
Notes
Note: for more recipe tips or nutritional values, have a look here! : )