This post may contain affiliate links. Please read my disclosure policy for more details.
This easy, breezy baked penne pasta with melted mozzarella and tomato sauce is a delicious and filling dish you never get tired of and perfect to keep you warm this winter!
It's also simple, economical and definitely a crowd-pleaser.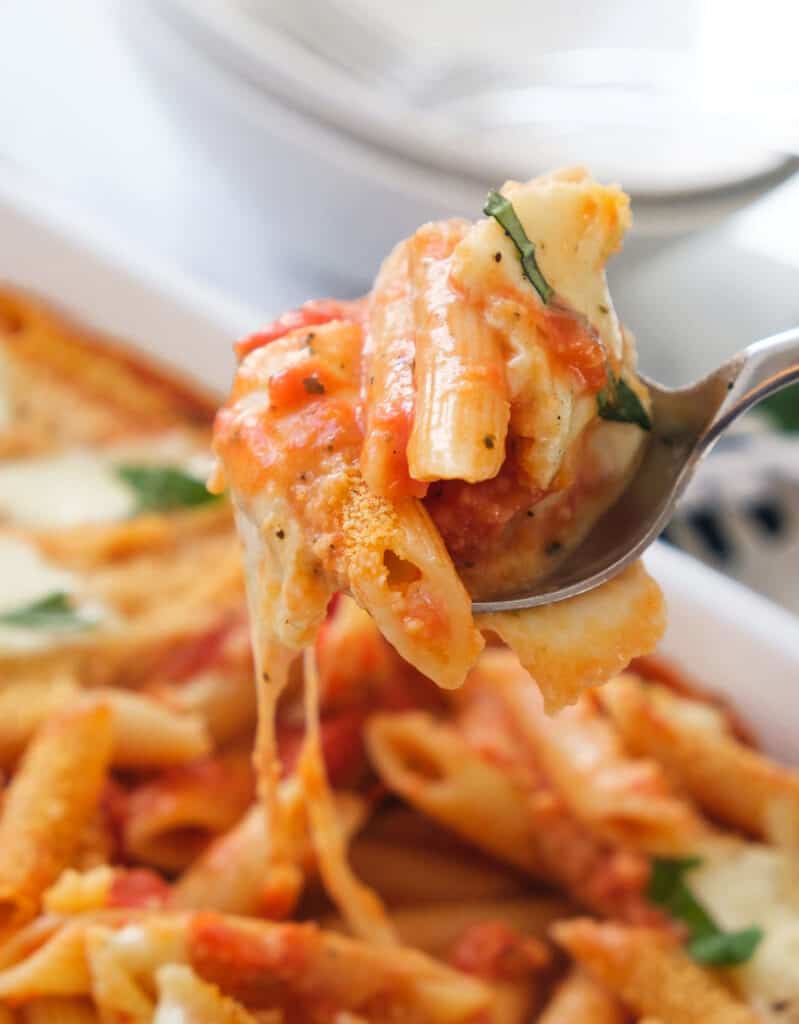 There is nothing quite as comforting as a baked pasta dish that satisfies every carb craving possible, and this no-frills recipe is easy enough to make for a midweek dinner.
Firstly, the penne pasta is cooked with a simple tomato sauce all in one pot, and that means more flavor, almost no washing up, and more time to relax.
Then everything is tossed and topped with creamy mozzarella and parmesan cheese and baked for only 15 minutes until the top is crispy and the mozzarella melted and oozy.
And it's ready.
Cooking a scrumptious family meal doesn't get much easier than this baked penne.
It's really one of those affordable recipes that are perfect for nights where you want comfort food, but can't be bothered to spend time in the kitchen.
Have a look at the recipe below, I'm pretty sure this baked penne will be soon a new favorite. And if you make extra, freeze for later. : )
List of the ingredients
Penne pasta
Canned tomatoes
Fresh or shredded mozzarella
Grated parmesan cheese
Dried basil and oregano
Olive oil
Garlic
Breadcrumbs (optional)
Salt & pepper
How to make baked penne
(Note: this is a quick description, the full recipe is at the bottom of the page)
Sauté the minced garlic in olive oil until fragrant.
Add the canned tomatoes, herbs, salt and pepper. We want to create a quick yet flavorful tomato sauce.
Stir in the penne pasta, water, bring to the boil and cook until the pasta is still a bit undercooked.
Turn the heat off, toss in the parmesan cheese and the diced mozzarella.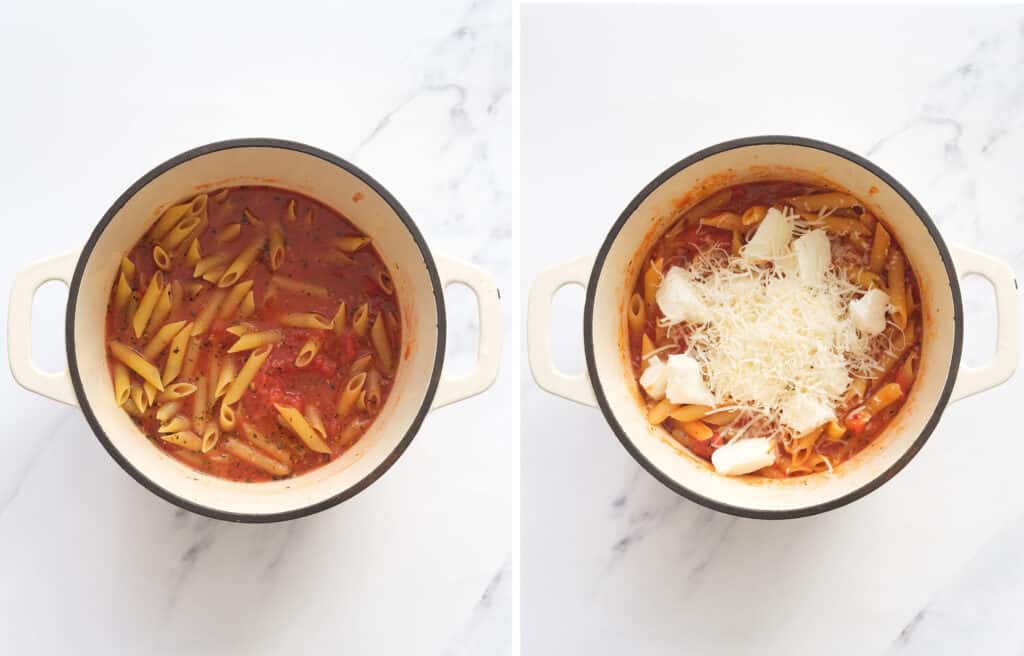 Now you can transfer everything into a shallow ovenproof dish or, if you've used a Dutch oven (cast-iron pot), you can leave everything in the same pot.
Scatter over the rest of the diced mozzarella, some breadcrumbs (optional), and bake in the preheated oven for 15 minutes.
Serve straight away until the mozzarella is nicely melted, and enjoy!
Recipe notes
Baked penne ingredients
Pasta: good-quality dried penne pasta holds up well in the oven and it's great for baked dishes, while a cheaper one can fall apart or get mushy. However, ziti and rigatoni work totally fine instead of penne if you wish.
Canned tomatoes: you can use whatever canned tomatoes you have on hand, from peeled whole tomatoes to diced tomatoes, from fire roasted to crushed tomatoes. Easy, right?
Olive oil and garlic: we use the olive oil to sauté the aromatic garlic to create a flavor base. Butter is totally fine as well.
Herbs: the recipe uses convenient dried basil and oregano to bring extra flavor, but feel free to use fresh basil, parsley or herbs of your choice.
Mozzarella: I use fresh mozzarella balls in water that melts well and has a rich texture and flavor. But low-moisture shredded mozzarella works too.
Parmesan cheese: it adds its wonderful nutty flavor.
Salt & pepper: make sure the pasta is seasoned well before it goes into the oven.
Note: it's important to bake the penne pasta when it's still a bit undercooked (not just al dente), otherwise the additional baking will make the pasta too soft and overdone.
More penne pasta recipes for you!
If you love penne pasta, I'm sure you'll find your cooking inspirations in this collection 10 penne pasta recipes perfect for speedy family dinners.
Below a few of my favorites:
Lastly, I hope if you make and love this baked penne, and if you have any questions, let me know. Leave a comment, send me a message, or rate it. I would love to hear from you!
And for more recipe updates, subscribe my newsletter and follow me on Instagram, Pinterest and Facebook.
Print Recipe
Baked Penne
This easy, breezy baked penne pasta is a delicious and filling dish that is economical, perfect for a family, and definitely a crowd-pleaser.
Ingredients
1

tablespoon

olive oil

2

garlic cloves, minced

1 can

(14oz/400 grams) whole plum tomatoes (diced, crushed are fine too)

½

teaspoon

dried oregano

½

teaspoon

dried basil

¾

teaspoon

fine salt

⅛

teaspoon

ground black pepper

1 cup

(240 ml)

hot water

8oz

(225 grams)

penne pasta

½

cup

grated parmesan cheese

1

cup

diced fresh mozzarella or shredded mozzarella

1

tablespoon

breadcrumbs (optional)
chopped basil, to garnish (optional)
Instructions
Preheat the oven to 180°C/350°F.

In a large pot with a heavy base or in a Dutch oven, warm the olive oil over a medium heat, add the garlic and cook until fragrant and smells good (about 1 minute).

Add the canned tomatoes, herbs, salt, pepper and toss to combine.

Stir in the hot water, penne pasta, bring to the boil, reduce the heat, cover with a lid and cook for about 7-8 minutes or until the pasta is still a bit undercooked (not just al dente).

Turn the heat off, toss in all the parmesan cheese and ⅔ of the mozzarella cheese. Taste and make sure you're happy with the seasoning, you might want to add an extra pinch of salt or some freshly cracked pepper.

Now if you've used a Dutch oven/cast-iron pot, you can bake the penne pasta in the same pot, otherwise truster everything into a baking dish.

Scatter over the remaining mozzarella, breadcrumbs (optional) and bake in middle position for about 15 minutes until the top is lightly browned and the cheese melted.

Sprinkle with parsley or basil if desired, then serve!
Notes
Storage and make ahead: you can cook and assemble this ahead, and either refrigerate or freeze it before the final baking. It's also freezable: if you freeze it, thaw it in the refrigerator overnight before baking.
Baked penne leftovers: they keep well in the fridge for about 3 days if stored in airtight container, and they can be reheated in a microwave or in a frying pan. You can also freeze baked penne pasta, and reheat it once thawed.
Nutrition facts:
 the nutrition values are for one serving and they are based on an online nutrition calculator. It's an estimate only and it should not be considered as a substitute for a professional nutritionist's advice. Please see my
disclosure policies.
Nutrition
Calories:
391
kcal
|
Carbohydrates:
49
g
|
Protein:
18
g
|
Fat:
14
g
|
Saturated Fat:
6
g
|
Polyunsaturated Fat:
1
g
|
Monounsaturated Fat:
5
g
|
Cholesterol:
32
mg
|
Sodium:
955
mg
|
Potassium:
369
mg
|
Fiber:
3
g
|
Sugar:
4
g
|
Vitamin A:
409
IU
|
Vitamin C:
10
mg
|
Calcium:
294
mg
|
Iron:
2
mg