This post may contain affiliate links. Please read my disclosure policy for more details.
Why order out when you can make this stellar olive pizza at home? In this classic flavor combination the crispy pizza crust is topped with mozzarella and delicious juicy olives. It's so simple yet amazingly good!
And 1 MILLION times better (and cheaper!) than delivery, every time!
Are you pizza obsessed? Me too. There's nothing better than the smell of freshly baked pizza, especially when it's packed with delicious, healthy olives. YUMMY!
With their salty bright flavor, olives are one of the key ingredients in the Mediterranean cuisine. They're really so many ways to enjoy them, and they can instantly elevate a recipe such as a quick pasta, simple salad or moist focaccia.
And they are also the star of the show in this fantastic homemade olive pizza!
For this recipe, all you need is good-quality pitted olives, a light and fresh pizza sauce and, more importantly, this super EASY pizza dough that you can make in 1 bowl.
No kneading and no stand mixer required.
The end result is a scrumptious vegetarian pizza with olives that's hard to resist and absolutely perfect for sharing! : )
List of the ingredients
Easy no knead pizza dough (or your fav pizza dough)
Mozzarella cheese
Pitted olives (any color)
Oregano
Chili flakes (optional)
Extra virgin olive oil
Salt & pepper
How to make olive pizza
(Note: this is a quick description, the full recipe is at the bottom of the page)
Start by making this dough (with video tutorial, it's a no brainer).
Make this easy no-cook pizza sauce (it takes minutes!).
When the dough is ready, stretch it gently into a rectangular shape.
Top with mozzarella, olives, oregano, chili flakes, salt and pepper.
Bake until golden and deliciously crispy. Enjoy!
Recipe notes
Olive pizza ingredients
Homemade pizza dough: this easy no-knead pizza dough is my go-to recipe when I make pizza. It's so easy to whip up in 1 bowl and makes a lovely crispy crust. But feel free to use your favorite homemade or store-bought pizza dough.
Pizza sauce: this super easy pizza sauce is packed with fresh flavor and goes beautifully with any vegetarian topping such as olives.
Olives: good-quality pitted olives make the difference here. Use mixed variates if you wish, black olives, Kalamata olives, Spanish green olives, also these delicious marinated spicy olives work very well.
Mozzarella: I use only whole milk mozzarella in water for my pizza recipes, but you can use shredded firm mozzarella if you would like. If you use mozzarella in water, just keep in mind it's important not to overload the pizza with it.
Oregano: for a more Mediterranean flavor, oregano goes perfectly with olives.
Red pepper flakes (chili flakes): for a touch of heat!
Tips for the best pizza with olives
Preheat the oven. A hot oven is so important and gives a burst of initial heat!
Bake the pizza on the bottom rack of the oven, close to the heating element. This is the sweet spot in my oven and makes the bottom of my pizza golden and crispy. Make sure to use the position that in your oven works best, each oven is different.
Don't use a rolling pin! Use your fingers to stretch the pizza dough and try to keep all those nice gas bubbles inside the dough.
Bake your pizza on a hot pizza stone or pizza steel. Alternatively, you can use a baking tray (see my tips in the recipe card!) and make sure the pizza stone is inside during preheat, so it's already hot when you bake your pizza. This will avoid a soggy bottom and makes the crust crispier.
Use parchment paper and a pizza peel (or the back of a baking sheet) to transfer your pizza to the hot stone. This helps especially if you use a sticky high-hydration dough like my easy no-knead dough.
More easy 1-bowl pizza recipes?
These amazing collection of 17 veggie pizzas and 25 YUMMY pizza toppings or Focaccia toppings are perfect to inspire you!
Here a few of my favs, I love all of them!
If you make this olive pizza this weekend, or you have a question, let me know by leaving a comment. I would love to hear from you and get your feedback! x
And for more recipe updates, subscribe my newsletter and follow me on Instagram, Pinterest and Facebook.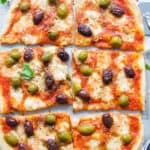 Print Recipe
Olive Pizza
Why order out when you can make this stellar olive pizza at home? In this classic flavor combination the crispy pizza crust is topped with mozzarella and delicious juicy olives. It's so simple yet amazingly good!
Ingredients
Pizza dough
1

easy pizza dough (or your fav dough)
Olive pizza topping
½ cup

(120 ml)

pizza sauce

1 cup

(180 grams) fresh mozzarella in water, diced (shredded is ok too)

1 cup

(140 grams) pitted olives (any color)

1

teaspoon

dried oregano

¼ – ½

teaspoon

chili flakes, to taste (optional)

½

Tablespoon

extra virgin olive oil (optional)
Instructions
Olive pizza topping
Shape the dough: when the dough is ready follow step 5, place the dough on a parchment paper sheet and starting from the center, gently press it out with your fingers until you get approx a 9×13 inch pizza. Then gently place the dough onto a pizza peel or onto the back of a rimmed baking sheet. 

Add the topping: top the pizza evenly with diced mozzarella, olives, oregano, chili flakes if you use it. Finally sprinkle a touch of fine salt on top and a little drizzle of extra virgin olive oil (optional).

Bake the pizza: make sure the oven is hot and use the pizza peel to carefully transfer the pizza onto the preheated pizza stone. Bake the pizza until the cheese and crust are nicely browned, approx 15 minutes. Each oven is different, keep an eye on it (e.g. in a forced fan oven it will take about 8-10 minutes).

Serve: allow the pizza to cool for a minute or two before serving and drizzle with good-quality extra virgin olive oil, also garlic oil would be nice. Slice and serve immediately.
Notes
What to use instead of a pizza stone? Each oven usually has a rimmed baking sheet or a large cookie sheet that you can simply invert it and place on the lowest shelf of your oven before you preheat it. When the baking sheet is right-side up, taking the pizza in and out of the oven will be easier and the preheated baking sheet will make a nice and crisp pizza crust
How to measure flour? I use both US cups and grams. The cups of flour are leveled, which means you have to fill the measuring cup all the way to the top letting the flour flow over a little. Then, use the back of a knife to level the top off. However, a digital scale is an excellent kitchen tool and gives a more correct weight. 
Pizza with olives leftovers: cover leftover pizza tightly and store in the refrigerator up to 1 day or freeze up to 3 months. Thaw and reheat in the oven the frozen pizza leftovers until nice and crispy.