This post may contain affiliate links. Please read my disclosure policy for more details.
Who can resist this easy fresh tomato pizza? Its golden crust pairs beautifully with fresh juicy tomatoes and creamy mozzarella. It's truly a marriage made in heaven, perfect with a drizzle of extra virgin olive oil and totally delicious!
The recipe uses my favorite no-knead pizza dough, it's so easy to whip up in just one bowl and great to use up fresh Summer tomatoes.
I'm a huge pizza lover and big fan of simple ingredients and easy, vegetarian recipes. And this fresh tomato pizza ticks all the boxes.
No processed toppings, no insanely amount of fat, but only fresh ingredients that taste amazing.
Video: how to make easy pizza dough
Believe me, you'll love the crispy crust and the delicious flavor, and the fact that the dough comes together in a snap.
No mixer and no kneading are required, you need only a bowl and a spoon!
Even a novice can make it this easy tomato pizza, ready?
List of the ingredients
All-purpose flour
Fine salt (sea salt flakes for the topping are optional, but so delicious)
Extra virgin olive oil or olive oil
Fresh tomatoes (any kind, just make sure they're ripe and taste nice)
Mozzarella
Basil, arugula, or a sprinkle of oregano or Italian herb seasoning (optional)
How to make fresh tomato pizza
(Note: this is a quick description with step-by-step photos, the full recipe is at the bottom of the page)
Mix the dry ingredients in 1 bowl.
Add water and olive oil.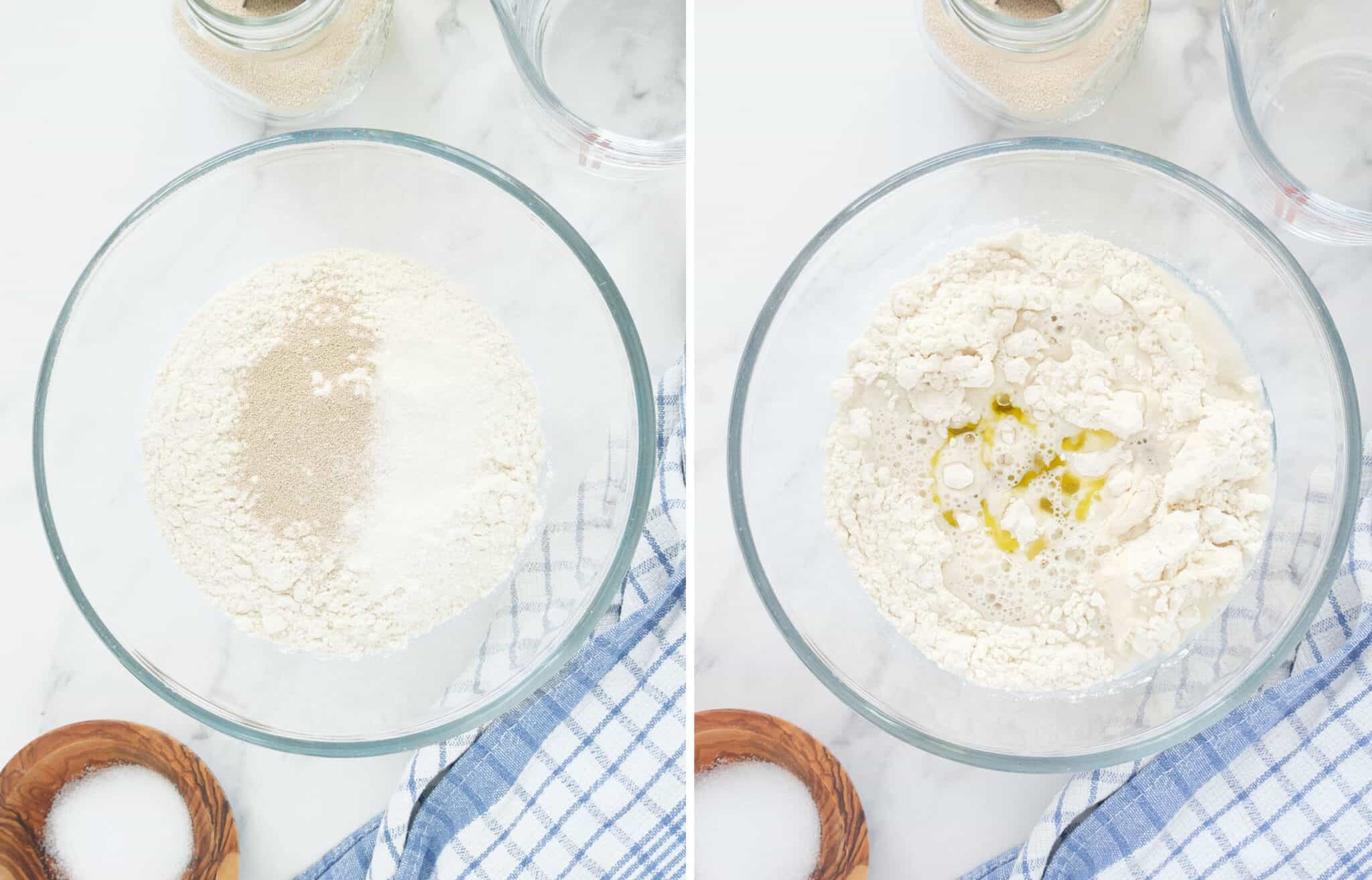 Stir with a spoon or a spatula to incorporate the flour into the water.
Let it rest for in a warm place until bubbly and doubled in size (about 1 hour).
Pour the dough into a greased baking pan or onto a parchment paper sheet (if you use a pizza stone).
Dust with flour and stretch it with your fingers (no rolling pin).
Top with mozzarella, fresh tomatoes, a sprinkle of salt, olive oil, and bake!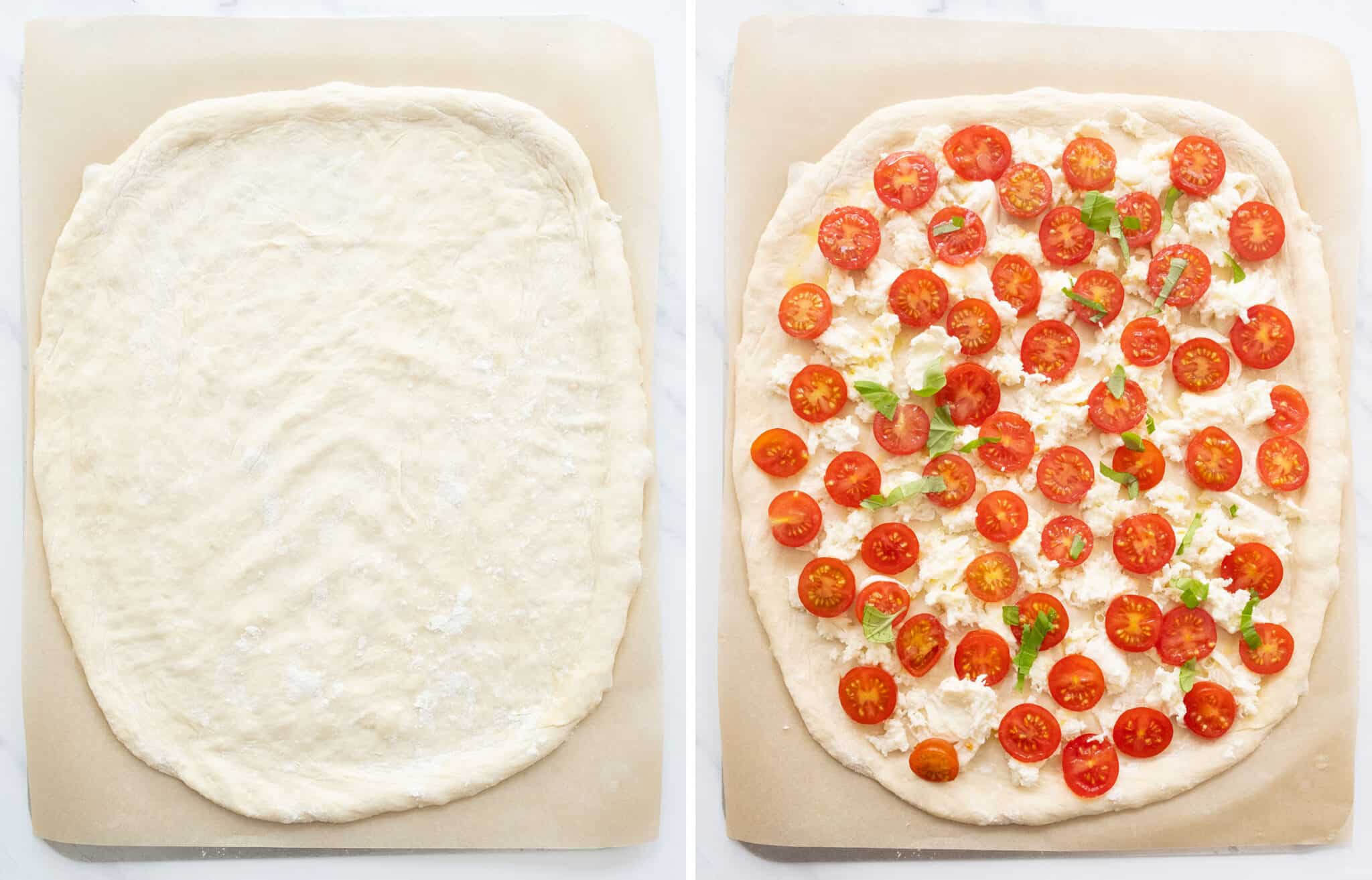 Recipe notes & tips
Fresh tomato pizza ingredients
Flour: all-purpose flour is widely available, inexpensive and perfect for this recipe. Choose premium unbleached flour if possible and be sure to measure the flour properly (see notes in the recipe card).
Instant yeast: it's very easy to use, you can stir it directly into the dry ingredients and doesn't require any activation in water. Alternatively, Active dry yeast is totally fine, but it needs to be activated in water and to get foamy before you add it to the dry ingredients (check the manufacturer's instructions).
Fresh tomatoes: this easy pizza is terrific to use up any kind of fresh tomatoes as long as they're ripe and taste good (plum, cherry, on the vine, all of them work fine). However, if you use large tomatoes, make sure they don't release too much water when you slice them, and if they do, just remove excess water and seeds with a dessert spoon.
Extra virgin olive oil: it will make your pizza with tomatoes shine. Use a drizzle before and after baking to enhance its fragrant flavor.
Herbs: for the same reason, I love adding fresh basil leaves before and after, but arugula, fresh thyme, convenient dry oregano or Italian seasoning are fine.
Salt: I love a sprinkle of sea salt flakes, they're totally optional but taste amazing on pizza and focaccia.
Tips for the best fresh tomato pizza
This easy pizza recipe is meant to be perfect for delicious Summer pizza nights.
Here are a few tips to make this easy no-knead dough and to get a lovely crispy crust:
Stir the ingredients in 1 bowl until combined. Lumps are fine.
Place the bowl in a warm place until the dough is double in size.
Don't use a rolling pin, it pushes out gas, bubbles and makes a flat pizza!
Since the dough is sticky, sprinkle some flour over it and stretch evenly with your fingers instead. That will help to make nice crust edges and a light, airy pizza.
Use parchment paper or a large greased baking sheet.
Make sure the oven is hot before you put the pizza in.
Place the rack or your pizza stone in the bottom position to get as much radiant heat from the bottom as possible in order to get a crust and not soggy bottom. and if you don't have a pizza stone, check my tips in the recipe card!
Last but not least, use good-quality ingredients and don't forget a drizzle of extra virgin olive oil.
Note: this recipe uses a high hydration dough which means that the amount of water is over 80% of the amount of flour. It's a bit sticky, but easy to make in 1 bowl and makes a light, crispy pizza crust.
More fresh tomato recipes:
More easy no-knead pizza recipes:
If you make this easy fresh tomato pizza this weekend, or you have a question, let me know by leaving a comment. I would love to hear from you! x
And for more recipe updates, follow me on Instagram, Pinterest and Facebook.
Print Recipe
Easy Fresh Tomato Pizza (no-knead)
Who can resist this easy fresh tomato pizza? Its golden crust pairs beautifully with fresh juicy tomatoes and creamy mozzarella. It's truly a marriage made in heaven, perfect with a drizzle of extra virgin olive oil and totally delicious!Quantities yieald 2 regular servings or 6 smaller servings.
Ingredients
Easy Pizza Dough
1 ½ cup + 2 Tbsps

(210 grams) all-purpose flour or bread flour (use leveled cups, see notes), plus more flour to sprinkle

½ tsp

Instant yeast (or dry Active yeast, see notes)

½ tsp

fine salt

¾ cup

(180 grams) water, lukewarm

¾ Tbsp

olive oil or extra virgin olive oil
Topping
5oz

(140 grams) fresh mozzarella, cut into chunks or shredded

11oz

(approx 300 grams) fresh tomatoes (any kind of ripe tomatoes)
fine salt or sea salt flakes, to sprinkle
extra virgin olive oil, to drizzle
fresh basil leaves, to garnish (or oregano, arugula, fresh thyme, Italian seasoning)
Instructions
MIX IN 1 BOWL: mix flour, instant yeast, and salt until combined. Add water, olive oil, and stir with a spatula or a spoon to incorporate the dry ingredients into the liquid. While stirring, scrape the bottom of the bowl to make sure to gather all the flour. The dough looks sticky, not smooth, and lumps are ok. 

PROOFING TIME: cover the bowl with plastic wrap or a damp tea towel, place in a warm place, and let it rest for about 1 hour (even 1 ½ hour if time allows), or just until the dough has doubled in sized and looks bubbly.

PREHEAT THE OVEN: place the rack or your pizza stone close to bottom heating element, and preheat the oven to 450°F/230°C. Cut a large piece of parchment paper or grease or line with parchment paper a large baking sheet (if you don't use a pizza stone).

STRETCH THE DOUGH: scrape the edges of the bowl with a spatula, pour the dough onto the preparred parchment paper, and sprinkle some flour to reduce stickiness. Starting from the center and gently press it out with your fingers until you get approx a 9×13 inch pizza. You might need extra flour during this step.

TOPPING: top with mozzarella, tomatoes, sprinkle with some salt, fresh basil leaves (oregano or Italian seasoning are fine too), and drizzle with olive oil.

BAKE: place your baking sheet on the lower shelf – or slide the pizza onto the pizza stone if you use one – and bake for about 15 minutes, or until nice and crusty. However, keep in mind each oven is different, keep an eye on it (e.g. in a forced fan oven it will take about 8-10 minutes).

SERVE: with an extra drizzle of extra virgin olive oil, and fresh basil leaves, or arugula if you wish. Enjoy!
Notes
LUKEWARM WATER:  the water should be mildly warm, not too cold not too hot.
YEAST: you can use Active dry yeast instead of instant yeast in this recipe, however, keep in mind Active yeast needs to be activated in water and let it sit until slightly foamy (follow the manufacturer's instructions) and allows more proofing time is needed.
FLOUR:  you can use bread flour instead of all-purpose flour, it's fine. But whole-wheat flour, although healthier than white flour,  makes a dense, less crusty pizza. If you wish to use it, I would advice using no more than a 1/3 of the flour. Also, keep in mind it might change the water absorption.
HOW TO MEASURE FLOUR: I use both US cups and grams. The cups of flour are leveled: fill the measuring cup all the way to the top letting the flour flow over a little. Then, use the back of a knife to level the top off. However, a digital scale is an excellent kitchen tool and gives a more correct weight. 
WATER ABSORPTION: water absorption is the amount of water taken up by flour and may vary significantly depending on the type of flour, brand, and weather conditions. When you add water to the flour, start with the amount stated in the recipe. If the liquid is not enough to achieve the dough consistency, just add gradually a little extra water (1 or 2 Tbsp) until the flour has been incorporated.
WHAT TO USE INSTEAD OF A PIZZA STONE? Invert and preheat the baking sheet instead of a pizza stone. Each oven usually has a rimmed baking sheet that you can simply invert it and place on the lowest shelf of your oven before you preheat it. Then place your pizza and parchment paper on a pizza peel or on a large tray and, when the oven is hot and it's time to bake, slide the pizza onto the hot reverted baking sheet. 
HOW LONG DOES FRESH TOMATO PIZZA LAST? Once pizza is cold, place it in a large freezer bag and refrigerate for up to 2 days in the fridge. Alternately, wrap your pizza in cling film or place it in a freezer bag, make sure you squeeze the air out and freeze it up to 2 months. Defrost at room temperature. Toast your leftover pizza in the oven, enjoy
WHAT TO SERVE WITH FRESH TOMATO PIZZA? It's a good idea to whip up light and healthy sides to go with pizza. You might try this spicy chickpea salad to this cannellini bean salads if you want to add plant-based protein to the meal. Or you can make a quick tomato and onion salad or a cabbage salad, for a lighter side packed with vitamins and flavor.
NUTRITION FACTS: please note that the nutrition values are based on an online nutrition calculator.  It's an estimate only and it should not be considered a substitute for a professional nutritionist's advice. The nutrition values are for one small serving (about  6 x 4 inches each), the final drizzle of olive oil is not included.
Nutrition
Calories:
223
kcal
|
Carbohydrates:
29
g
|
Protein:
9
g
|
Fat:
7
g
|
Saturated Fat:
3
g
|
Polyunsaturated Fat:
1
g
|
Monounsaturated Fat:
3
g
|
Cholesterol:
18
mg
|
Sodium:
473
mg
|
Potassium:
179
mg
|
Fiber:
2
g
|
Sugar:
2
g
|
Vitamin A:
574
IU
|
Vitamin C:
7
mg
|
Calcium:
128
mg
|
Iron:
2
mg