This post may contain affiliate links. Please read my disclosure policy for more details.
Ready for a terrific pizza night? Here you'll find 17 yummy veggie pizza recipes packed with fresh, delicious ingredients sure to delight vegetarians and carnivores alike.
Let's forget the typical processed pizza toppings, and let the glorious vegetables sing with their colors and flavors.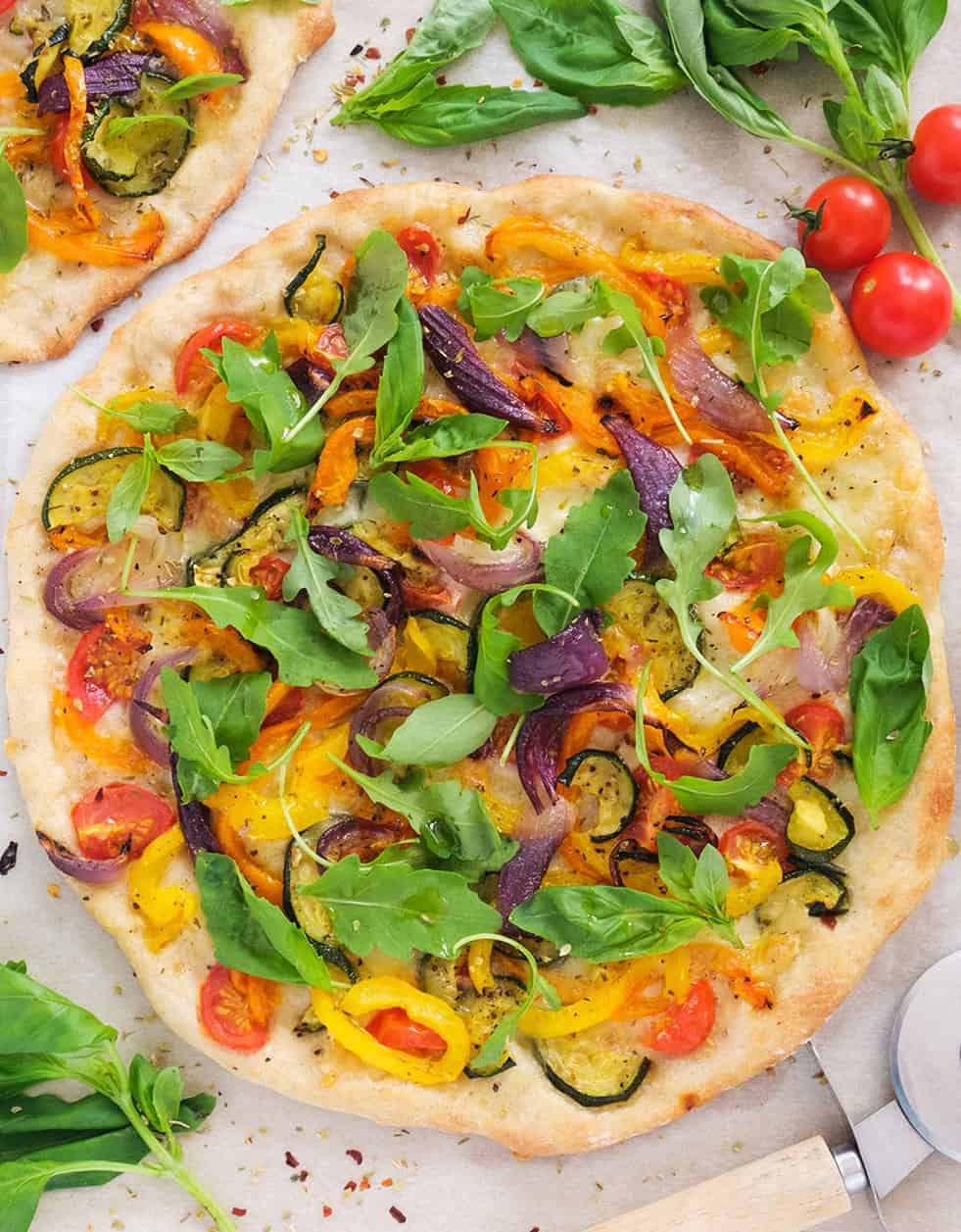 How do you make veggie pizza? Think of the crispy pizza crust, the creamy mozzarella cheese, the fresh, healthy veggies on top. It's easy to make, and playing around with a variety of vegetables offers plenty of delicious combinations.
What vegetables go well on a pizza
I bake pizza for my family using any kind of vegetables, and I usually ditch processed toppings (apart from the creamy, deliciously melted mozzarella!).
Fresh tomatoes, onions, arugula, kale, eggplants, bell peppers, spinach, zucchini, mushrooms and more. They all make flavorsome vegetarian pizza toppings. Some vegetables need to be cooked or roasted to bring out their flavors, while others vegetables are best when they're raw. You can also use jarred artichokes, delicious sun-dried tomatoes or peppers for convenience.

For the tomato sauce, we love this easy pizza sauce, so easy to make from scratch! It's the classic Italian no-cook pizza sauce: light, full of fresh bright flavor, and ready in minutes. It doesn't contain preservatives, it tastes WAY better than any store-bought pizza sauce, and it's perfect with veggies.
Have a look at the bottom of the post for more inspirations and tips… the sky is the limit!
How to make veggie pizza crust
For the veggie pizza dough recipe, I use my favorite no-knead dough (see the video tutorial below). It's easy and it comes together in a bowl with zero effort.
However, you can use whatever dough you like. A store-bough pizza dough, your favorite pizza dough recipe or even crescent roll dough if that makes your life easier.
Watch how to make easy pizza dough
Our favorite veggie pizza recipes
How many types of veggie pizza are there? I'm happy to say there're so many combinations to chose from, and here I've gathered for you 16 lovely ideas to jazz up your pizza night.
This scrumptious pizza with peppers is a real treat for any pizza lover! It's crusty, full of flavor, and packed with juicy peppers, cheese and fresh basil leaves. It's a feast for the eyes and taste buds.
This is one of our favorite vegetarian pizza, hands off! The golden crust is topped with mozzarella and convenient canned artichokes marinated with hints of garlic, lemon and herbs. It's deliciously fresh, a bit zesty, and the homemade marinate takes the artichoke hearts to the next level.
This crazy delicious Caprese pizza is a dream: crusty bottom, deliciously simple topping and a drizzle of flavorsome extra virgin olive oil.
So good… You'll never want to order take out again!
This has been one of my favorite pizza as long as I can remember. Every pizzeria in Italy has its own classic veggie pizza on the menu. It's called "vegetariana", sometimes "ortolana" (greengrocer). The topping is made with roasted or grilled peppers, zucchini, eggplants and red onions. It's delightful and a breeze to make!
What about using a whole wheat pizza dough? It makes a healthy pizza base packed with fiber, nutrients and goes so well with just about anything. This recipe uses the perfect mix of ingredients to make a crispy, light pizza that tastes as good as a regular pizza. I love the arugula and black olives on top!
We're in love with this scrumptious Greek-style pizza! The topping is made with red onions, tomatoes, aromatic oregano, Greek olives and the rich, tangy feta cheese. Simple ingredients full of Mediterranean flavor.
Pizza with zucchini is perfect for your summer gatherings! Its crispy crust and shaved parmesan pair beautifully with fresh, marinated zucchini. Plus, it's super easy to make. Good news? You don't need to cook zucchini, but I'll show you how to save time and add plenty of zucchini to your pizza, not just a few slices for decoration.
This easy pizza with arugula is one of our favorites! You might be surprised, but raw arugula is a popular pizza topping in Italy. Its fresh flavor lends lightness to the tomato sauce and rich mozzarella making a great contrast. It also makes a wonderful match with salty parmesan cheese, turning a simple pizza into a gourmet vegetarian pizza. Added bonus? Arugula is also packed with nutrients including vitamin A and vitamin C.
This is one of the best veggie pizza recipes and makes a perfect weeknight meal! You will love the flavorsome, healthy kale pesto, and the creamy cheese. How good is that?
This homemade veggie pizza recipe with pesto is easy to make from scratch. It's loaded with juicy tomatoes, garlic flavor and a whole 10-oz bag of spinach! The crumbled feta on top makes a scrumptious vegetarian pizza that everyone loves, but some cream cheese or cheddar cheese work too!
What about veggie pizza recipes topped with artichokes or super healthy brussels sprouts? I love that golden brown crust!
Who can resist this slice of pizza? Its golden crust pairs beautifully with fresh juicy tomatoes. It's truly a marriage made in heaven, perfect with a drizzle of extra virgin olive oil and totally delicious! it's a lovely vegetarian recipe to use up fresh Summer tomatoes.
Here you get a crispy crust baked with just a super thin layer of pizza sauce, mozzarella, and topped off with a complete bomb-overload of Italian-y chopped salad with homemade Italian dressing. The recipe is not 100% vegetarian, but it looks so good, packed with protein, and makes a great cold veggie pizza recipe.
And if you look for vegan pizza toppings or dairy-free pizza, don't miss this delicious vegan recipe that even meat eaters will love! With creamy cashew sauce, summer veggies, broccoli, corn and sun-dried tomatoes, it's fun to eat and looks lovely too.
Here two other vibrant vegan pizza recipes with fruit and carrots!
Recipe notes & Faq
Shall I cook veggies before put them on pizza?
It depends on the type of vegetables. Here are a few examples:
The most versatile: tomatoes, zucchini, mushrooms, and onions can be used either cooked or raw, they always taste great on pizza.

When to cook them: bell peppers, asparagus, broccoli, kale, spinach or cauliflower need to be cooked or roasted to get the most in term of flavor and texture. However, you can find some recipes calling for raw spinach or peppers to make the preparation easier. But if they call for raw cauliflower… run away! lol

When to use them raw: arugula and fresh herbs like basil, dill or parsley taste amazing when they're raw.

Jarred or canned options: think of sun-dried tomatoes, artichokes, bell peppers, eggplants, mushrooms… and olives (although they're fruit! ;). They are convenient and taste delicious on pizza.
How do you make veggie pizza recipes not soggy?
There're a few golden rules that help in that soggy bottom situation:
Less is more! Essentially, this means don't overload your pizza with toppings. Wet ingredients like mozzarella and many vegetables might release plenty of moisture that makes your pizza bottom soggy. And you don't want that.
The hotter the better. Make sure your oven is preheat and super hot before you bake your pizza. That burst of initial heat makes pizza puffy and crusty.
Use the lowest rack. Place your pizza stone or your baking sheet at the bottom of the oven, ideally close to the heating element.
Use hot pizza stone or pizza steel if you can. And if you don't have a pizza stone, you can use a baking sheet or a large pan (see my tips in the recipe card!).
Ready for a terrific pizza night? : )
If you make one these yummy veggie pizza recipes, or if you have any questions, let me know! Leave a comment, send me a message, or rate it.
I would love to hear from you!
And for more recipe updates, subscribe my newsletter and follow me on Instagram, Pinterest and Facebook.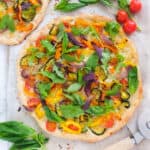 Print Recipe
17 Yummy Veggie Pizza Recipes
Ready for a terrific pizza night? Here you'll find 17 yummy veggie pizza recipes packed with fresh, delicious ingredients sure to delight vegetarians and carnivores alike. Below you'll find one of our favorite recipes topped with roasted vegetables and arugula.
Ingredients
Easy pizza dough
1 ½ cup + 2 Tbsps

(210 grams) all-purpose flour (leveled cups, see notes), plus more flour to sprinkle

½

tsp

Instant yeast (or dry Active yeast, see notes)

½

tsp

fine salt

¾ cup

(180 grams) water, lukewarm

¾

Tbsp

Olive oil or extra virgin olive oil
Vegetable topping
5oz

(150 grams) fresh mozzarella (or from ½ to ⅓ cup shredded firm mozzarella)

1

red onion, sliced

1

zucchini, cut it into ¼ inch slices

2

bell peppers, cut it into ¼ inch slices

1

cup

cherry tomatoes, cut into quarters or into halves

1

handful arugula, washed

10

basil leaves

1

tsp

 dried oregano (optional)

salt & pepper
Instructions
Pizza dough
Pizza dough: follow the easy no-knead pizza recipe to prepare the dough. It takes 5 minutes of prep time and 1 hour of proofing time. When the dough has doubled in size, start making the veggie topping.
Veggie topping
Preheat the oven to 240°C/465°F and place the rack on the lowest position. Line a baking sheet with parchment paper and spread the sliced vegetables without overlapping; season with salt, pepper, and spray or drizzle a little olive oil. A good pinch of oregano is optional.

Bake for about 20 minutes, until they're golden. I leave the baking sheet on the lowest shelf for 15 minutes, and I move it closer to the broil for the last 5 minutes. But keep an eye on them because they might burn easily.

Shape the dough: while the veggies are in the oven, prepare 2 parchment paper sheets. Using a spatula, divide the dough by pouring half of it onto each sheet (you'll find all the tips and video here). Sprinkle some flour over and, starting from the center, gently press it out with your fingers to get approx 2 13-inch round pizza (or you can make a whole large pizza without diving the dough).

Remove the veggies from the oven, but don't turn it off. Place a pizza stone or a large baking sheet on the lowest rack instead and preheat for at least 10-15 minutes to make a nice pizza crust.

Topping: Scatter the diced mozzarella, the vegetables and the cherry tomatoes over the pizza. Season with salt, pepper, and sprinkle with oregano.  

Bake: Slide the pizza onto the pizza stone or onto the hot baking sheet and bake for about 15 minutes, or until golden and crusty. Each oven is different, keep an eye on it (e.g. in a forced fan oven it will take about 8-10 minutes). Repeat for the second pizza.

Serve warm, top with a handful of fresh arugula, some fresh basil leaves and a drizzle of extra virgin olive oil. Enjoy.
Notes
Yeast: Active dry yeast and instant yeast can be used interchangeably in this recipe.  How to measure flour: I use both US cups and grams. The cups of flour are leveled: fill the measuring cup all the way to the top letting the flour flow over a little. Then, use the back of a knife to level the top off. However, a digital scale is an excellent kitchen tool and gives a more correct weight.  Flour: unbleached all-purpose flour is perfect for pizza, but you can use bread flour instead, it's totally fine.  What to use instead of a pizza stone? Each oven usually has a rimmed baking sheet that you can simply invert it and place on the lowest shelf of your oven before you preheat the oven. Then place your pizza and parchment paper on a pizza peel or on a large tray and, when the oven is hot and it's time to bake, slide the pizza onto the hot reverted baking sheet. This way, taking the pizza in and out of the oven will be easier than if the baking sheet was right-side up, and at the same time the preheated baking sheet will make a crisp pizza crust.  How long does veggie pizza last? Once pizza is cold, place it in a large freezer bag and refrigerate for up to 2 days in the fridge. Alternately, remove arugula and basil, wrap your pizza in cling film or place it in a freezer bag, make sure you squeeze the air out and freeze it up to 2 months. Defrost at room temperature, and toast and serve the leftover warm. NUTRITION FACTS: please note that the nutrition values are based on an online nutrition calculator.  It's an estimate only and it should not be considered a substitute for a professional nutritionist's advice. The nutrition values are for one serving (about half round pizza).
Nutrition
Calories:
378
kcal
|
Carbohydrates:
51
g
|
Protein:
16
g
|
Fat:
12
g
|
Saturated Fat:
5
g
|
Polyunsaturated Fat:
1
g
|
Monounsaturated Fat:
5
g
|
Cholesterol:
30
mg
|
Sodium:
541
mg
|
Potassium:
505
mg
|
Fiber:
4
g
|
Sugar:
7
g
|
Vitamin A:
2628
IU
|
Vitamin C:
97
mg
|
Calcium:
234
mg
|
Iron:
4
mg