This post may contain affiliate links. Please read my disclosure policy for more details.
Let's celebrate spring with a delicious asparagus pizza that is crispy, full of fresh flavor and amazingly satisfying.
This is definitely one of our favorite veggie pizza recipes!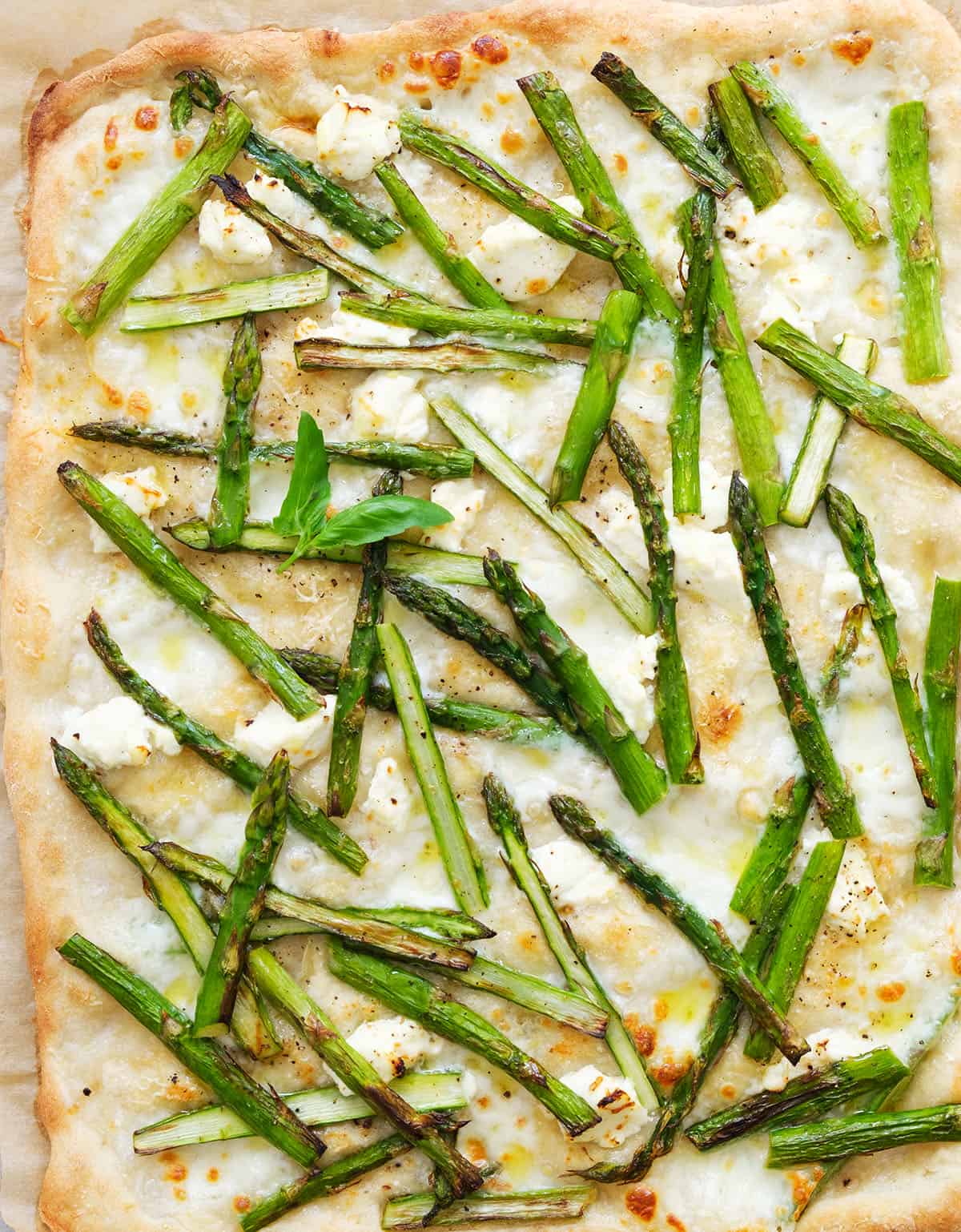 It's no secret that pizza is one of my big LOVES, especially dreamy white pizzas with lots of cheese and veggies.
And I've done several versions with zucchini, artichokes, spinach, tomatoes and also with red onions – but I have no idea why I've never shared this wonderful asparagus pizza before!
I mean, a truly delicious meatless pizza that is so bright, fresh and full of vibrance and flavor.
So let's talk it through!
We start with my super easy no-knead pizza dough, a real deal. But you can also start with a pre-made pizza crust if you're short on time.
Once the dough is puffed up nicely, we flatten it into a large thin pizza and we sprinkle with tangy mozzarella cheese, cream cheese, parmesan, and slightly sweet and juicy sautéed asparagus.
Then we bake it in a hot oven until golden, melted and bubbly and we enjoy it with a drizzle of extra virgin olive oil and fresh basil leaves.
What a marvellous combination of flavor and texture. Doesn't get much better than that!
This asparagus pizza is a must-try for pizza lovers who want to switch things up. Give it a try and enjoy the deliciousness!
List of the ingredients
No-knead pizza dough (or pre-made crust or your favorite recipe)
Fresh asparagus
Mozzarella
Cream cheese (soft or block)
Parmesan
Salt & pepper
Extra virgin olive oil, to serve
Fresh basil, to serve (optional)
How to make asparagus pizza
(Note: this is a quick description, the full recipe is at the bottom of the page)
Make this dough (with video tutorial, super easy). You can also make your own using your favorite recipe or you can use store-bought pizza crust.
Cut the asparagus. I usually snap the woody ends off: I grab a few asparagus and snap off the bottom which is the woody fibrous end. But you can use a chef's knife to slice off the bottom tough parts just where the color turns from white to green.
Cut the asparagus crosswise, and slice it lengthwise – this way it cooks faster and you end up with more pieces of asparagus for the topping. Win win!
Add it to a pan, season and cook with a little olive oil until tender.
When the dough is ready and fluffy, stretch it into a rectangular shape.
Top with mozzarella, grated parmesan, and cream cheese.
Arrange the asparagus on top of the cheese.
Season with salt and pepper and bake until golden and crusty!
Serve with a drizzle of extra virgin olive oil and fresh basil leaves. And you'll be basically the happiest with this wonderful pizza with asparagus!
Recipe Notes
Asparagus pizza ingredients
Pizza crust: not to brag, but my easy no-knead pizza dough is a game changer. It's a breeze to whip up in 1 bowl, no-kneading required, just make sure you follow recipe and tips here! But you're welcome to go for your fav dough recipe or store-bought pizza crust.
Mozzarella: I use fresh whole milk mozzarella balls packed in water for my pizza recipes, but the shredded low moisture option works too.
Cream cheese: as usual I use soft cream cheese (no cream cheese blocks here in the UK), but I'm sure the block works just fine for pizza as long as you make it softer (see notes in the recipe card). And if you have leftover cream cheese to use up, check out these recipes!
Parmesan: for extra flavor, but you can skip it if you don't have it on hand.
Asparagus: go for fresh asparagus that is brightly colored with plump and green stalks and make sure the tough ends are trimmed off.
Extra virgin olive oil and fresh basil: finish your asparagus pizza with a generous drizzle of extra virgin olive oil and fresh basil leaves for extra delicious and fresh flavor.
More pizza recipes for you…
These collection of 17 veggie pizzas and 25 YUMMY pizza toppings or Focaccia toppings are truly delicious and great to inspire you!
Here more terrific pizza ideas:
If you make this cream cheese pizza, or you have a question, let me know by leaving a comment. I would love to hear from you and get your feedback! x
Print Recipe
Asparagus Pizza
Let's celebrate Spring with a delicious asparagus pizza that is crispy, full of fresh flavor and amazingly satisfying. A dreamy white pizza sure to please everybody.
Ingredients
Pizza dough
1

 easy pizza dough (or your fav dough)
Asparagus and cheese topping
½ lb

(220 grams) asparagus, tough ends trimmed

1

(125 gr/4.5oz)

mozzarella ball packed in water (or shredded low moisture mozzarella)*

3

tablespoons

grated parmesan cheese

½ cup

(110 grams/4oz) soft cream cheese (use more if desired)
salt and black pepper, to taste
To serve
extra virgin olive oil, to drizzle

⅓ cup

fresh basil leaves
Instructions
Asparagus topping
Cook the asparagus: rinse the asparagus, pat it dry and snap off the bottom which is the woody fibrous end, or use a chef's knife to slice off the bottom parts just where the color turns from white to green. Cut the asparagus both lengthwise and crosswise. Heat the olive oil in a skillet over medium heat, add the asparagus, season with salt, pepper, and cook for about 8-10 minutes. Set aside.

Shape the dough: when the dough is ready follow step 5, place the paper sheet or parchment paper onto a pizza peel or onto the back of a rimmed baking sheet. Then place the dough on this parchment paper, and starting from the center, gently press it out with your fingers until you get approx a 9×13 inch pizza (try to not make it flat, you want to keep it airy and fluffy).

Add the cheese: if using fresh mozzarella in water, dice it and place it on kitchen paper. Add another folded piece of paper on top, pat it dry to absorb excess moisture. Finally add it evenly to the pizza, follow with the parmesan cheese, and using a dessert spoon make and scatter over small dollops of cream cheese. .

Add the asparagus: arrange all the asparagus over the cheese, and sprinkle with salt and black pepper (I use no more than ¼ tsp of salt).

Bake the pizza: when the oven is hot, use the pizza peel to carefully transfer the pizza onto the preheated pizza stone. Bake the pizza until the mozzarella cheese and crust are nicely browned, approx 12-15 minutes. But each oven is different, keep an eye on it (e.g. in a forced fan oven it will take about 8-10 minutes).

Serve: allow the pizza to cool for a minute or two before serving, drizzle with good-quality extra virgin olive oil and scatter fresh basil leaves and/or extra black pepper if desired. Slice, serve immediately, enjoy!
Notes
Mozzarella: Usually a standard mozzarella ball packed in water weights 125 grams (if you're based in the UK). If you prefer to use shredded mozzarella, I think 140 grams/5oz work for this recipe.
How to soften a block of cream cheese: allow the cream cheese to come to room temperature (it may take an hour to two), then you can beat it with a mixer or food processor until soft and fluffy, or warm it up slightly in a microwave or warm water bath. As soon as it's "spoonable" you can use it for this cream cheese pizza recipe.
What to use instead of a pizza stone? A rimmed baking sheet or a large cookie sheet that you can invert it and place on the lowest shelf of your oven work fine. When the baking sheet is right-side up, taking the pizza in and out of the oven will be easier and the preheated baking sheet will make a nice and crisp pizza crust. 
How to measure flour? I use both US cups and grams. The cups of flour are leveled, which means you have to fill the measuring cup all the way to the top letting the flour flow over a little. Then, use the back of a knife to level the top off. But a digital scale is an excellent kitchen tool and gives a more correct weight. 
Asparagus pizza leftovers: cover leftover pizza tightly and store in the refrigerator up to 1 day or freeze up to 3 months. Thaw and reheat the pizza leftovers in the preheated the oven (350 F/180 C) and bake for about 8 minutes or until warmed through, crispy and the cheese is melted. Enjoy!