This post may contain affiliate links. Please read my disclosure policy for more details.
In this amazing bruschetta pizza the crispy crust is topped with mozzarella, juicy summer tomatoes, fresh basil, garlic and extra virgin olive oil.
It's crispy, fresh, juicy, garlicky, AND SO GOOD.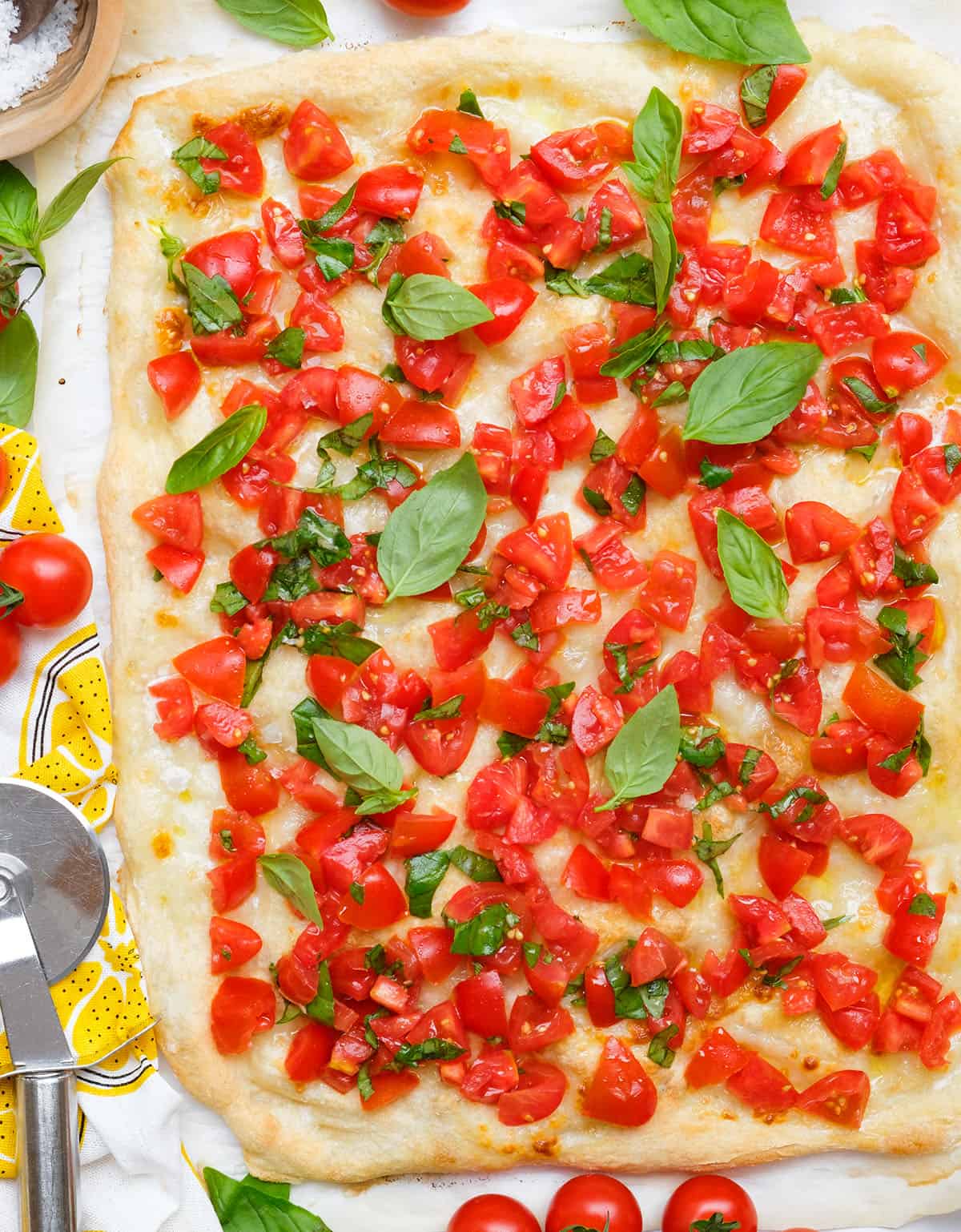 Inspired by this simple Italian bruschetta dip, this no-frills pizza recipe proves that you can make a wonderful pizza just using a few simple quality ingredients.
No balsamic vinegar, no unnecessary extras, only crispy pizza crust, fresh mozzarella, good quality extra virgin olive oil and delicious summer produce coming out of the gardens right now.
Think of juicy tomatoes, garlic and pops of fresh basil. Loads of flavor, seriously.
For the pizza crust, I use my easy no-knead pizza dough, a no-brainer one-bowl recipe that works every single time. But you're welcome to use a store-bought dough or your favorite recipe.
For the scrumptious topping, once the freshly baked pizza crust has crisped up and the fresh mozzarella is gloriously melty, I scatter the juicy bruschetta mixture on top along with a drizzle of olive oil. And it's done!
Trust me, it's super simple but incredibly good.
And if you grow tomatoes and basil in your garden, this is your ultimate summer pizza recipe sure to please any pizza-lover.
Bruschetta pizza is fresh, perfect for sharing, and for all of us to love!
List of the ingredients
No-knead pizza dough (or pre-made crust or your fav recipe)
Mozzarella (fresh or pre-shredded)
Fresh ripe tomatoes
Basil leaves
Fresh garlic
Extra virgin olive oil
Salt
How to make bruschetta pizza
(Note: this is a quick description, the full recipe is at the bottom of the page)
Start by making this 1-bowl dough (or use your fav recipe), and let it rest.
When the dough is ready, make the gorgeous bruschetta topping using ripe tomatoes at room temperature.
Dice the tomatoes into 1/4-inch chunks then add to a bowl.
Add chopped basil, grated garlic, olive oil, salt, and toss to combine.
Taste and adjust the seasoning as needed.
Stretch the pizza dough into a large rectangle.
Top with mozzarella and add a drizzle of extra virgin olive oil.
Bake until golden, crispy and the mozzarella is melted.
Drain the bruschetta mixture and scatter it all over the freshly baked pizza.
Top with extra basil leaves, extra virgin olive oil, and season to taste.
Enjoy it!
Note: loosely drain the diced tomatoes before adding them to the pizza otherwise their juice will make the pizza crust soggy.
Recipe notes
Best ingredients for your bruschetta pizza
Pizza dough: I use my fav no-knead pizza dough that is a breeze to whip up in 1 bowl and makes a light and crispy crust. But you're welcome to pick up ready made dough from your grocery store or use your fav dough recipe.
Mozzarella: I love fresh whole milk mozzarella balls packed in water, the best mozzarella for pizza. But the shredded low moisture option works too.
Tomatoes: use ripe juicy tomatoes at room temperature and scoop out excess water and seeds if using large tomatoes. Cherry tomatoes, grape or Roma tomatoes, or big heirloom tomatoes work for this pizza.
Fresh basil: only chopped fresh basil here. No dried stuff.
Extra virgin olive oil: for the best flavor, I add a drizzle of extra virgin olive oil before and after baking.
Salt and pepper: make sure you add salt (both mozzarella and tomato toppings need them!). Sea salt flakes before serving are great too!
Baking tips!
Check out all the tips here, below I've put together the most important!
Preheat the oven, always!
Bake the pizza on the bottom rack of the oven, close to the heating element.
Stretch the pizza dough using your fingers, don't use a rolling pin!
Bake your pizza on a hot pizza stone or pizza steel. Alternatively, you can use a baking tray and make sure the pizza stone is inside during preheat, so it's already hot when you bake your pizza.
Use parchment paper and a pizza peel (or the back of a baking sheet) to transfer your pizza to the hot stone and back to add the eggs.
Did somebody say pizza recipes?!
Great! Head to this collection of 17 veggie pizzas and 35+ amazing pizza toppings and focaccia toppings that are guaranteed to please even the pickiest pizza lover. Here're yummy pizza ideas:
If you make this bruschetta pizza, or you have a question, let me know by leaving a comment. I would love to hear from you and get your feedback! x
Print Recipe
Bruschetta Pizza
In this amazing bruschetta pizza the crispy crust is topped with mozzarella, juicy summer tomatoes, fresh basil, garlic and olive oil. Crispy, fresh, juicy, garlicky, AND SO GOOD.
Ingredients
Pizza dough
1

easy pizza dough (or your fav dough)
Bruschetta pizza topping
2

(125 grams each) mozzarella balls packed in water (or shredded low moisture mozzarella)*

¾ lb

(340 grams) ripe tomatoes at room temperature, diced*

1

tablespoon

extra virgin olive oil, plus more for drizzling

½

teaspoon

fine salt (plus extra sea salt flakes to serve, optional)

½ – 1

teaspoon

grated garlic, use more if you wish

3

tablespoons

basil leaves, chopped
Instructions
Mozzarella topping
Prepare the cheese: if using fresh mozzarella in water, slice or dice it and place it on a kitchen towel or kitchen paper. Add another folded piece of paper towel on top, pat it dry to absorb excess moisture let it dry for at least 10 minutes. 

Make the bruschetta topping: using a sharp serrated knife and a chopping board, cut the tomatoes into small neat cubes and place them in a bowl with basil, garlic (start with ½ tsp and adjust to taste), olive oil and salt and toss to combine. Taste and adjust the seasoning.

Shape the dough: when the dough is ready follow step 5, place the paper sheet or parchment paper onto a pizza peel or onto the back of a rimmed baking sheet. Then place the dough on this parchment paper, and starting from the center, gently press it out with your fingers until you get approx a 9×13 inch pizza and top with diced mozzarella and a drizzle of olive oil before baking.

Bake the pizza: when the oven is hot, use the pizza peel to carefully transfer the pizza onto the preheated pizza stone. Bake the pizza until the mozzarella cheese and crust are nicely browned, approx 15 minutes. But each oven is different, keep an eye on it (e.g. in a forced fan oven it will take about 8-10 minutes).

Serve: loosely drain the bruschetta mixture and scatter it evenly over the freshly baked pizza, sprinkle some salt on top, drizzle with extra virgin olive oil and add fresh basil leaves. Slice, serve immediately, enjoy!
Notes
Shredded low moisture mozzarella: use about 2

 cups

 (approx 7oz/200 grams) grated low moisture mozzarella for this recipe, but trust your judgment, add a bit more if you like.
What to use instead of a pizza stone? A rimmed baking sheet or a large cookie sheet that you can invert it and place on the lowest shelf of your oven work fine. When the baking sheet is right-side up, taking the pizza in and out of the oven will be easier and the preheated baking sheet will make a nice and crisp pizza crust. 
How to measure flour? I use both US cups and grams. The cups of flour are leveled, which means you have to fill the measuring cup all the way to the top letting the flour flow over a little. Then, use the back of a knife to level the top off. But a digital scale is an excellent kitchen tool and gives a more correct weight. 
Bruschetta pizza leftovers: cover leftover pizza tightly and store in the refrigerator up to 1 day. Reheat the pizza leftovers in the preheated the oven (350 F/180 C) and bake for about 8 minutes or until warmed through, crispy and the cheese is melted.