This post may contain affiliate links. Please read my disclosure policy for more details.
This simple, vibrant bruschetta dip makes a fantastic crowd-pleasing Italian appetizer. It's fresh, juicy, packed with flavors and ready in minutes!
Spread on grilled bread for an authentic Italian experience. You'll be hooked.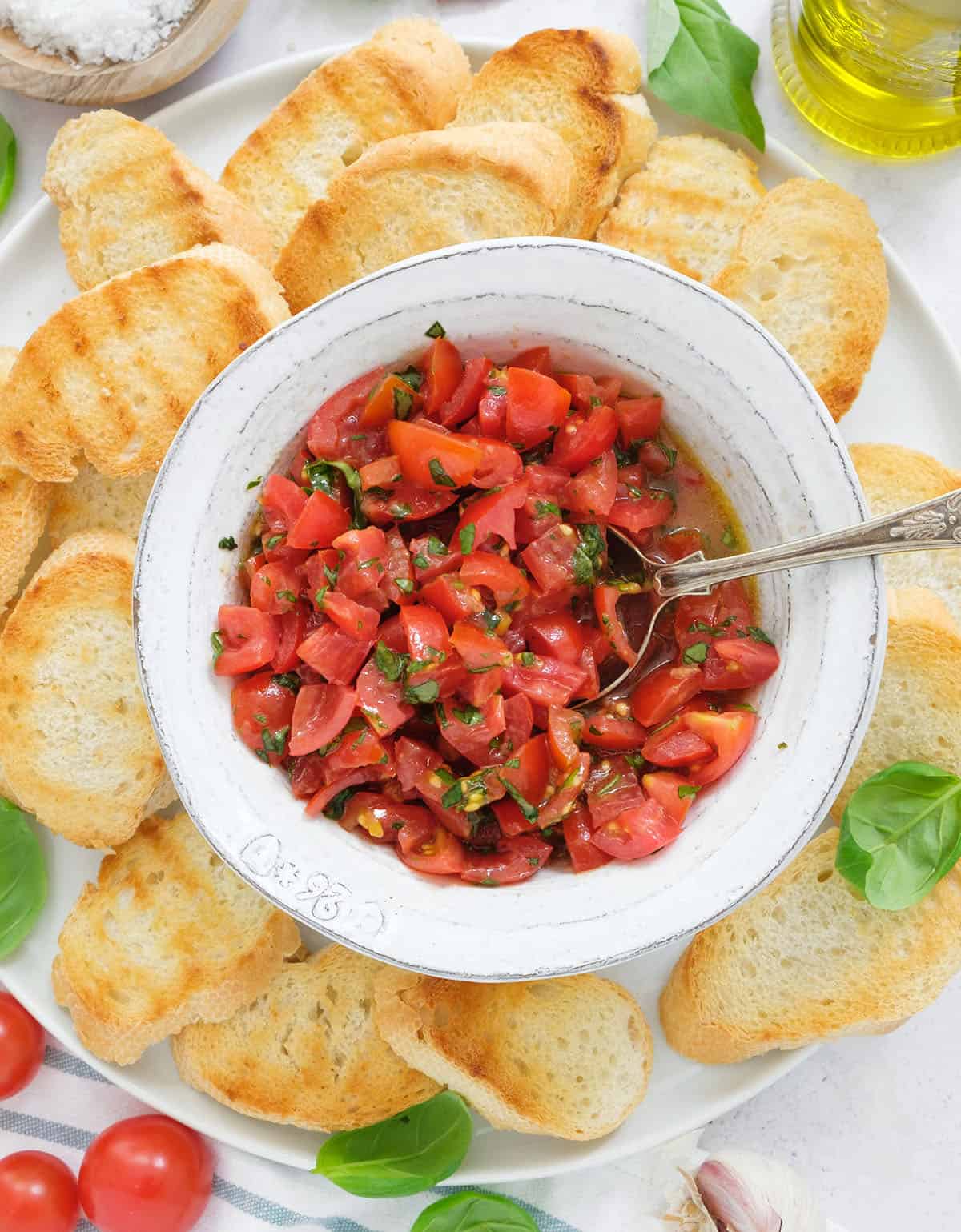 Pronounced "brusketta" dip, this mixture of fresh flavors is truly summer in a bowl. And it tastes AMAZING.
Think of diced ripe tomatoes that are swimming in tomato juices and olive oil infused with garlic and fresh basil. Yes, this bruschetta dip is that delicious.
I've made this recipe using half pound of cherry tomatoes and I ate all of it by myself. Seriously, I couldn't resist.
And I promise you're going to love it, too.
Firstly, not only is this scrumptious dip addictive, but it's super easy to whip up with only 5 good quality ingredients, just the essentials.
Second, it's absolutely great for sharing, the perfect appetizer for summer gatherings. You can make a large batch, as well as toasting the bread slices ahead of time, and let everyone to spoon the scrumptious dip onto their bread slice or amazing garlic crostini.
It's also economical, vegan and healthy. We couldn't ask for more!
And if you grow tomatoes and basil in your garden, this bruschetta dip is what you want to eat all the time, and for the rest of the summer!
List of the ingredients
Cherry tomatoes
Extra virgin olive oil
Garlic
Fresh basil
Fine salt
How to make bruschetta dip
(Note: this is a quick description, the full recipe is at the bottom of the page)
Dice the tomatoes into 1/4-inch chunks then add to a bowl.
Add the rest of the ingredients and toss to combine.
Let sit for about 10-15 minutes to allow the flavors to blend together.
Taste and adjust the seasoning as needed.
Spoon the bruschetta dip onto grilled slices of bread. Enjoy!
Recipe notes
Let's see these bruschetta dip ingredients…
You have a very short list of ingredients for this recipe, but their quality is the key!
Tomatoes: use ripe juicy tomatoes at room temperature. My preference goes to cherry tomatoes or beefsteak tomatoes, but any good ripe tomato works just fine for this easy bruschetta dip.
Fresh basil: only chopped fresh basil here. No dried stuff, no other herbs, only plenty of fresh basil for an authentic Italian bruschetta dip.
Extra virgin olive oil: this is a must. You'll want to use your best extra virgin olive oil when it comes to bruschetta.
Salt: to make the flavor pops.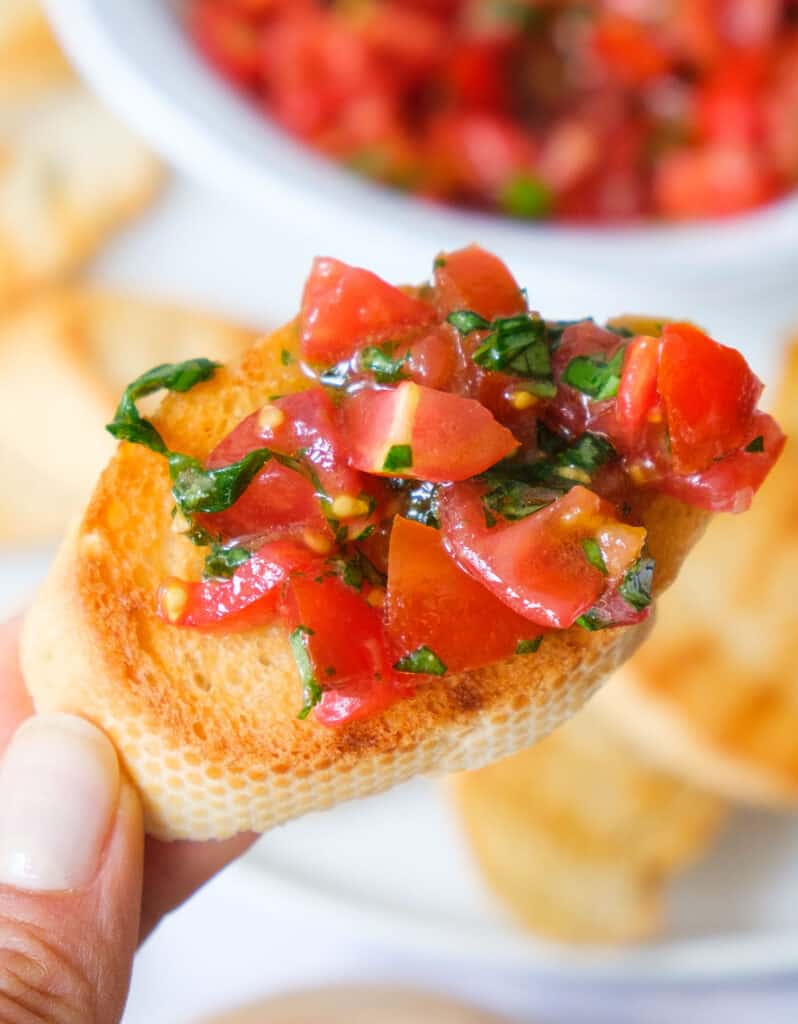 What about your fav add-ins?
I've seen bruschetta dip recipes that use olives, mozzarella, balsamic vinegar, onion, parmesan and other unessential extras. Many ingredients pair well with tomatoes, of course, and you're welcome to throw in whatever you like. But the real Italian bruschetta dip is made with 5 ingredients ONLY. That's the way Italians make it.
Tips for the best bruschetta dip
Use ripe tomatoes at room temperature, not fridge cold.
No need to peel them or seed them. But if using large tomatoes, you might want to remove the excess water from the centre that dilutes juice and flavor.
Presentation is important! Use a sharp serrated knife and a chopping board to dice the tomatoes into small cubes of equal size. Don't make them mushy.
Let the bruschetta dip to rest so the flavors blend together.
Serve with grilled slices of ciabatta bread, baguette or artisanal bread.
The dip is best served the same day, it looks fresh and the color is bright.
More appetizers for you!
These party food ideas or these delightfull appetizer recipes are perfect to create an Italian-style summer gathering:
If you make this scrumptious bruschetta dip, or you have a question, let me know by leaving a comment. I would love to hear from you! x
And for more recipe updates, subscribe my newsletter and follow me on Instagram, Pinterest and Facebook.
Print Recipe
Bruschetta Dip
This simple, vibrant bruschetta dip makes a fantastic crowd-pleasing Italian appetizer. It's fresh, juicy, packed with flavors and ready in minutes!
Recipe yields 1 ½ cup (about 4 servings).
Ingredients
½ lb

(220 grams) cherry tomatoes, at room temperature

2

tablespoons

extra virgin olive oil

¼

teaspoon

grated garlic, add more if you wish

1-2

tablespoons

fresh basil leaves, chopped

1

teaspoon

fine salt, or to taste
To serve
8

slices of baguette, ciabatta, or artisanal bread toasted or grilled
Instructions
Using a sharp serrated knife and a chopping board, cut the tomatoes into small cubes. You want them nice and neat, not mushy.

Place the diced tomatoes to a bowl along with the rest of the ingredients, toss well to combine and it time allows, let it sit for about 10-15 minutes to let the flavors to mingle together.

Taste and adjust the seasoning if needed, you'll want the flavor pops. Add extra fresh basil if you wish.

Serve at room temperature with grilled or toasted artisanal bread, ciabatta or baguette.
Notes
Bruschetta dip storage: it's best eaten fresh within hours when the colors are still bright and the tomatoes look fresh, that's ideal if you serve it to guests. But leftovers keep well in the fridge, stored in airtight container, for about 2 days. The color will be a bit dull and the texture slightly mushy.
Nutrition facts:
 the nutrition values are  for one serving (without bread) and are based on an online nutrition calculator.  It's an estimate only and it should not be considered as a substitute for a professional nutritionist's advice. Please see my
disclosure policies.
Nutrition
Calories:
72
kcal
|
Carbohydrates:
2
g
|
Protein:
1
g
|
Fat:
7
g
|
Saturated Fat:
1
g
|
Polyunsaturated Fat:
1
g
|
Monounsaturated Fat:
5
g
|
Sodium:
588
mg
|
Potassium:
120
mg
|
Fiber:
0.4
g
|
Sugar:
1
g
|
Vitamin A:
269
IU
|
Vitamin C:
13
mg
|
Calcium:
6
mg
|
Iron:
0.4
mg