This post may contain affiliate links. Please read my disclosure policy for more details.
Crispy and randomly topped with scrumptious artichokes, olives, mushrooms and cooked ham, this capricciosa pizza is truly a dream for any pizza lover.
Another weekend, another amazing pizza recipe for you!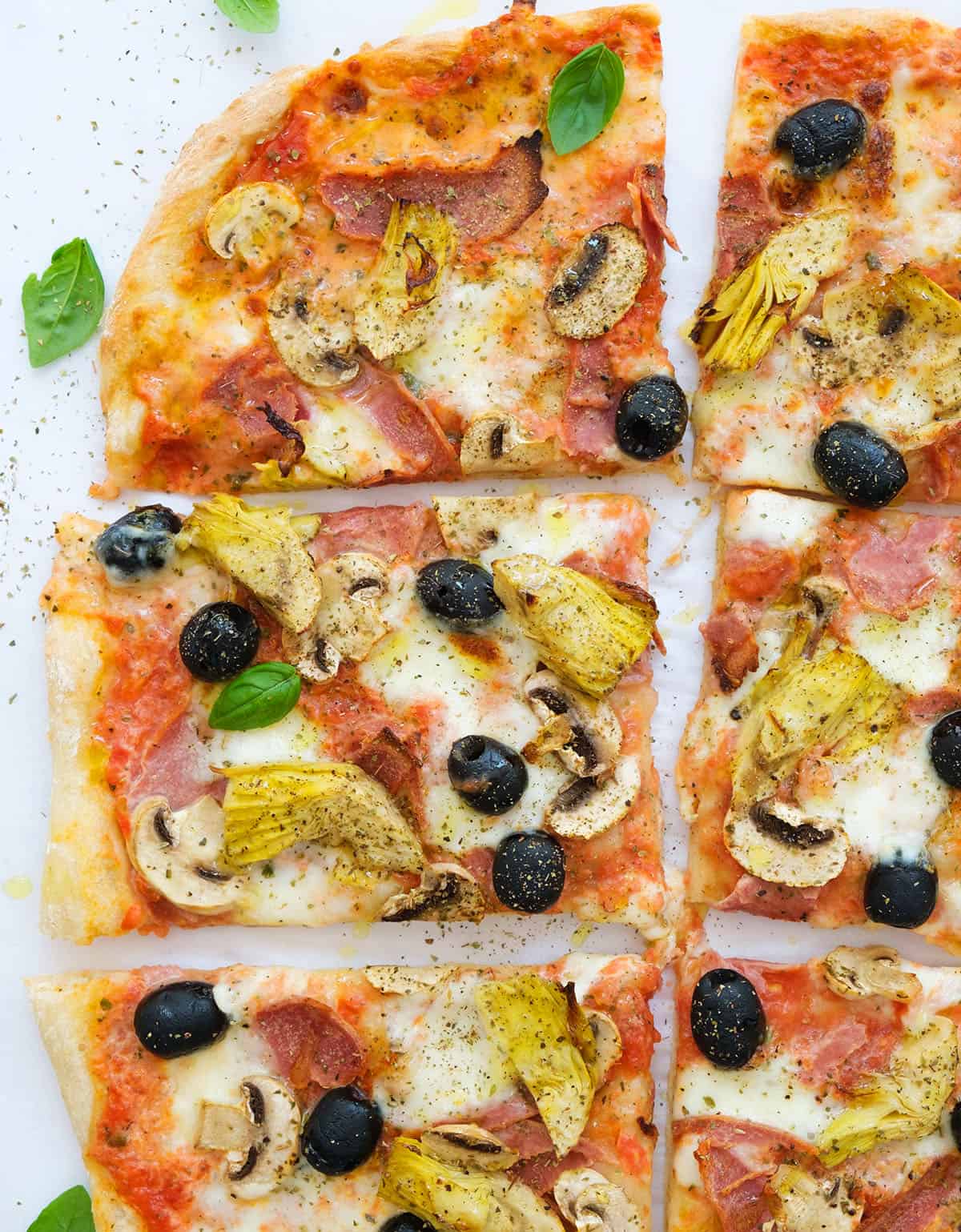 My love for pizza is borderline ridiculous. And if you love it as much as I do, you might want to check out these roundups of delicious veggie pizzas and pizza toppings. They will be perfect for your next pizza night!
Today's recipe is capricciosa pizza, one of the most popular Italian pizza recipes.
The origin of the name capricciosa – litterally capricious in Italian – refers to its rich topping that is scattered on top and full of savoury flavours and textures. We call it just "capricciosa" in Italy, and you'll find it on every pizzeria's menu across the country.
In this recipe, the amazing crispy crust is topped with tomato pizza sauce, fresh mozzarella, black olives, marinated artichokes, cooked ham and fresh mushrooms. How delicious is that?!
Although I've just said cooked ham, I've actually used vegan ham that brings its meaty flavor and makes a fantastic meatless pizza. You know, at The Clever Meal we love meatless recipes. : )
But trust me, whatever you go for a vegetarian or carnivore option, you're going to love every single bite of this Italian pizza.
It's so, so delicious and it tastes just as scrumptious as these pictures make it look. Maybe better!
List of the ingredients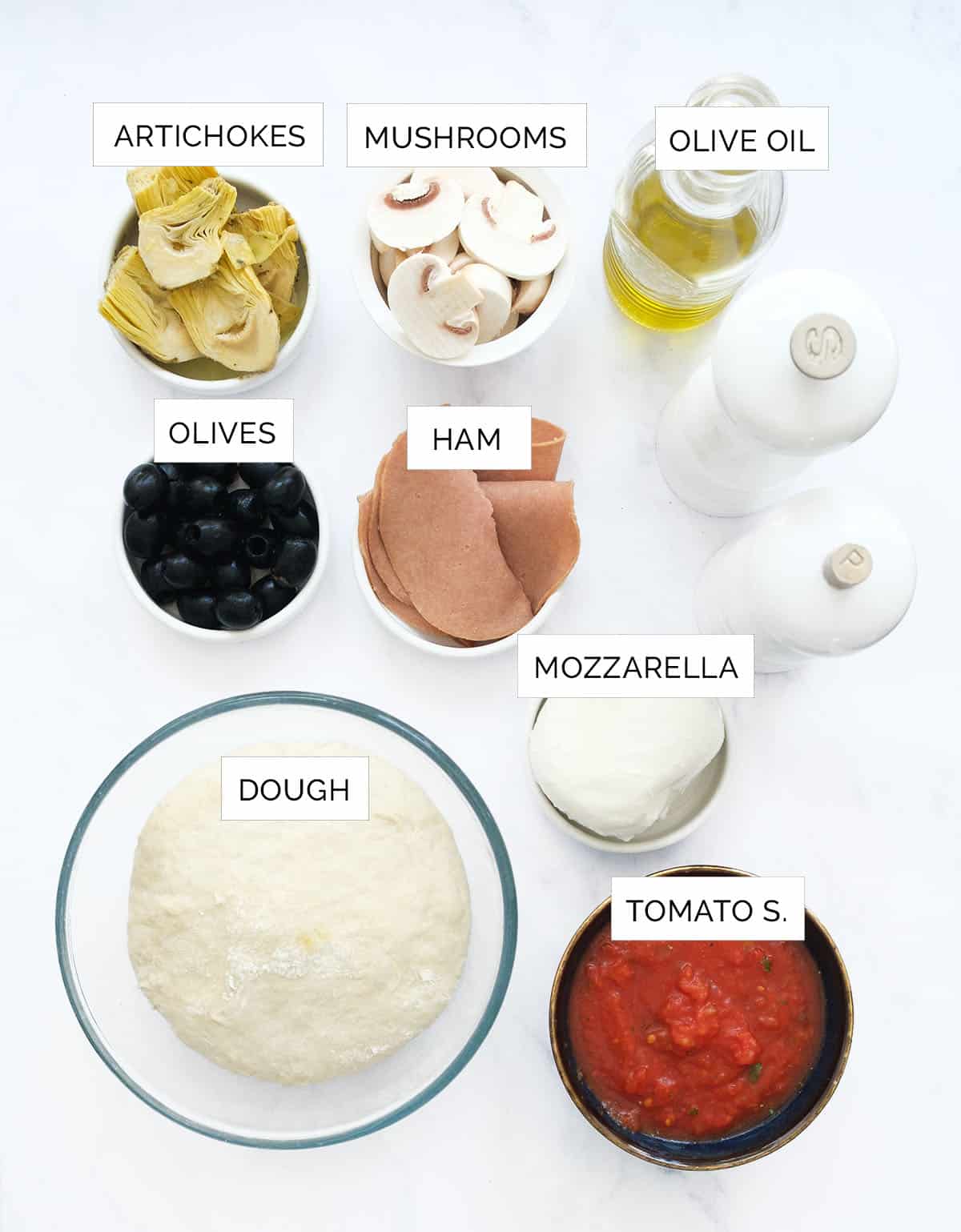 How to make Capricciosa Pizza
(Note: this is a quick description, the full recipe is at the bottom of the page)
Recipe notes
Capricciosa pizza ingredients
Homemade pizza dough: I use my fav 1 bowl pizza dough that uses all-purpose flour, yeast, olive oil, water and salt. You can find the full recipe and all the tips to make it here. But you can certainly use your favorite store bought pizza dough to speed up the process.
Tomato sauce: Italians generally use a simple, uncooked tomato sauce made of fresh or canned tomatoes, salt, basil and oregano like this pizza sauce. Alternatively, use the same amount of crashed tomatoes with 1 teaspoon of extra virgin olive oil and season to taste. I wouldn't recommend using a dense and heavily seasoned cooked pizza sauce for this pizza capricciosa recipe.
Mozzarella cheese: I use fresh whole milk mozzarella in water for my pizza recipes, but shredded low moisture option works too if desired.
Artichoke hearts: I used marinated artichoke hearts for more flavor, but canned artichokes in brine work totally fine. And if you have artichoke leftovers to use up, have a look at this collection of recipes.
Olives: pitted black olives are the best for this recipe. Either regular jarred or canned black olives, the tasty Kalamata or the Italians Gaeta or Taggiasche olives work fine.
Mushrooms: fresh cremini or portobello mushrooms are so much better than canned mushrooms. But that's pretty obvious! lol
Cooked ham: you can use the real stuff (Italian prosciutto cotto) or the vegan option if you prefer a meatless pizza like me.
Olive oil, salt and oregano: finish your pizza topping with a generous sprinkle of salt and Mediterranean dried oregano. In Italy we also add a drizzle of extra virgin olive oil before or straight after baking to take the flavor to the next level.
Tips for the best capricciosa pizza!
Looking for more pizza recipes?
You've come to right place, we are pretty obsesses with pizza over here!
If you make this scrumptious capricciosa pizza, or you have a question, let me know by leaving a comment. I would love to hear from you and get your feedback! x
Print Recipe
Capricciosa Pizza
Crispy and randomly topped with scrumptious olives, artichokes, mushrooms and cooked ham, this capricciosa pizza is truly a dream for any pizza lover.
The easy pizza dough is here!
The recipe yields 2 large portions or 6 slices.
Ingredients
Pizza dough
1 easy pizza dough (or your fav dough)*
Topping
¾ cup

(180 ml) pizza sauce or canned crushed tomatoes

1 ball

(4oz/125 grams) whole-milk mozzarella in water(or ½ – ⅓ cup shredded firm mozzarella)

2-3

slices of ham (I used vegan ham)

½ cup

sliced mushrooms

⅓ cup

pitted black olives

3

artichoke hearts, cut into quarters

1

teaspoon

dried oregano

salt and pepper, to sprinkle

½

tablespoon

extra virgin olive oil, to drizzle
Instructions
Topping
Prepare the cheese: if using fresh mozzarella ball in water, cut it into ½ inch thick pieces. If it releases water, you may want to dab the mozzarella with the paper towel to remove excess moisture. 

Prepare the sauce: follow this recipe for the pizza sauce, alternatively use the same amount of crushed tomatoes with 1 teaspoon of extra virgin olive oil and season to taste with salt and pepper.

Shape the dough: when the dough is ready follow step 5, place the dough on a parchment paper sheet and starting from the center, gently press it out with your fingers until you get approx a 9×13 inch pizza. Then gently place the dough onto a pizza peel or onto the back of a rimmed baking sheet. You can also use a pizza pan if you wish.

Add the topping: add pizza sauce, mozzarella, and scattered the artichokes, olives, mushroom and shredded or torn ham. Season with salt and finish with the oregano.

Bake the pizza: make sure the oven is hot and either using a pizza peel or a tray transfer the pizza along with the parchment paper onto the preheated pizza stone, Alternatively, use a pizza pan and place it on the lower rack.

Bake the pizza until the mozzarella cheese and crust are nicely browned, approx 12-15 minutes. But each oven is different, keep an eye on it (e.g. in a forced fan oven it will take about 8-10 minutes).

Serve: allow the pizza to cool for a minute or two before serving and drizzle with good-quality extra virgin olive oil. Enjoy!
Notes
What to use instead of a pizza stone? Each oven usually has a rimmed baking sheet or a large cookie sheet that you can simply invert it and place on the lowest shelf of your oven before you preheat it. When the baking sheet is right-side up, taking the pizza in and out of the oven will be easier and the preheated baking sheet will make a nice and crisp pizza crust How to measure flour? I use both US cups and grams. 
The cups of flour are leveled, which means you have to fill the measuring cup all the way to the top letting the flour flow over a little. Then, use the back of a knife to level the top off. However, a digital scale is an excellent kitchen tool and gives a more correct weight.  Capricciosa pizza leftovers: cover leftover pizza tightly and store in the refrigerator up to 1 day or freeze up to 3 months. Thaw and reheat the pizza leftovers in the preheated the oven (350 F/180 C) and bake for about 8 minutes or until warmed through, crispy and the cheese is melted. Enjoy!