This post may contain affiliate links. Please read my disclosure policy for more details.
Like strawberries? You're going to love this easy 1-bowl strawberry bread. It's incredibly moist, soft, and bursting with juicy strawberries, yogurt, and hints of vanilla.
Imagine all those delicious flavors and texture packed into this simple and beautiful bread, that is fast and simple to make, and perfect for breakfast and afternoon tea.
Adapted from my favorite strawberry ricotta cake and yogurt cake, not only is this bread packed with fresh fruit, but it also contains protein-rich yogurt that brings moisture and rounds the flavor out without weighting down.
Like its yogurt bread sister, this strawberry bread is packed with nutrients and not overly sweet, a great bonus if you're not a big fan of sugar-packed cakes.
Believe me, I've made this 1-bowl bread at least 3 times in the last 10 days, it was absolutely delicious.
It's also so easy to make and if you have not-so-perfect or not-so-fresh strawberries, don't waste, but turn them into this delicious summer treat. Everyone will ask you for the recipe!
List of the ingredients
Fresh or frozen strawberries
Plain or Greek-style yogurt
All-purpose flour
Eggs
Sugar
Vegetable oil
Vanilla extract or essence
Baking powder + salt
Strawberry or apricot jam (optional)
How to make this strawberry bread
(Note: this is simply a quick description, the full recipe is at the bottom of the page)
Dice the strawberries.
Mix eggs and sugar in one bowl.
Stir in the rest of the wet ingredients.
Add dry ingredients to the wet ingredients and stir until just combined.
Fold the strawberries into the batter.
Scrape the batter into the loaf pan and bake.
Brush with warm jam (optional). Enjoy!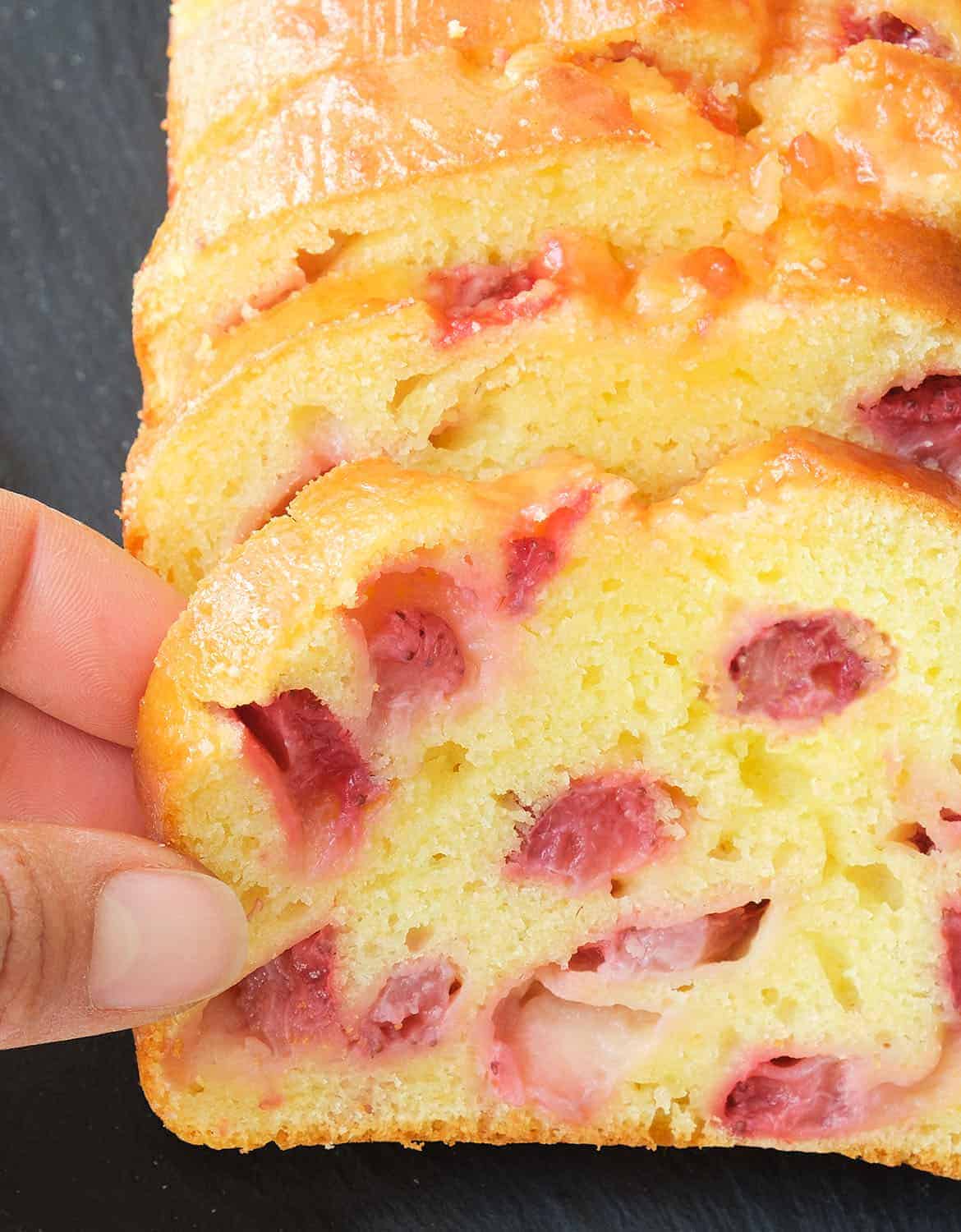 Is this strawberry bread healthy?
Although "healthy' can be considered a subjective term, there're a few reasons why I consider this bread to be nutritionally better than most cakes.
Firstly, it's loaded with protein-rich yogurt and plenty of strawberries. They both are highly nutritious, and low-calorie ingredients if you choose plain yogurt and ditch added sugar or other sweeteners.
It's not covered in a sugar glaze or icing, and contains a fraction of the sugar usually contained in regular cakes.
RECIPE NOTES & TIPS
Strawberry bread variations?
You can replace the strawberries with the blueberry or the raspberries. You can add to the recipe dark chocolate chips, spices, chopped nuts, orange or lemon zest, or whatever you like most.
Jam glaze
The jam glaze is optional, but it's so simple to make, it doesn't add tons of sugar and makes this strawberry bread so pretty.
Heat gently some apricot or strawberry jam in a saucepan until the jam has melted. If it looks too thick add a tiny bit of warm water. When the glaze is the consistency of runny honey, brush the bread straight away.
How long does this strawberry bread keep?
It keeps well for up 4 days at room temperature, in an airtight container. But do not refrigerate: refrigeration dries this cake out! It's also freezable: wrap the cake, or slices of cake, in plastic wrap (clingfilm), store in an airtight container, and freeze for up to 1 month.
More easy cake recipes
If you make this delicious and easy strawberry bread, let me know! Leave a comment, rate it, or tag a photo #theclevermeal on Instagram. I would love to hear from you! x
Print Recipe
Easy & moist strawberry bread
You're going to love this amazing strawberry bread: it's incredibly moist, soft, and bursting with juicy strawberries, yogurt, and hints of vanilla. It's so easy to make, not overly sweet, and so delicious!
Ingredients
2

eggs, at room temperature

1/2 cup

(100 grams) regular sugar or unrefined cane sugar (see notes)

1/2 scant cup

(80-90 grams)

vegetable oil

(I used expeller-pressed canola oil)

1 cup

(250 grams)

Plain or Greek-style yogurt

(see notes)

1

tsp

vanilla extract

1 ½ cup + 1Tbsp

(200 grams)

all-purpose flour or white spelt flour

1 ½ tsp

baking powder

1/8 tsp

fine salt

1 ½ cup

(approx 200 grams) strawberries, diced
JAM GLAZE
3 Tbsp

Strawberry or apricot jam
Instructions
Preheat the oven to 350℉/180℃ degrees and place the rack in the middle position. Grease a 9x5x2.5 inch loaf pan with butter or simply line the pan with parchment paper.

In a bowl, beat eggs and sugar with a fork or a whisk. Then add oil, yogurt (not cold), vanilla essence, and whisk to a smooth consistency. 

In a second bowl, whisk flour, baking powder, and salt.

Add the dry ingredients to the wet ingredients, stir with a spatula until just combined. Do not overmix.

Fold the diced strawberries gently into the batter, using a spatula and trying to distribute them evenly.

Scrape the batter into the prepared loaf pan and smooth the top. Bake for about 40-45 minutes, until a skewer inserted into the center of the cake comes out clean.

When the cake is done, remove it from the oven and place on a wire rack to cool. You can serve it plain or glazed with jam. I glazed it brushing some warm strawberry jam on top (see notes)*.  Enjoy!
Notes
Frozen strawberries: they work just fine. Cut the bigger strawberries into smaller pieces while they're still frozen (they break easily). Diced strawberries distribute themselves evenly throughout the cake, give more flavor, and look better than big mushy strawberries. 
Sugar: you can reduce the amount of sugar a little bit further, 1/3 cup sugar (about 75 grams) works just fine if you prefer a less sweet strawberry cake.
Yogurt: a creamy yogurt with a "pourable" consistency  (plain yogurt or Greek-style yogurt) works well. I find the real Greek yogurt is too thick and gives a denser texture.

Eggs: to avoid a curdling batter, possibly use eggs at room temperature and make sure the yogurt is not too cold.
Do not overmix the batter because working flour too much can produce gluten, which creates a dense and rubbery cake.
All-purpose flour and whole-grain flour:  you can use white whole wheat, light spelt flour, or all-purpose flour. The first two whole-grain flours are less refined, rich in fiber, and with a light texture similar to all-purpose flour.
I prefer mixing light spelt flour and all-purpose flour.
Gluten-free: you can substitute all-purpose flour with rice flour.
Fruit glaze: put 3 tablespoons of apricot or strawberry jam into a small saucepan. Heat gently over low heat until the jam has melted and If it looks too thick adjust the consistency with a tiny bit of warm water. When the glaze is the consistency of runny honey, brush the strawberry bread straight away.
Baking the cake in a round pan rather than a loaf pan reduces the baking time (about 30 minutes are enough).
Keeps well for 4 days at room temperature, in an airtight container. Freezable.
NOTE:
the nutritional values are for 1 slice and are estimates only.
Nutrition
Calories:
271
kcal
|
Carbohydrates:
35
g
|
Protein:
7
g
|
Fat:
11
g
|
Saturated Fat:
9
g
|
Cholesterol:
42
mg
|
Sodium:
28
mg
|
Potassium:
124
mg
|
Fiber:
1
g
|
Sugar:
15
g
|
Vitamin A:
59
IU
|
Vitamin C:
15
mg
|
Calcium:
48
mg
|
Iron:
1
mg