This post may contain affiliate links. Please read my disclosure policy for more details.
This easy tomato stew makes a deliciously filling vegetarian meal in just one pot. It's made with canned tomatoes, vegetables, and a touch of dried herbs and spices.
It's healthy, economical, and packed with nourishing veggies. Serve it with rice or these crusty panini rolls, and you can call it dinner!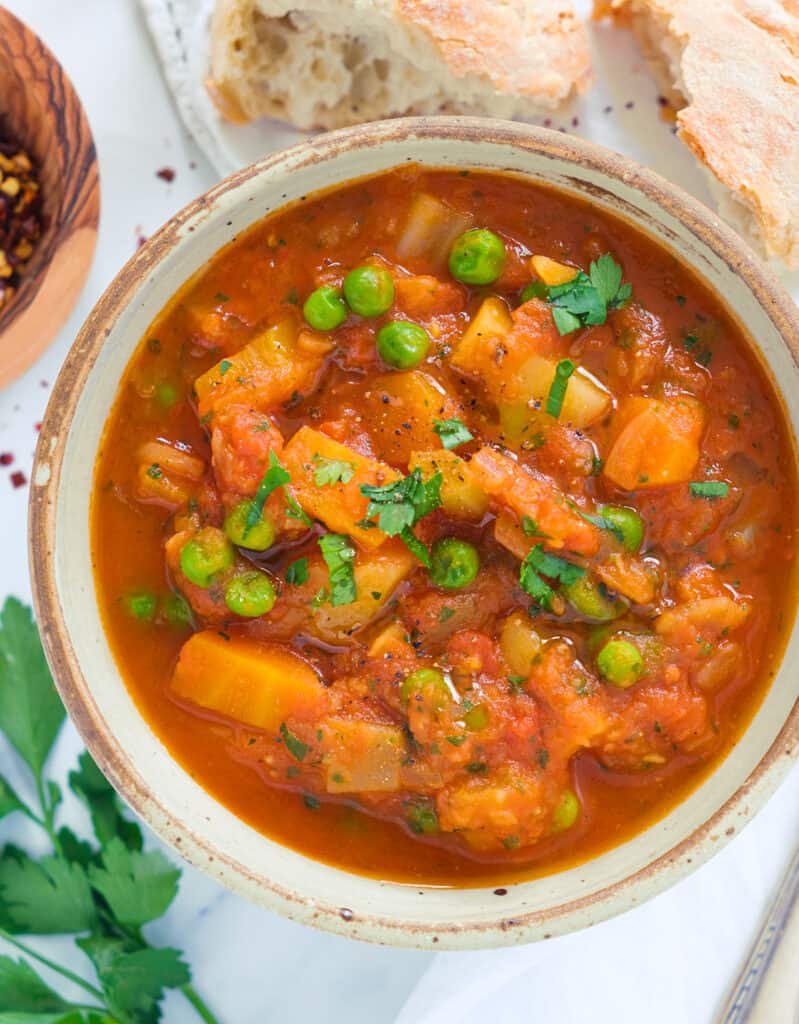 You know I love easy, flexible vegetarian recipes, and this tomato stew is no exception.
Together with these delicious potato stew and chickpea stew, It's one of our staples in this rainy weather, and great to use up leftover vegetables and convenient pantry staples.
In this recipe, I simply used canned tomatoes, a mix of carrots, celery, onion, potatoes and a handful of frozen peas. I've also added cumin, Italian seasoning and dried basil to add that little something to the rich tomato broth.
The medley of vegetables and herbs creates a thick, filling, budget-friendly family meal. So simple yet delicious!
It's also vegetarian, vegan and gluten free for all to enjoy.
List of the ingredients
Canned tomatoes (I used Mutti whole peeled tomatoes)
Vegetable (onion, carrots, celery, potatoes, frozen peas)
Spices (paprika, cumin, chili flakes)
Herbs (Italian seasoning, dried basil)
Low-sodium vegetable broth
Garlic
Olive oil
Salt & pepper
How to make tomato stew
Saute' onion and garlic in olive oil for about 5 minutes.
Stir in carrots and celery.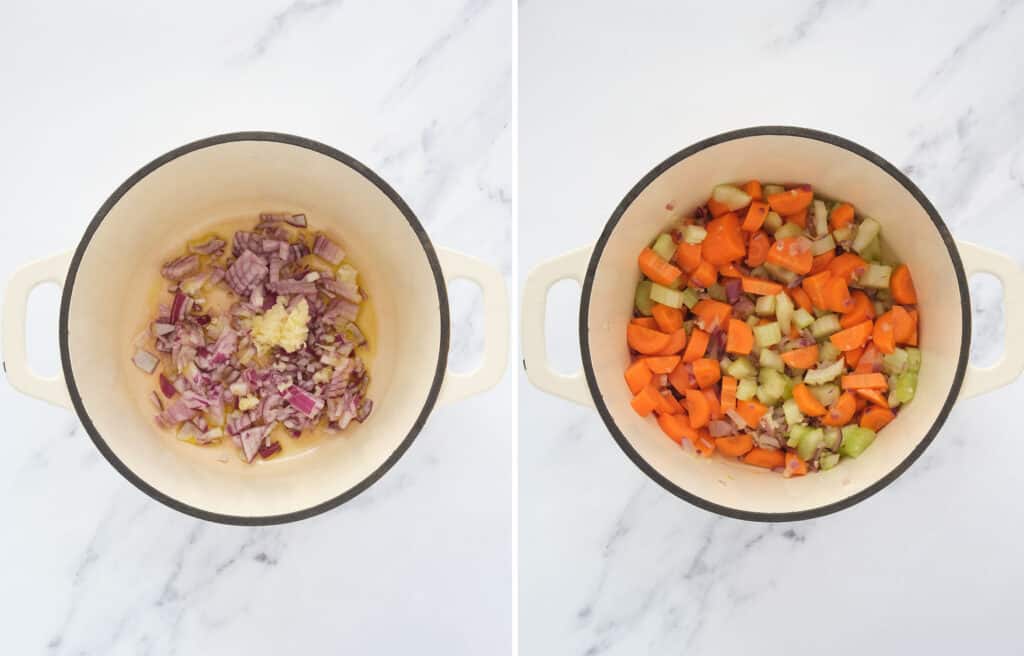 Add potatoes, spices, herbs, another drizzle of olive oil, and give a good stir.
Add tomatoes, and tomato paste.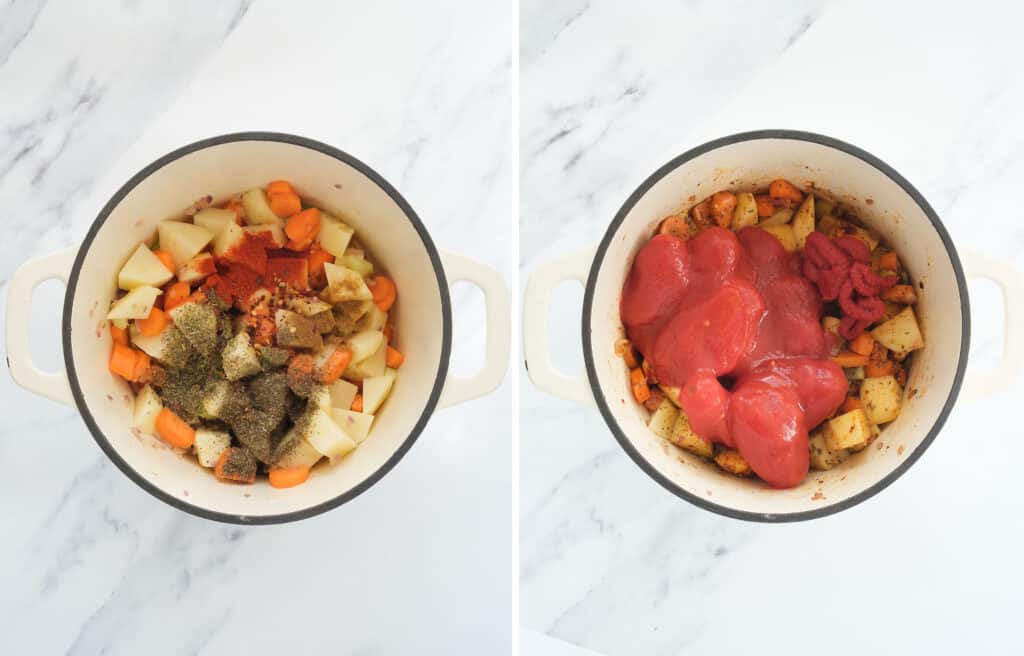 Stir in the broth, salt and pepper and bring to the boil over medium heat.
Reduce the heat, cover with a lid and let it simmer.
After 30 minutes stir in the peas and cook for a further 3 minutes. Done!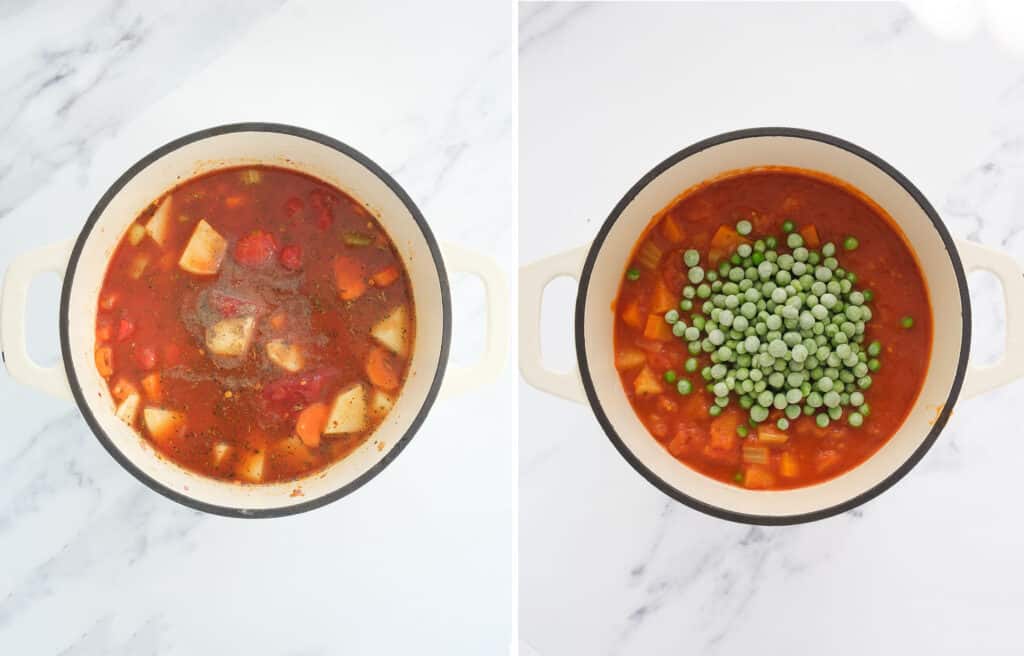 Recipe notes
Tomato stew ingredients
Canned tomatoes: for this recipe I used Mutti whole peeled tomatoes with their juice. Make sure you use good quality canned tomatoes. Both diced tomatoes or crushed tomatoes are fine for this recipe.
Vegetables: I used cheap and widely available veggies that you'll likely have in your fridge during weekdays. And if they're slightly wrinkly or floppy, they're totally fine for the recipe, don't waste them.
Spices: paprika, cumin and a touch of chili flakes add depth of flavor to the tomato stew broth. But skip the chili flakes if they're not your thing.
Herbs: I used dried herbs such as Italian seasoning, dried basil and fresh parsley to serve. Feel free to skip the parsley if you don't have it on hand.
How to serve it
This tomato stew makes a hearty, filling meal and goes so well with crusty bread or rice on the side. I usually serve mine with these easy panini rolls, this easy focaccia, or whole grain rice for a more balanced meal.
Make a big batch and freeze it!
If you want to make a big batch, this tomato stew freezes really well. I suggest dividing the stew into single portions, cooling completely in the refrigerator over night, then transferring to the freezer.
Tomato stew variations
This recipe is very flexible and adaptable, and a few add-ins are welcome to make this dish more filling and nourishing.
Plant-based protein: you can use either canned chickpeas, lentils or white beans instead of peas. Drain and add them along with the potatoes, and adjust the broth ratio according to the desired consistency (you might want a little bit more broth).
Add your leafy greens! You can stir fresh baby spinach or baby kale in the last couple of minutes of the cooking time, they wilt quickly.
More tomato recipes
Looking for more recipes that use convenient canned tomatoes? I've got you covered with this collection of 32 delicious recipes with canned tomatoes!
Below a few of my faves:
If you make this easy tomato stew or if you have any questions, let me know! Leave a comment, send me a message, or rate it.
I would love to hear from you!
And for more recipe updates, subscribe my newsletter and follow me on Instagram, Pinterest and Facebook.
Print Recipe
Easy tomato stew
This easy, hearty tomato stew makes a filling vegetarian family meal. It's made with convenient canned tomatoes, leftover vegetables, and a touch of spices and dried herbs. It's healthy, economical, easy to make in one pot, and tastes delicious!
Ingredients
2

Tbsp

olive oil

1

medium-sized onion, diced

4

garlic cloves, pressed

3

carrots, sliced

2

celery ribs, sliced

1 lb

potatoes, cut into small chunks

½

tsp

cumin

1

tsp

paprika

1

tsp

dried basil

1

tsp

Italian herb seasoning

1

can

tomatoes (whole peeled, crushed or diced)

2

Tbsp

tomato paste

1 ½ cup

low-sodium vegetable broth (or water)

¾

tsp

salt

⅙

tsp

black pepper

⅔ cup

peas
Instructions
In a large Dutch oven or large pot heat 1 ½ Tbsp of the olive oil. When the oil starts shimmering add the onion and the garlic, stir and cook until the onion is soft and translucent, about 5 minutes.

Stir in carrots, celery, potatoes, spices, herbs, ½ Tbsp of olive and give a good stir until the vegetables are well coated with paprika. 

Add tomatoes, tomato paste, broth (or hot water), salt and pepper. Bring to the boil, reduce the heat, cover with a lid and let it simmer for 30 minutes. Stir occasionally.

After 30 minutes stir in the frozen peas and cook for about 3 minutes or until tender. Turn the heat off, smash a few potatoes with a back of a wooden spoon to thiken the tomato sauce, and let it rest for 3-4 minutes.

Taste and adjust the seasoning and the consistency to your liking. You might want to add a touch of water if the stew is too thick.

Divide into four bowls, drizzle with some olive oil, and sprinkle freshly ground black pepper and fresh parsley if you wish. Serve with crusty bread or steamed rice on the side.
Notes
Onion: I used red onion, but both white or yellow onion are fine.
Broth: if you use chicken or vegetable broth rather than water or low-sodium broth, it's important to adjust the seasoning at the end and not at the beginning, as you don't know how salty the broth is.  
Storage: this tomato stew will keep in the fridge in an airtight container for up to 4 days. To reheat, add a touch of water until it's thinned to the desired consistency, then gently warm over medium-low heat. It's also freezable.
Recipe variations: for more plant-based protein, you can add either 1 can of chickpeas, 1 can of white beans or 1 can (or 3/4 – 1 cup of dried lentils). Rinse, drain and add them to the recipe when you add the potatoes. Whatever pulses you decide to use, make sure to adjust the quantity of broth ratio accordingly. The dried lentils needs more liquid than canned beans. Add broth until you get the desired consistency.
Nutrition facts:
 the nutrition values are  for one serving and are based on an online nutrition calculator (the final drizzle of olive oil is not included).  It's an estimate only and it should not be considered as a substitute for a professional nutritionist's advice. Please see my disclosure policies. 
Nutrition
Calories:
247
kcal
|
Carbohydrates:
41
g
|
Protein:
7
g
|
Fat:
8
g
|
Saturated Fat:
1
g
|
Polyunsaturated Fat:
1
g
|
Monounsaturated Fat:
5
g
|
Sodium:
693
mg
|
Potassium:
1193
mg
|
Fiber:
9
g
|
Sugar:
11
g
|
Vitamin A:
8528
IU
|
Vitamin C:
48
mg
|
Calcium:
110
mg
|
Iron:
4
mg