This post may contain affiliate links. Please read my disclosure policy for more details.
Pinzimonio is one of the easiest, simplest and most versatile Italian antipasti. It's light, healthy, delicious and absolutely perfect to celebrate local, seasonal, fresh produce.
It's also economical, easy to make ahead and can be served all year round.
There is no denying, at its heart, pinzimonio is a no brainer, it's essentially a dressing, and there is no right way to make it.
This Italian classic appetizer is more an experiment, a combination that makes you eat LOADS of your favorite veggies with your best olive oil.
Because fresh crudités and good-quality extra virgin olive oil are the stars o the show here.
The vegetables are cut into sticks or slices while the crisp salad leaves are served whole in beautiful platters along with small bowls containing extra virgin olive oil, salt, pepper and occasionally Balsamic vinegar.
In the most trendy Italian restaurants, even here in London, you can also find a selection of Italian focaccia or crispy bread along with the fresh crudités. Because deliciously moist focaccia tastes great with pinzimonio!
Pinzimonio is great because it's super easy to make, affordable, packed with health benefits, and it can be served as a side or as a lovely, vibrant appetizer.
Chose local or home-grown produce if possible, arrange the crisp vegetables and salad leaves on a colorful, vibrant platter to impress your guests.
And celebrate summer and its flavors!
Origins of Pinzimonio
Although the concept of dipping raw vegetables in sauce may feel modern, the origins of pinzimonio actually go back to the Renaissance, when centerpieces with sliced vegetables were eaten at the beginning of banquets.
And the name of the dish comes from the verb 'pinzare' (to staple) to indicate the habit of eating raw vegetables dipped in a sauce made with olive oil.
Let's see how to make it!
List of the ingredients
Extra virgin olive oil
Balsamic vinegar (optional)
Crudités
Bread or focaccia
Salt & pepper
How to make pinzimonio
Let's start preparing the crudites'.
Wash the vegetables under running water until clean and fresh.
Pat dry with a kitchen towel and arrange them on a platter.
To prepare the pinzimonio, simply mix your best olive oil, with salt and pepper in a bowl and beat vigorously until emulsified. You might also add a touch of good balsamic vinegar or lemon juice.
Serve the pinzimonio sauce in small bowls along with the crudités and your favorite Italian bread. Buon appetito! : )
Recipe notes
Pinzimonio ingredients
Extra virgin olive oil: you'll want to use your gourmet extra virgin olive oil here.
Balsamic vinegar: not sweet balsamic glaze, go for the real stuff if possible. Alternatively, a touch of lemon juice will do too. However, both lemon juice and vinegar are optional and come down to personal preferences.
Salt & pepper: to taste.
What vegetables to serve with pinzimonio?
The best vegetables to serve with pinzimonio should be raw, crisp, and dippable.
Crudités such as carrots, cucumbers, peppers, radishes, globe artichokes, celery, fennels are absolutely perfect for this dish. Also beautiful whole salad leaves such as romain, radicchio, endive taste and look fabulous with their large crisp leaves.
I suggest to skip vegetables that you normally don't eat raw (sorry for stating the obvious!), or they're too small in size and not easily "dippable" (think of cherry tomatoes or arugula, just to name a few).
More terrific Italian appetizers?
I've got you covered with these sensational appetizer recipes perfect for an Italian-style get together with family and friends!
Look how beautiful, vibrant and generous Italian appetizers are! : )
And for more appetizer ideas…
If you look for more recipes to make appetizers, you might have a look at these popular collection of delicious 50 vegan appetizers,or this collection or party food ideas and dairy-free appetizers. Here some of my favorites:
If you make this Italian pinzimonio, or you have a question, let me know by leaving a comment. I would love to hear from you! x
And for more recipe updates, follow me on Instagram, Pinterest and Facebook.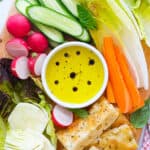 Print Recipe
Pinzimonio
Pinzimonio is one of the easiest, simplest and most versatile Italian antipasti. It's light, healthy, delicious and absolutely perfect to celebrate local, seasonal, fresh produce.
Ingredients
Pinzimonio
3

Tablespoons

extra virgin olive oil

½

teaspoon

balsamic vinegar or lemon juice (optional)

¼

teaspoon

fine salt, plus more to taste

⅛

teaspoon

freshly ground black pepper, or to taste
Crudités (use more veggies if you like!)
1

fennel bulb, sliced

4

small carrots, cut into sticks or sliced lengthwise

1

small cucumber, sliced lengthwise

4

radishes, cut into halves

1

endive or romain salad, use the whole leaves
Instructions
Place the ingredients for pinzimonio in a small serving bowl and whisk until well combined. You can also place them into a glass jar with lid and shake until they are emulsified. Taste and adjust the seasoning to your taste.

Pour the pinzimonio into small serving bowls, one per guest if you wish.

Trim the veggies, remove filaments, cut each vegetable into slices or sticks, and separate salad leaves. Wash them well under cold runny water and pat them dry with a kitchen towel.

Arrange all the veggies on a serving platter or on a wooden board and serve them along with the pinzimonio.