This post may contain affiliate links. Please read my disclosure policy for more details.
This super easy baked ricotta is full of flavor, easy to customize and makes a scrumptious appetizer for anytime you're entertaining.
It's also economical, versatile and ready in less than 30 minutes.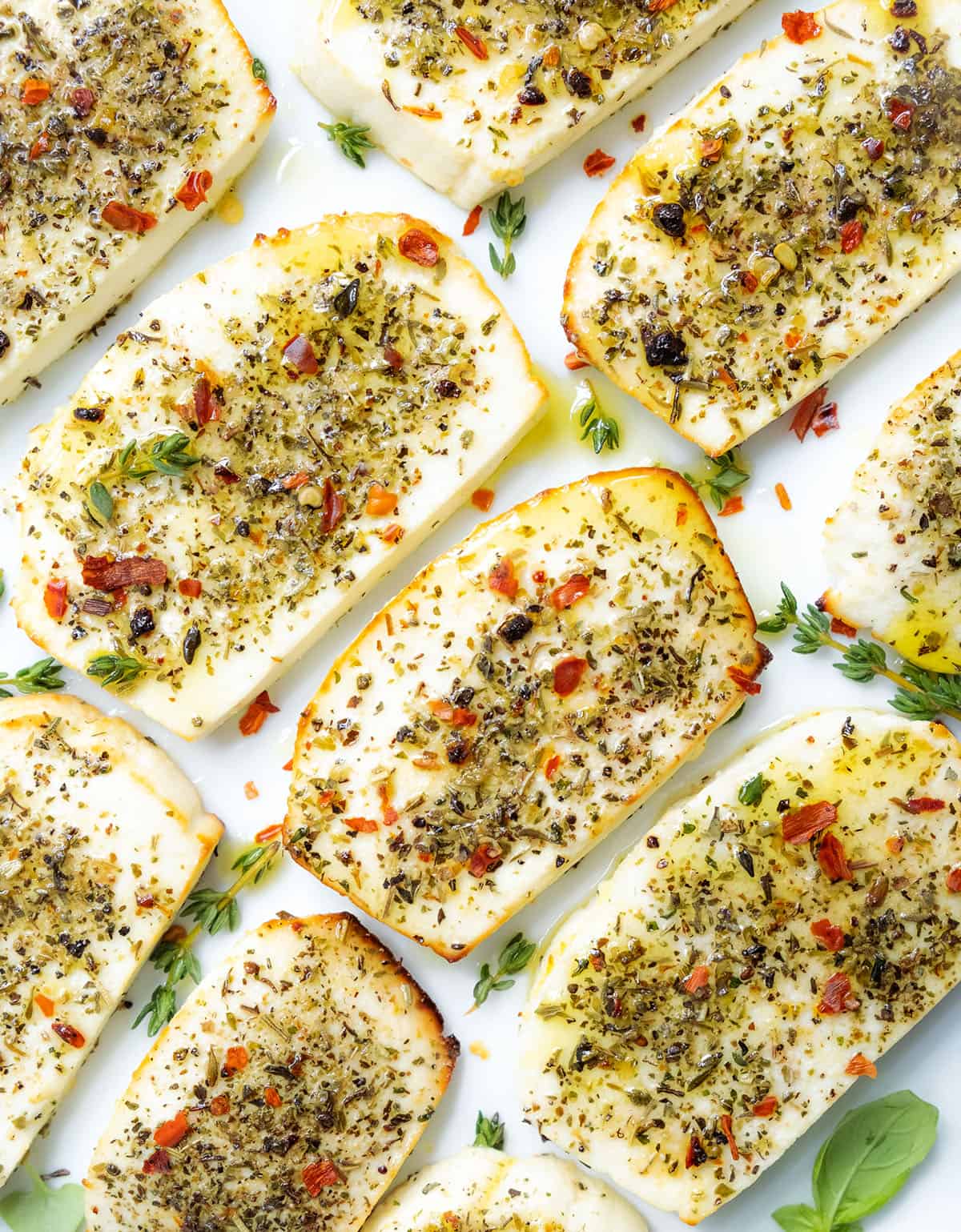 Ricotta is one of the favorite cheeses in our house. I use this versatile, fresh Italian cheese to make pasta, cakes, muffins. I also use ricotta to make dips, crostini and a delicious sweet ricotta cream. The possibilities are endless!
Today, I'm sharing a super easy baked ricotta that makes a simple yet delicious vegetarian appetizer.
Think of slices of soft ricotta sprinkled with herbs, drizzled with extra virgin olive oil and baked until slightly golden outside and full of flavor.
Serve them with breadsticks, tasty black pepper focaccia or garlic crostini. They're perfect on a platter along with delicious Italian appetizers, and leftovers are great for salads and sandwiches.
There are also many easy ways to customize this baked ricotta (I've included a list below) as well as simple ways to prep it ahead of time.
There's really no way to go wrong with this recipe. So let's make a batch together!
List of the ingredients
Ricotta
Extra virgin olive oil
Dried herbs
Garlic powder
Chili flakes
Salt & pepper
How to make baked ricotta
(Note: this is a quick description, the full recipe is at the bottom of the page)
Note: For this recipe, the ricotta cheese should be firm enough to be cut into slices. The texture varies from brand to brand. For best result, I would recommend draining the ricotta to remove excess moisture.
The easiest way to drain the ricotta is to flip the container upside down on a colander, and place the colander on a bowl.
Leave the container as it is and place everything in the fridge.
Let it drain overnight (or at least 4 hours).
Transfer the ricotta and container upside down on a baking sheet, remove the container, and cut the cheese into thick slices.
Sprinkle with garlic powder, herbs, seasoning and drizzle lightly with olive oil.
Bake for about 20 minutes. Serve warm with crostini or crusty bread!
Recipe notes
Baked ricotta ingredients
Here are a few notes about the ingredients. Other than ricotta, I'm pretty sure there's nothing in this list that you probably don't already have in your pantry!
Ricotta: Use full fat, not low fat, standard ricotta sealed in containers. For this recipe, supermarket ricotta you find in the tubs/containers in the refrigerator section is better than fresh ricotta that you can buy over the deli counter.
Garlic: a pinch of convenient garlic powder adds just a touch of garlic flavor. I think fresh garlic is a bit overpowering here and there's a chance of it scorching in the oven.
Herbs: again, for convenience, I use some delicious Italian herb seasoning (essentially a blend of oregano, basil, marjoram, thyme, rosemary, sage, parsley). However, feel free to use a mix of some the herbs if you have in your pantry or simply go for oregano, it works just fine.
Extra virgin olive oil: for flavor and to keep the cheese moist in the oven.
Chili flakes/red chili pepper: for a touch of heat and for color.
Salt & pepper: add some seasoning on each slice of ricotta cheese. You can also adjust the seasoning after baking with a generous sprinkle of freshly ground black pepper and salt if desired.
Customize your baked ricotta!
There are many ways to jazz up these lovely slices of baked ricotta. You can sprinkle them with some chopped olives, halved cherry tomatoes, slices of red onions or herbs and lemon zest. Or you can drizzle them with honey and then scatter with fresh thyme and pine nuts for texture!
Storage/make ahead
Store any leftovers in an airtight container in the refrigerator for up to 3-4 days. I recommend reheating the slices in the oven or in the microwave to enjoy them warm with an extra drizzle of extra virgin olive oil.
You can also arrange the ricotta slices with the rest of the ingredients on a baking sheet, cover with cling film, and keep refrigerated for 3 days. Then bake when it's time to serve!
Love ricotta?
This Italian cheese has wonderful texture and flavor that work in both sweet and savoury dishes like in these ricotta recipes and ricotta desserts! Just to name a few:
More appetizers you'll love!
You might like these super quick caprese skewers, spicy olives, sun dried tomato paste, chickpeas bruschetta, or marinated mozzarella.
If you're a keen baker, give a go to these terrific italian focaccia, tomato focaccia, focaccia with olives or crispy breadsticks. Also a delicious gorgonzola pizza, artichoke pizza or caprese pizza, they're great for sharing!
Impress with these yummy Italian rice balls or make this Italian-style sautéed arugula to serve with bruschetta!
If you make this scrumptious ricotta crostini recipe, or you have a question, let me know by leaving a comment. I would love to hear from you! x
Print Recipe
Baked Ricotta
This super easy baked ricotta is full of flavor, easy to customize and makes a scrumptious appetizer for anytime you're entertaining.
Recipe yields about 10 slices.
Ingredients
2 cups

(500 grams/17 oz)

standard ricotta (sold in containers)

1

teaspoon

Italian herb seasoning

¼ – ⅛

teaspoon

garlic powder

¼

teaspoon

chili flakes, or to taste

1

tablespoon

extra virgin olive oil

salt & pepper, to taste
Instructions
Drain your ricotta (to make the cheese firmer and the cut easier). Open the containers, place them upside down on a colander (you need a colander per container) and place each colander over a bowl/plate to gather the moisture. Leave the container on top of the ricotta cheese as it will help to transfer the cheese on the baking sheet when it's time to bake it.

Transfer everything to the refrigerator and let it drain overnight or at least 4 hours.

When the ricotta is ready, preheat oven to 400℉/200℃ and line a baking sheet with parchment paper.

Place the drained ricotta with their containers upside down on the baking sheet. Remove and dispose the containers.

Using a knife carefully cut the ricotta cheese into ½-inch thick slices (you should have about 10 slices in total) and arrange them nicely on the baking sheet.

Sprinkle each slice with a pinch of dried herbs, garlic powder, salt, pepper and chili flakes. Finish with a light drizzle of olive oil and place in the oven.

Bake for 15 minutes and turn the broil on for the last 4-5 minutes until the slices turn slightly brown and crispy at the edges. Keep in mind each oven works differently, you need to keep an eye on it to make sure the ricotta will turn golden brown without burning.

Serve while the ricotta is still warm, but not hot from the oven. Taste and add freshly ground black pepper or more salt if desired. Enjoy with crostini, crusty bread as an appetizer, or cut into cubes and add it to salads. Enjoy!
Notes
Baked ricotta leftovers: Store any leftovers in an airtight container in the refrigerator for up to 3-4 days. I recommend reheating the slices in the oven or in the microwave to enjoy them warm with an extra drizzle of extra virgin olive oil. 
Nutrition facts:
 the nutrition values are  for one serving and are based on an online nutrition calculator.  It's an estimate only and it should not be considered as a substitute for a professional nutritionist's advice. Please see my disclosure policies. 
Nutrition
Calories:
100
kcal
|
Carbohydrates:
2
g
|
Protein:
6
g
|
Fat:
8
g
|
Saturated Fat:
4
g
|
Polyunsaturated Fat:
0.3
g
|
Monounsaturated Fat:
3
g
|
Cholesterol:
26
mg
|
Sodium:
237
mg
|
Potassium:
57
mg
|
Fiber:
0.1
g
|
Sugar:
0.1
g
|
Vitamin A:
241
IU
|
Vitamin C:
0.01
mg
|
Calcium:
107
mg
|
Iron:
0.3
mg