This post may contain affiliate links. Please read my disclosure policy for more details.
This easy carrot lentil soup combines hearty lentils with tender and wonderful sweet carrots. It's thick, nourishing, and so delicious.
An economical, protein-packed meal the whole family will love!
Let me start by saying this recipe might be your new favorite soup. I've made it two times in a row this week and it was a huge hit.
It's really everything you could want in a warming bowl of soup: It's comforting, nutritious, and it's almost embarrassingly easy to make with a few pantry staples in about 35 minutes.
I love the combination of the ingredients: the lentils bring tons of plant-based protein and texture, while the soft carrots release their sweet flavor and are great to fill you up without weighing you down.
The end result is so comforting, filling yet quite light.
Make a big batch and freeze some for later, or serve it up with crusty panini bread, warm focaccia or stovetop croutons. This is soup heaven during the cold winter nights! 
List of the ingredients
Green or brown lentils
Carrots
Vegetable broth
Onion
Garlic
Spices (paprika, cumin)
Herbs (thyme, bay leaf, parsley)
Tomato paste
Extra virgin olive oil
Salt & pepper
Lemon juice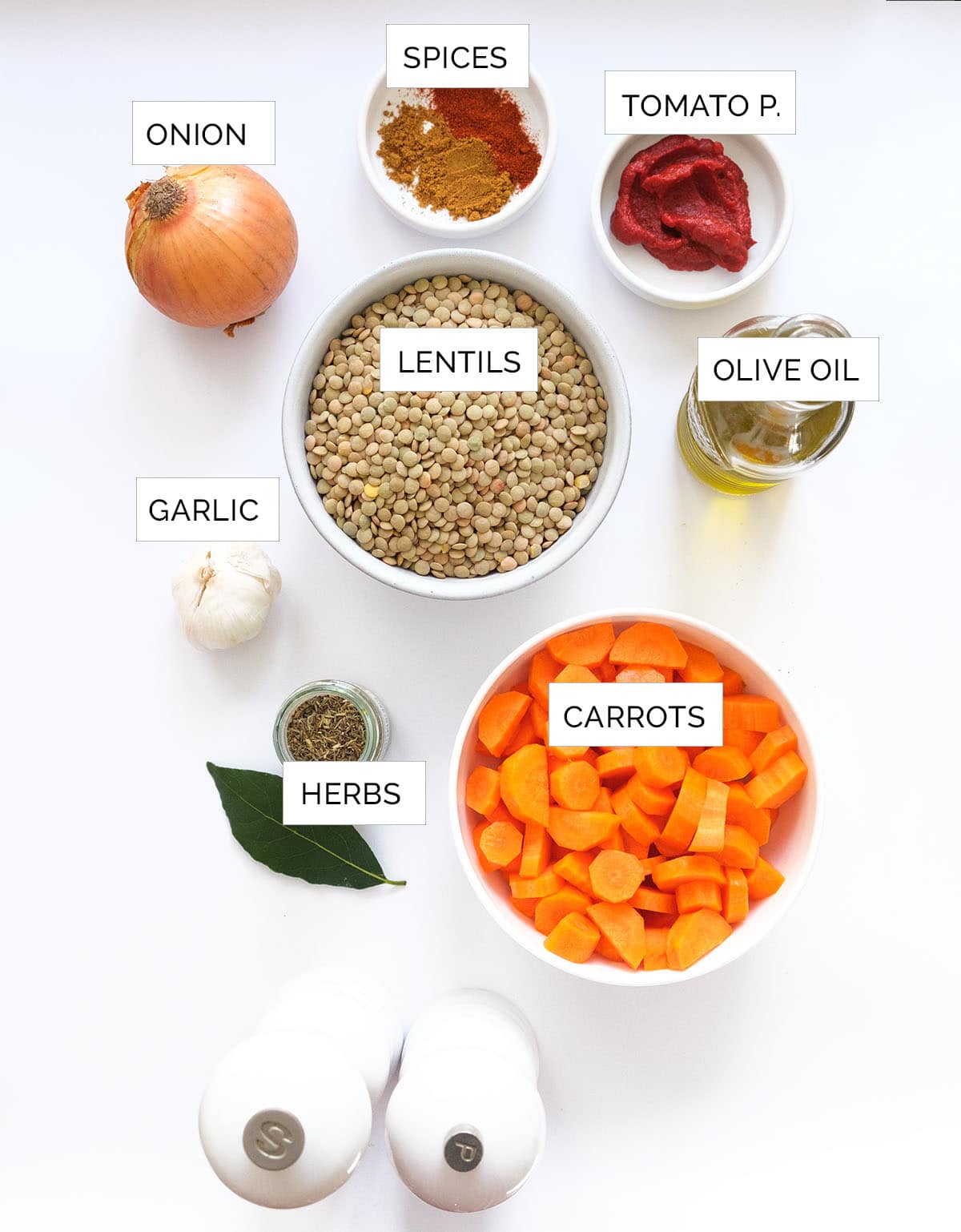 How to make carrot lentil soup
(Note: this is a quick description, the full recipe is at the bottom of the page)
Sauté the diced onion in olive oil until soft.
Add the garlic, spices, and cook for about 1 minute.
Toss in carrots and lentils.
Add broth, herbs, tomato paste, seasoning.
Cook for about 25-30 mins until lentils and carrots are soft.
Stir in onion powder and lemon juice.
Optional step: for a creamier texture, let it cool slightly, blend 2 cups of the carrot lentil soup until smooth and add it back to the pot.
Taste, adjust the seasoning if desired, and finish with fresh chopped parsley.
Serve with easy golden croutons, crusty bread or warm focaccia. Enjoy!
Recipe notes
Carrot lentil soup ingredients
Onion & garlic: The recipe starts with a flavor base made with onion, garlic and extra virgin olive oil. This is an important step to build the flavor.
At the end of the cooking time, I also love adding some onion powder to enhance the sweetness of the soup.
Lentils: Both dried brown or green lentils are fine for this lentil carrot soup, but make sure to rinse and drain them well before using in this recipe.
Carrots: Of course, we need one pound of carrots!
Herbs: Bay leaf and dried thyme are used to infuse the broth, and the fresh parsley is added at the end for its fresh aroma.
Spices: The combination of paprika and cumin works so well with lentils and makes the broth flavourful.
Tomato paste: A touch of tomato paste for richness and depth of flavor.
Broth: The recipe uses low sodium vegetable broth, but you're welcome to use your favourite broth. Make sure to adjust the seasoning accordingly since some broth can be quite salty
Lemon juice: A squeeze of fresh lemon juice is essential to brighten up and balance the overall flavor.
Salt & pepper: Make sure you adjust the seasoning before serving.
Look below at how rich and delicious this is?!
How to store leftovers
This carrot and lentil soup keeps well in the fridge for about 3-4 days and freezes beautifully. I suggest dividing the soup into single portions, cooling completely in the refrigerator over night, then transferring to the freezer.
I use this type of glass containers, I use them to freeze every soups and sauces!
Lentil soup recipes you'll love!
And if you look for more delicious ways to eat lentils, these collections of 25+ lentil recipes and 25+ green lentil recipes are perfect for you!
If you make this carrot lentil soup or if you have any questions, let me know! Leave a comment, send me a message, or rate it.
I would love to hear from you! x
Print Recipe
Lentil Carrot Soup
This nourishing, comforting carrot lentil soup combines hearty lentils and tender carrots with their wonderful sweet flavor. It's SO delicious! It's a wonderful protein-packed meal the whole family will love!
Serving 4 o to 6.
Ingredients
1 ½

tablespoon

extra virgin olive oil

1

medium-sized onion, chopped (any color)

2

garlic cloves, minced

1 lb

(450 grams) carrots, sliced or cubed

1 ⅓ cup

(250 grams) green or brown lentils, rinsed and drained

2

tablespoons

tomato paste

½

teaspoon

paprika

½

teaspoon

cumin

½

teaspoon

dried thyme

1

bay leaf

6

(1.5 lt)

low sodium vegetable broth

1 to 1 ½

teaspoon

fine salt, to taste

⅛

teaspoon

black pepper

½

teaspoon

onion powder

1

tablespoon

lemon juice, or to taste

3

tablespoon

fresh parsley, chopped
Instructions
Heat the oil in a large pot or Dutch oven over medium heat. Add the onion and cook until soft and translucent, about 5 minutes, reducing the heat to low as needed.

Add the garlic, paprika, cumin and cook, stirring, until fragrant, about 1 minute.

Add the carrots, lentils, tomato paste, thyme, bay leaf, broth, 1 teaspoon salt, and several grinds of black pepper. Bring to a boil, reduce to a simmer, cover with a lid, and cook until the lentils are tender, 25 to 30 minutes.

Turn the heat off, stir in lemon juice, onion powder, and if your soup is too thick, stir in some water or broth to reach the desired consistency. Taste and adjust the seasoning to your taste with extra salt, pepper, or more lemon juice if desired.

Optional step for a creamier texture: let it cool slightly, then transfer about 2 cups of the soup to a blender. Puree until smooth, then return the pureed soup to the pot, and stir until combined.

Finish with fresh chopped parsley, and serve with a drizzle of extra virgin olive oil (optional), and plenty of crusty bread for dunking or croutons.
Notes
Storage tip: This carrot and lentil soup keeps well in the fridge for about 3-4 days and freezes beautifully.
Nutrition facts: the nutrition values are for one serving and they are based on an online nutrition calculator. It's an estimate only and it should not be considered as a substitute for a professional nutritionist's advice. Please see my disclosure policies.
Nutrition
Calories:
225
kcal
|
Carbohydrates:
36
g
|
Protein:
12
g
|
Fat:
4
g
|
Saturated Fat:
1
g
|
Polyunsaturated Fat:
1
g
|
Monounsaturated Fat:
3
g
|
Sodium:
680
mg
|
Potassium:
746
mg
|
Fiber:
16
g
|
Sugar:
6
g
|
Vitamin A:
12885
IU
|
Vitamin C:
13
mg
|
Calcium:
64
mg
|
Iron:
4
mg