This post may contain affiliate links. Please read my disclosure policy for more details.
Meet the most delicious raspberry muffins you'll ever make! They are incredibly moist, perfectly sweet and bursting with juicy raspberries.
You only need 2 bowls to mix the ingredients, no mixer required.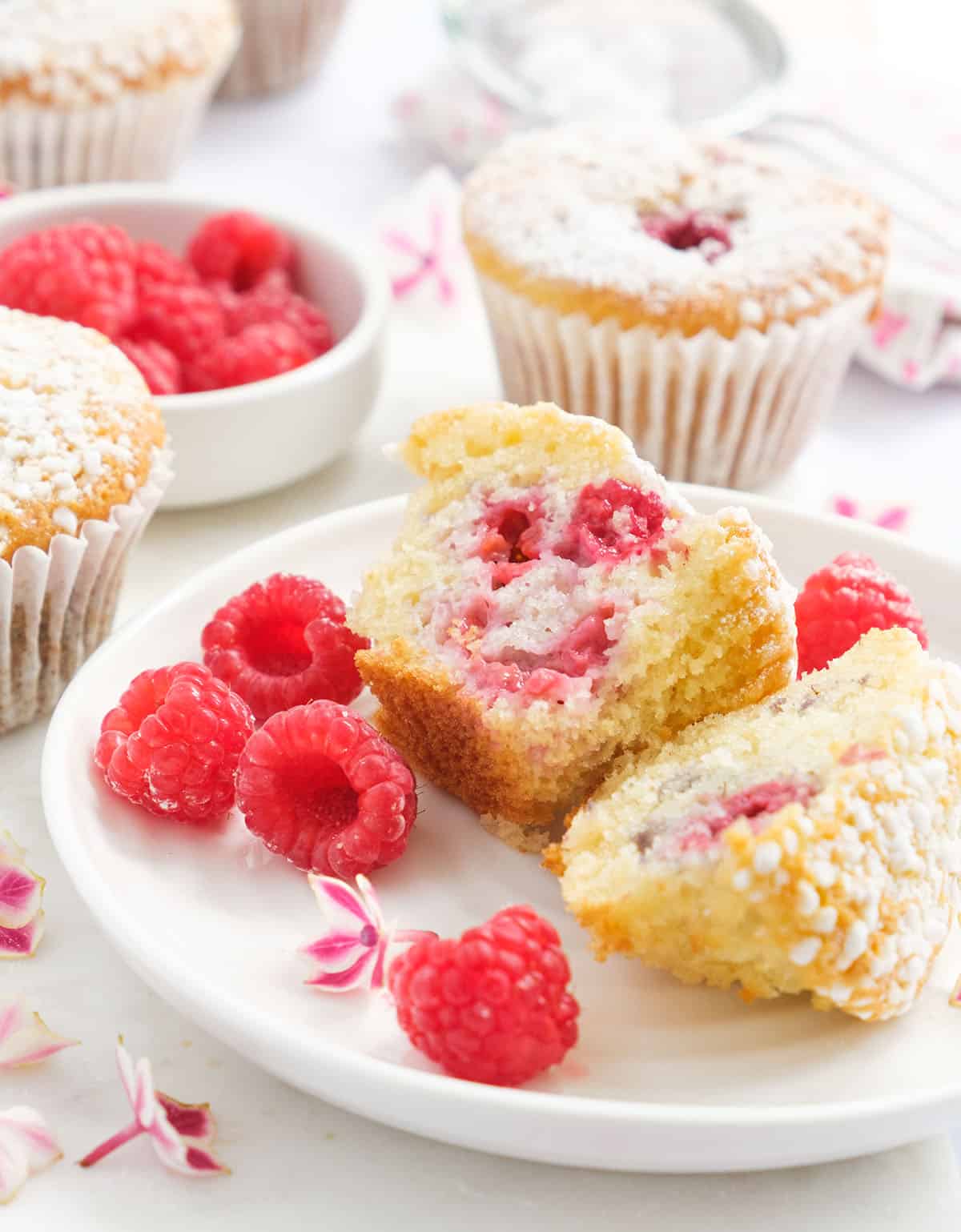 I'm very much into muffins at the moment. After sharing my yogurt muffins and blueberry cream cheese muffins, I was determinate to add delicious raspberry muffins to my repertoire.
In the last few days I've tested the recipe three times until I was so excited at how incredible these muffins turned out.
They taste divine like they're fresh out of a bakery, with plenty of flavor thanks to fresh juicy berries, yogurt and a touch of vanilla to infuse them with an irresistible aroma.
The creamy yogurt and the vegetable oil make them ultra moist, slightly rounded, with a texture similar to mini cakes. And they keep their lovely soft texture for days.
The recipe uses a short ingredient list and only a few key steps. The dry ingredients are whisked together in mixing bowl, while the wet ingredients are mixed together in another bowl before the two are added to each other. Easy, right?
I love using fresh raspberries in this recipe, they are packed with flavor, but convenient and less expensive frozen raspberries work, too.
Feel free to double the recipe because they also freeze beautifully, great to keep some on hand in the freezer for a breakfast on the go.
Surprise your family and friends with this wonderful summer treat and watch them devour!
List of the ingredients
Raspberries
Yogurt
All-purpose
Sugar & salt
Eggs
Vegetable oil
Milk
Vanilla extract
leavening agents
How to make raspberry muffins
(Note: this is a quick description, the full recipe is at the bottom of the page)
You can use either fresh or frozen raspberries for this recipe.
If you use frozen, do not thaw the raspberries otherwise their juice will stain the batter.
The recipe uses the basic muffin mixing method.
Whisk all the dry ingredients together in a mixing bowl.
Mix all the wet ingredients in a second mixing bowl.
Add the wet ingredients to the dry ingredients (not the other way around) and mix until just combined. DO NOT OVERMIX – a few little lumps of flour are ok .
Either fold the berries into the finished batter using a spatula, or fill only half the muffin cups with batter, distribute the raspberries evenly, then add the rest of the batter to fill it about 3/4th of the cups.
Finish with a sprinkle of sugar – I love with this pearl sugar, it looks pretty and makes crispy tops.
Bake until the tops are no longer wet (16 to 18 minutes).
Enjoy your raspberry muffins! They taste divine with a dollop of sweet cream cheese, just saying! : )
Recipe notes
Ingredients for raspberry muffins
All-purpose flour: either cake flour or all-purpose flour are fine.
Yogurt & milk: yogurt will make the muffin crumb tender and moist. It's also used for flavor and to activate the baking soda for an extra lift power. Plain yogurt, low-fat, Greek style yogurt or vanilla yogurt work just fine.
Raspberries: either fresh or frozen raspberries work for this muffin recipe – if you use frozen, do not thaw them. If you love these lovely berries, next time check out this delicious raspberry cake!
Eggs: we use 2 eggs at room temperature, not fridge-cold.
Sugar: regular white sugar, granulated, brown, or caster sugar, work just fine.
Oil: it keeps the crumb really moist, it's flavourless and easy to stir into the batter. Vegetable oil, light olive oil, rice bran oil or canola oil work just fine.
Vanilla + salt: to enhance the flavor, but you can also use half lemon zest or almond extract instead of vanilla.
Baking powder + baking soda: I recommend using both leavening agents to create a significant rise against all of the wet ingredients.
Baking tips for the best muffins!
Measure the ingredients accurately. Kitchen scale, anyone? : )
Use ingredients at room temperature – apart from the berries.
Do not overmix the batter, you need only 10 turns with a mixing spoon.
The batter should be "scoopable" — not runny and not smooth.
Fill your muffin cups about 3/4 full, no more than that.
For maximum rise, bake them at hight temperature for the first 5 minutes.
Bake until tops are no longer wet and a toothpick inserted into the middle of a muffin comes out without any wet batter.
The baking time should be no more than 20 minutes.
Storage instructions
To store: they're best on the day, but keep well for 3-4 days in an airtight container on the countertop.
To freeze: allow them to cool completely, put them in airtight containers and freeze for up to 3 months. Thaw the muffins in the refrigerator (overnight) or at room temperature on the counter. To warm up, microwave on high for about 20 seconds.
Can we make the muffin batter in advance?
Please don't, or your muffins might not rise as expected. Letting the batter sit on the counter or in the fridge for hours or overnight will affect the rising of your muffins. This happens because the baking soda and/or baking powder become activated as soon as they are mixed with wet ingredients, and quickly lose their rising powers!
Muffin recipes you'll love!
If you make this raspberry muffins, let me know! Leave a comment, rate it, or tag a photo #theclevermeal on Instagram. I would love to hear from you! x
Print Recipe
Raspberry Muffins
Meet the most delicious raspberry muffins you'll ever make! They are incredibly moist, perfectly sweet and bursting with juicy raspberries. Recipe yields 12 regular muffins.
Ingredients
DRY INGREDIENTS
2 ½ cups

(300 grams)

all-purpose flour

¾ cup

(150 grams)

sugar

2

teaspoons

baking powder

1

teaspoon

baking soda

¼

teaspoon

fine salt

1 ½ cup

(180-200 grams)

fresh or frozen raspberries
WET INGREDIENTS
2

medium-sized eggs

1 cup

(250 grams)

plain or vanilla yogurt

½ scant cup

(100 ml)

vegetable oil or olive oil

2

tablespoons

cow milk or almond milk

1

teaspoon

vanilla extract
TOPPING
2-3

tablespoons

pearl sugar, to sprinkle on top (optional)
Instructions
Arrange a rack in the middle of the oven and heat to 400°F/200 ℃. Line a standard 12 muffin pan with papers liners. Set aside.

Mix the dry ingredients – Whisk the flour, sugar, baking powder, baking soda, and salt in a large bowl. If not using a kitchen scale, make sure to spoon and level the ingredients.

Mix the wet ingredients – Whisk the yogurt, milk, oil (you need a bit less than ½ cup), eggs, and vanilla in a medium bowl until combined.

Add the wet ingredients to the dry – Make a well in the flour bowl, then pour the wet ingredients into the dry and mix with a spoon or spatula until just combined. Give about 10 stirs, it's ok if you still see some lumps of flour. Do not overmix.

Fold in the raspberries – Either gently fold the raspberries until evenly distributed (4-5 folds is all it should take) or fill muffin cups halfway full,  add 3-4 raspberries into each cup, and add the rest of the batter. Make sure to fill your muffin cups about ¾ full. Optional: sprinkle with pearl sugar for crispy tops.

Bake – bake for the first 5 minutes at 400°F/200 ℃, then reduce to standard 350℉/180℃ until the muffins are golden and a toothpick inserted into the center of a muffin comes out clean. Total baking time should take between 16 (for a fan oven) and 18 minutes (for standard ovens). 

Remove muffins from the muffin tin immediately onto a cooling rack. Serve warm or at room temperature. Enjoy!
Notes
Spooned & leveled: spoon the flour into the measuring cup (do not press it) than use the back of a knife to level off the top of the cup.
Storage: they're best on the day, but keep well for 3-4 days in an airtight container on the countertop. They freeze very well! Allow the raspberry muffins to cool completely then put them in an airtight container and place them in the freezer for up to 3 months. 
Nutrition facts:
the nutrition values are for one portion only and are based on an online nutrition calculator.  It's an estimate only and it should not be considered as a substitute for a professional nutritionist's advice. Please see my
disclosure policies.
Nutrition
Calories:
241
kcal
|
Carbohydrates:
35
g
|
Protein:
4
g
|
Fat:
10
g
|
Saturated Fat:
2
g
|
Polyunsaturated Fat:
5
g
|
Monounsaturated Fat:
2
g
|
Trans Fat:
0.1
g
|
Cholesterol:
30
mg
|
Sodium:
232
mg
|
Potassium:
96
mg
|
Fiber:
2
g
|
Sugar:
14
g
|
Vitamin A:
69
IU
|
Vitamin C:
4
mg
|
Calcium:
79
mg
|
Iron:
1
mg