This post may contain affiliate links. Please read my disclosure policy for more details.
These are the easiest and most delicious almond cookies ever. Simple ingredients, no stand mixer, but just a straightforward amazing almond cookie that turns out perfectly every time.
A real treat for any almond lover!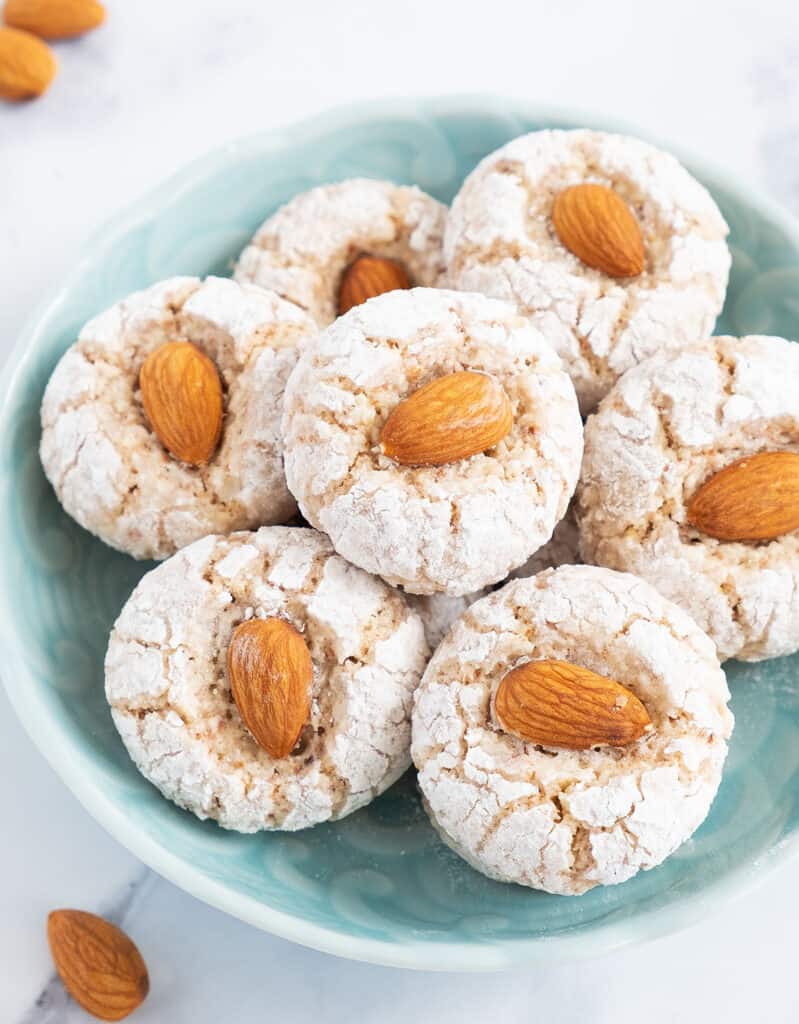 Inspired by the classic Italian soft amaretti recipe, these almond cookies have a chewy crust, a soft center and a divine almond flavor.
And they're EASY to make!
You don't need to whisk up egg whites or folding almond and sugar, but all you have to do is MIX just 5 ingredients in 1 bowl. Then shape your cookie balls, roll them in sugar, garnish with almonds if you feel fancy, then bake.
Watch the video!
The result will be these amazingly delicious soft almond cookies, crinkled outside and marzipan-like inside, and their lovely hints of lemon pairing beautifully with the almond flavor.
They're not overly sweet, in fact, their main ingredient is almonds, not sugar.

I have been making these Italian almond cookies for years and everyone who tries them agrees they're absolutely delicious, soft, and perfect with a cup of tea. Also, they look so pretty and make a lovely homemade Christmas gift
But what are almond cookies made of?

List of the ingredients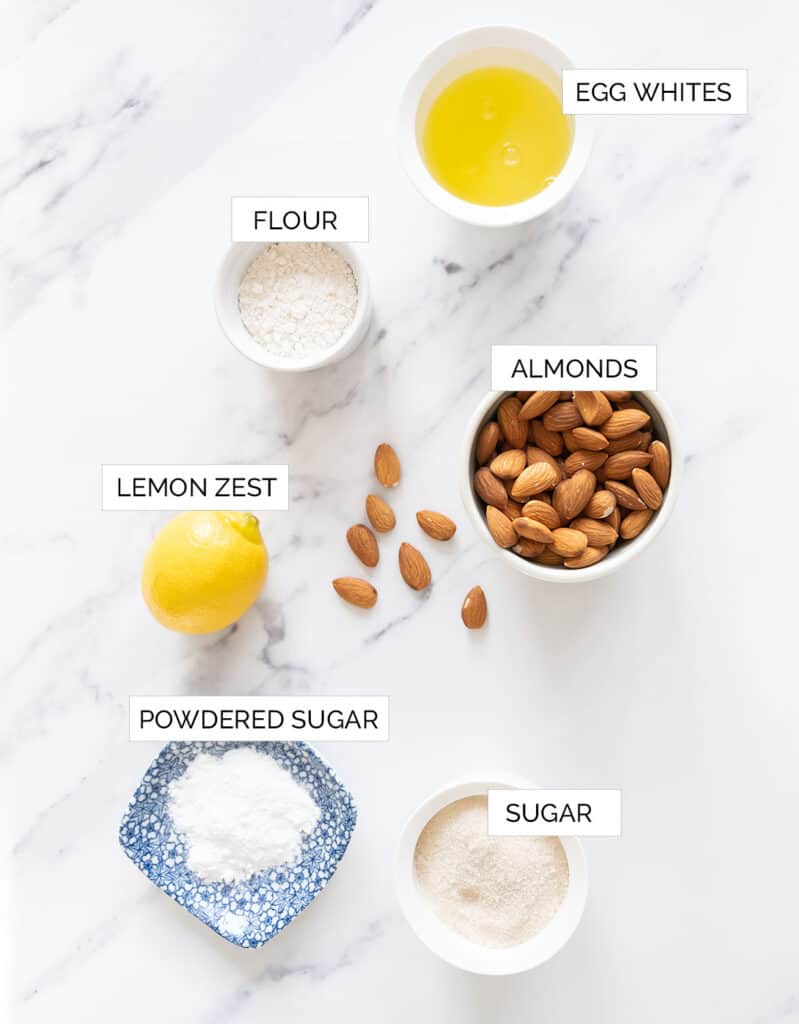 How do you make almond cookies from scratch?
(Note: this is simply a quick description of the method, the full recipe is at the bottom of the page)
Place the dry ingredients into a food processor (if you use whole almonds).
Whizz up.
Transfer the mixture to a large mixing bowl.
Stir in the egg whites and mix.
Mould about 22 balls and roll them in powdered sugar.
Place them on a baking sheet.
Gently press an almond in the center of each cookie.
Bake in the preheated oven.
Recipe notes & Faq
What you need for this almond cookie recipe
Almonds: this Italian almond cookie recipe is quite forgiving. Blanched almonds, whole almonds, store-bought almond meal (aka ground almonds), work fine. I make my own almond meal by grounding unpeeled almonds; it tastes fresher and it's cheaper than the store-bought option.
Egg whites: add the egg whites gradually until you reach a pliable dough, it has to be soft, but not too sticky or sloppy.
Flour: a bit of flour makes the dough easier to work with and reduces the overall amount of sugar and almonds (See notes below for the gluten-free option).
Lemon zest: don't skip it, its fresh notes pair so well with almonds. However, to intensify the almond flavor you can swap lemon zest for almond extract if you wish.
Powdered sugar: it's optional. You might want to use it purely to achieve that white crakle effect on the surface. You can use regular sugar instead of powdered sugar.
Sugar coating and crinkles
Powder sugar and those lovely crinkles make them so festive! However, I noticed that when I use store-bought almond meal, the cookies tend to absorb partially the sugar coating when they're in the oven. And that happens in general if the texture of the ground almonds is too fine. To prevent this, make sure to coat the cookies very well in powder sugar.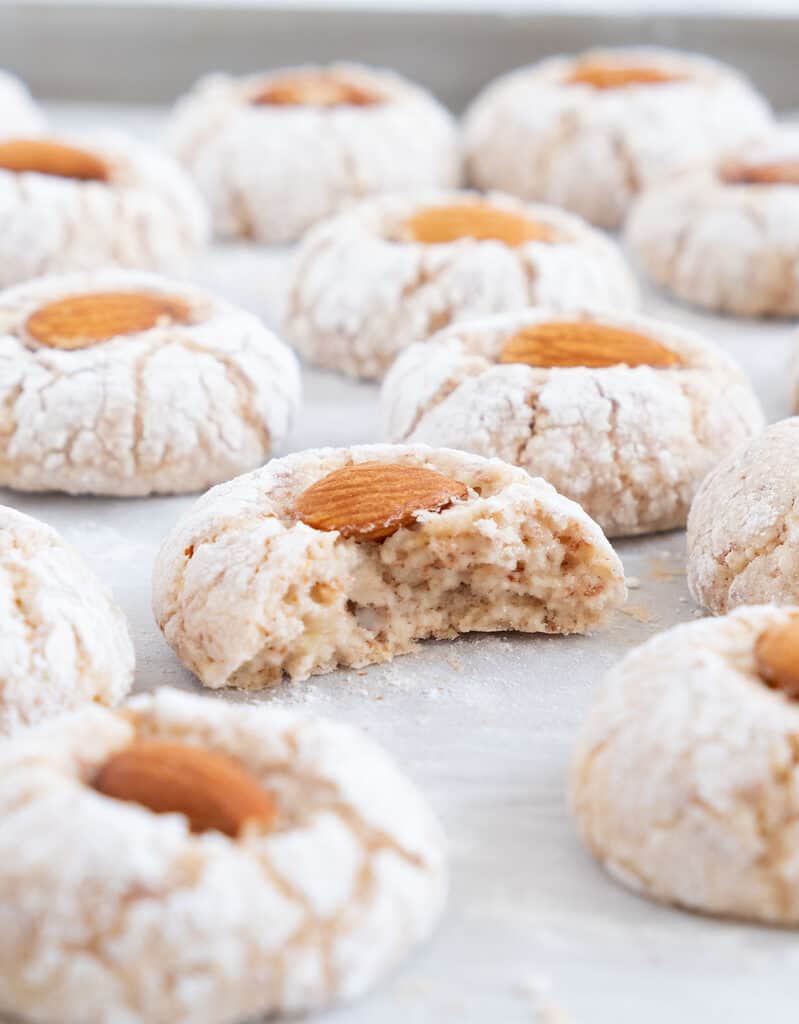 Can I make these almond cookies gluten-free?
Yes. You can easily turn these cookies into gluten-free almond cookies by using 1/3 cup of oat flour instead of 1/4 of all purpose-flour.
Can I freeze them?
Yes. You can make and freeze the dough for up to 1 month, tightly wrapped in plastic film and placed in a freezer bag. Thaw it in the fridge or at room temperature, then shape the cookies and bake them as per the recipe.
How long do almond cookies last?
Store them in a sealed jar or in a metal tin at room temperature. They last for about 5-6 days.
Looking for more easy cookie recipes?
You might have a look at these other easy cookie recipes, they don't require fancy equipment and you can make them easily in 1-bowl with a few simple ingredients:
And if you think of Christmas cookies, don't miss these 15 amazing Christmas cookies. It's a collection of recipes perfect to inspire you!
I hope you'll love these Italian almond cookies as mush as we do, and if you make them or if you have any questions, please leave a comment, rate it, or tag a photo #theclevermeal on Instagram. I would love to hear from you!
And for more recipe updates, subscribe my newsletter and follow me on Instagram, Pinterest and Facebook.
Print Recipe
Easy Almond Cookies
These are the easiest and most delicious almond cookies ever! Simple ingredients, no stand mixer, but just a straightforward amazing almond cookie that turns out perfectly every time. A real treat for any almond lover!
Ingredients
1 ⅓ cup

(7oz/200 grams) whole almonds (or 2 cups of ground almond)*

½ cup + 1 Tbsp

(4oz/120 grams) sugar (see notes)

¼ cup

(40 grams) all-purpose flour (or ⅓ cup oat flour)

¾

lemon, zest

2

egg whites, slightly beaten with a fork

1 tsp

almond essence or vanilla essence (optional)
Decoration
3 Tbsp

powdered sugar (icing sugar if you're in the UK)

22

almonds
Instructions
Preheat the oven to 340°F/170°C, line a baking tray with parchment paper and place the powdered sugar in a small bowl.

Place almonds (use a heaping 1 ⅓ cup of almonds to make 200 grams), plus sugar, lemon zest and flour in a food processor.

Whizz until you get nearly a fine texture. I mean, not coarse and not flour-like texture, but something in between.

Transfer to a large bowl.

Add half of the white eggs to the dry ingredients. Stir well with a spoon or a spatula and add the rest of them a bit at a time. I suggest you add the liquid gradually because you might need a bit less than 2 egg whites, it depends on their size. To check it the dough is ready, try to shape a cookie ball, it should be easy to work with and not too sticky.

Let the dough rest in the fridge for about 20 minutes.

Then shape 20-22 cookie balls, each cookie ball should be about 1 ⅓-inch diameter. Roll them in the powdered sugar, and if you used almond meal instead of whole almonds, make sure they're coat well in sugar.

Place the almond cookies on the baking tray allowing about 2 inches between them.

Top each cookie with 1 almond if you wish. Place the almond in the center and gently press with your finger.

Place the baking tray on the middle rack and bake for about 17 minutes.

When they're done let them cool on a rack and serve them at room temperature.
Notes
Almonds: you can use whole almonds, blanched almonds, ground almonds (if you're in the UK) or almond meal (if you're in the USA). Almond flour is ok (but use the fine grainy kind, not the powder one). Sugar: these cookies are not overly sweet, but if you've got a sweet tooth, feel free to add 1 or 2 extra Tbsps of sugar. Storage: the cookies keeps well in an airtight container for up to 6 days, while the cookie dough is freezable, wrapping in plastic film, for up to 1 month.  Note: Nutritional values are estimate only and they're are per 1 serving.
Nutrition
Calories:
89
kcal
|
Carbohydrates:
10
g
|
Protein:
3
g
|
Fat:
5
g
|
Saturated Fat:
1
g
|
Sodium:
5
mg
|
Potassium:
77
mg
|
Fiber:
1
g
|
Sugar:
7
g
|
Calcium:
26
mg
|
Iron:
1
mg