This post may contain affiliate links. Please read my disclosure policy for more details.
This super easy onion chutney turns a bunch of onions, sugar and vinegar into a delicious versatile condiment that pairs beautifully with cheese, crusty bread, sandwiches and BBQs.
It's also happened to be inexpensive, vegan and gluten free.
The first time I had homemade onion chutney was in the UK many years ago. It was so delicious with cheese and crackers that it was actually scary how much I was able to eat. I just couldn't stop! : )
But once I learned how unbelievably easy to make it was, and how ridiculously delicious the onions would turn out, you'd better believe I became a big fan of this delicious sticky goodness!
Just slice up a bunch of onions, combine them with some olive oil, sugar and balsamic vinegar. Then let them cook on low heat for about 25 minutes until the onions reach that caramelized sweet perfection!
Onion chutney really is that easy and goes well with just about anything, from cold meat to cheese, from salad to sandwiches. Or serve it with crostini and soft cheese for a quick appetizer.
It's really super versatile, easy to make, and affordable!
List of the ingredients
Red onions
Olive oil or butter
Dark or light brown sugar
Garlic
Balsamic or red wine vinegar
Chili flakes
Bay leaves
How to make onion chutney
Peel and slice the onions. I use a food processor with a slicing attachment and I get the sliced onions just in seconds! But also a mandoline works just fine!
Place the onions in a large pan with olive oil, garlic, and sauté for 10 minutes.
Stir in balsamic vinegar, sugar, bay leaves and cook for 25 minutes until soft and deliciously sticky.
Note: chutney is best enjoyed after being given some time to mature to help the flavours develop.
Recipe notes
Onion chutney ingredients
Added bonus? The recipe is very adaptable, here are a few notes about the ingredients:
Onions: red onions with their sweet flavor are the best choice for this recipe. Also their bright red color makes the chutney more inviting. I've never tried the recipe with brown onions, but I guess they should work fine.
Sugar: either light or brown sugar work well, they give a sweet sticky finish and enhance that sweet caramelised flavor. I usually use dark Muscovado sugar that contains plenty of molasses and has a rich brown color and moist texture.
Vinegar: I prefer Balsamic vinegar with its dark color and rich flavor, but you can use the less expensive red wine vinegar instead or even a mix between the two if you wish.
Olive oil: it's used to saute' the onions until soft and translucent, but butter works just fine if you prefer its flavor or you don't keep the chutney vegan.
Chili flakes: they're convenient and add a subtle warmth to the chutney. No worries, it's not too spicy, it's just right!
Garlic: to add more flavor. You can use 2 garlic cloves if you wish.
Bay leaves: again, for flavor, but don't fret if you don't have them, just skip them.
How to store it?
I keep my onion chutney in a glass jar in the fridge, always ready for quick cheese toasties!
How long does onion chutney last?
It keeps well for over a month in the fridge, but I'm not a home canning expert, so I can't recommend how long it would last if you use that method.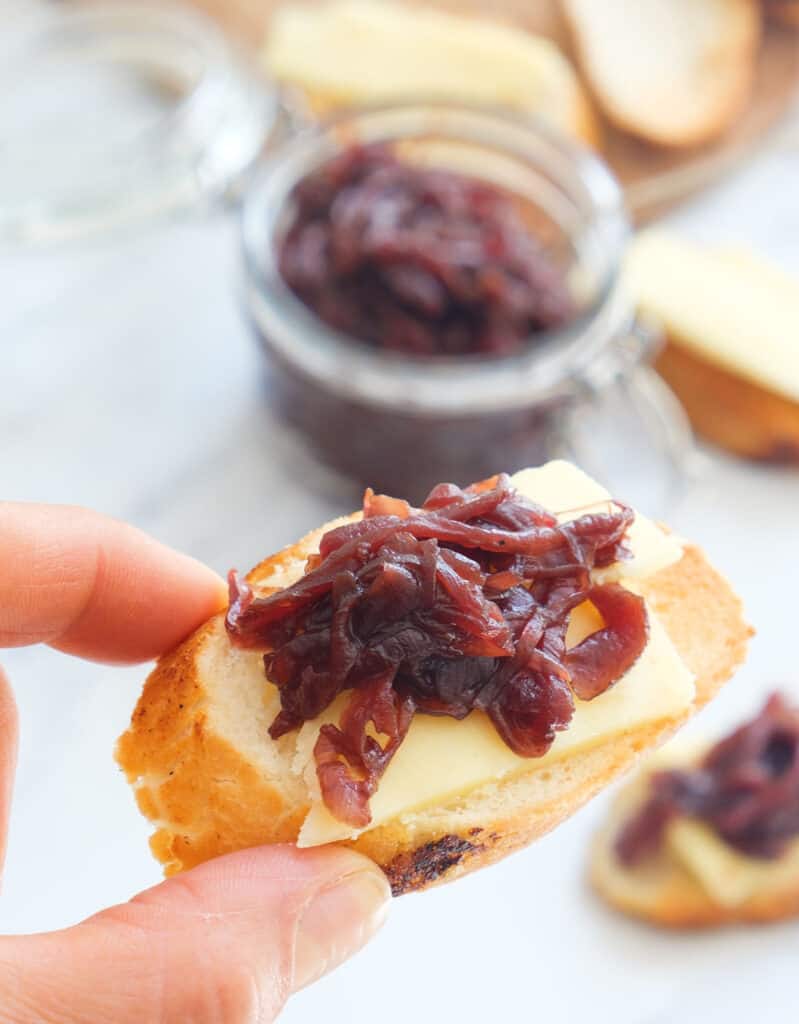 More recipes with onions
If you like onions, I've got you covered with a few delicious and easy onion recipes:
If you make this scrumptious onion chutney, or if you have any questions, let me know! Leave a comment, send me a message, or rate it. I would love to hear from you!
And for more recipe updates, subscribe my newsletter and follow me on Instagram, Pinterest and Facebook.
Print Recipe
Onion Chutney
This super easy onion chutney turns a bunch of onions, sugar and balsamic vinegar into a delicious versatile condiment that pairs beautifully with cheese, crusty bread, sandwiches and BBQs. 
Quantities yield 2 ½ cups.
Ingredients
3

Tablespoons

olive oil

2 lb

(900 grams) approx 8 red onions, finely sliced

1

large garlic clove, minced

¼

teaspoon

dried chili flakes

6

Tablespoons

dark or light brown sugar

⅓ cup + 1 Tbsp

(95 ml)

balsamic or red wine vinegar

2

bay leaves
Instructions
Peel and finely slice the onions. Mince the garlic.

In a large pan heat the olive oil over medium heat. Add the onions cook, stirring often, for about 10 minutes. The onions should be softened but not browned.

Add the garlic and the chilli, stir and cook for another minute.

Stir in the sugar, the balsamic vinegar and the bay leaf. Reduce the heat and cook for about 25-30 minutes, stirring often.

Make sure you stir the chutney more towards the end of the cooking process so it doesn't stick to the pan. When the onion chutney is glossy, sticky but still moist is ready.

Let it cool slightly then transfer it into a glass jar. Let it rest a room a temperature until cold, then store it in the fridge for up to 1 month.
Notes
Nutrition facts:
 the nutrition values are  for one serving and are based on an online nutrition calculator.  It's an estimate only and it should not be considered as a substitute for a professional nutritionist's advice. Please see my disclosure policies.
Nutrition
Calories:
84
kcal
|
Carbohydrates:
13
g
|
Protein:
1
g
|
Fat:
4
g
|
Saturated Fat:
1
g
|
Polyunsaturated Fat:
1
g
|
Monounsaturated Fat:
3
g
|
Sodium:
6
mg
|
Potassium:
120
mg
|
Fiber:
1
g
|
Sugar:
9
g
|
Vitamin A:
15
IU
|
Vitamin C:
6
mg
|
Calcium:
23
mg
|
Iron:
1
mg