You can't resist these addictive Italian almond biscotti, they're super crispy and packed with flavor, with lovely hints of orange, honey, and delicious toasted almonds.
Not tons of butter, not tons of sugar or food coloring, but only healthy, wholesome, real ingredients that make them irresistible.

Plus, they're so easy to make, they last up to 2 weeks and are perfect to give as a homemade Christmas gift.
Don't they look awesome?
Believe me, I've baked and sold tons of Italian almond biscotti to several coffee shops here in London, and people fell in love with their amazing flavor and texture.
It's simple, they will quickly become your coffee's new best friend! 🙂

WHAT INGREDIENT DO YOU NEED?
Flour (all-purpose or spelt flour)
Almonds
Eggs
Sugar
Vegetable oil
Orange zest
Honey
Vanilla extract
Aniseed (optional)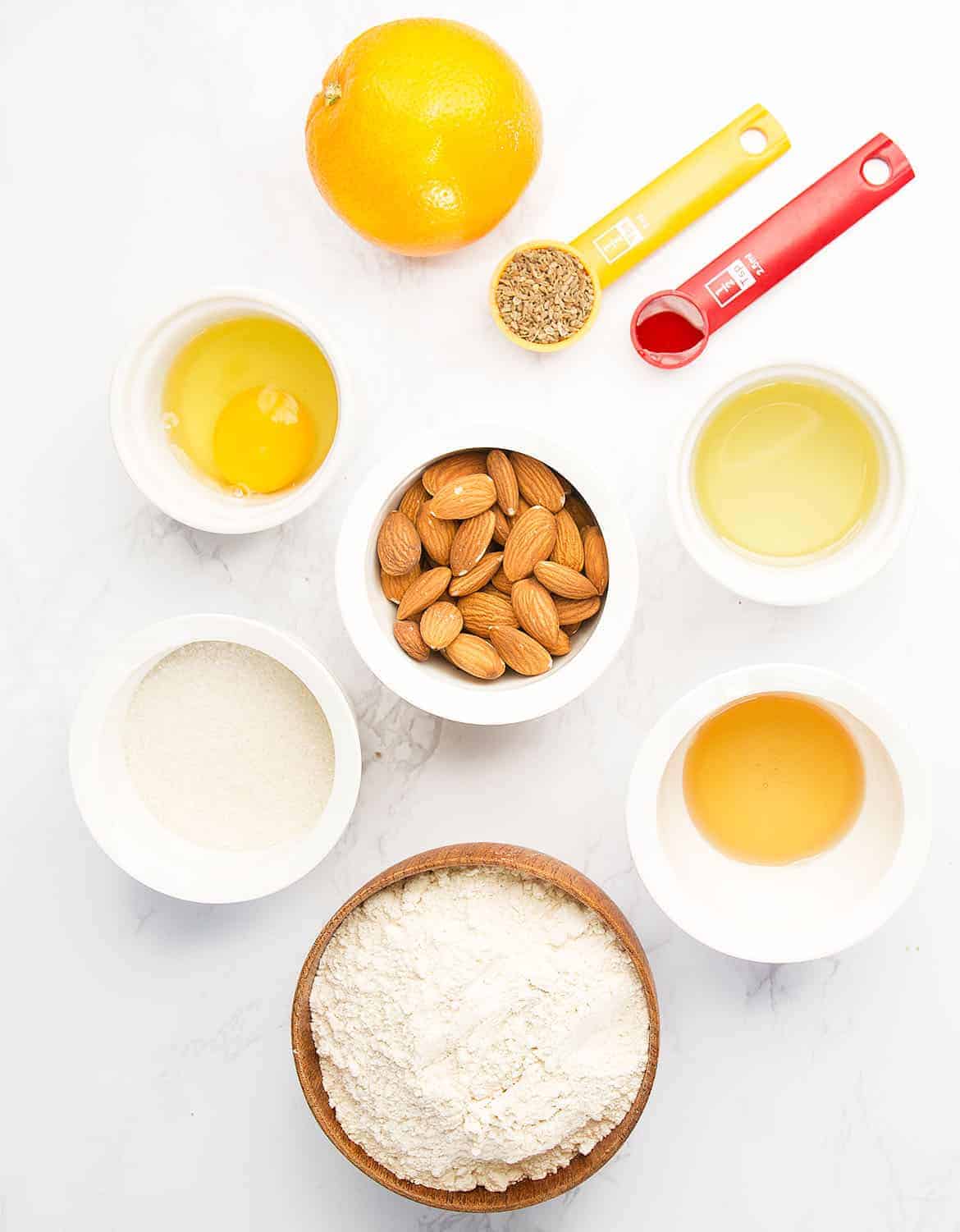 HOW TO MAKE ITALIAN BISCOTTI?
(Full recipe at the bottom of the page)
My recipe for almond biscotti is very simple. I'll show you how to make them in a few simple steps…
Whisk egg and sugar
Then stir in oil, vanilla, honey, and orange zest
Incorporate flour, baking powder, and aniseed
The dough starts to take shape
Add toasted almonds
Then bring it together gently by hands, inside the bowl
No worries, the dough is very easy to work it…
Preheat the oven to 350 F
Make 2 logs (2 inches wide)
Brush with egg wash (to make them beautiful! : )
Bake for 25-30 minutes
Let these beautiful golden logs cool for 15 minutes
Then cut them diagonally into nice clean slices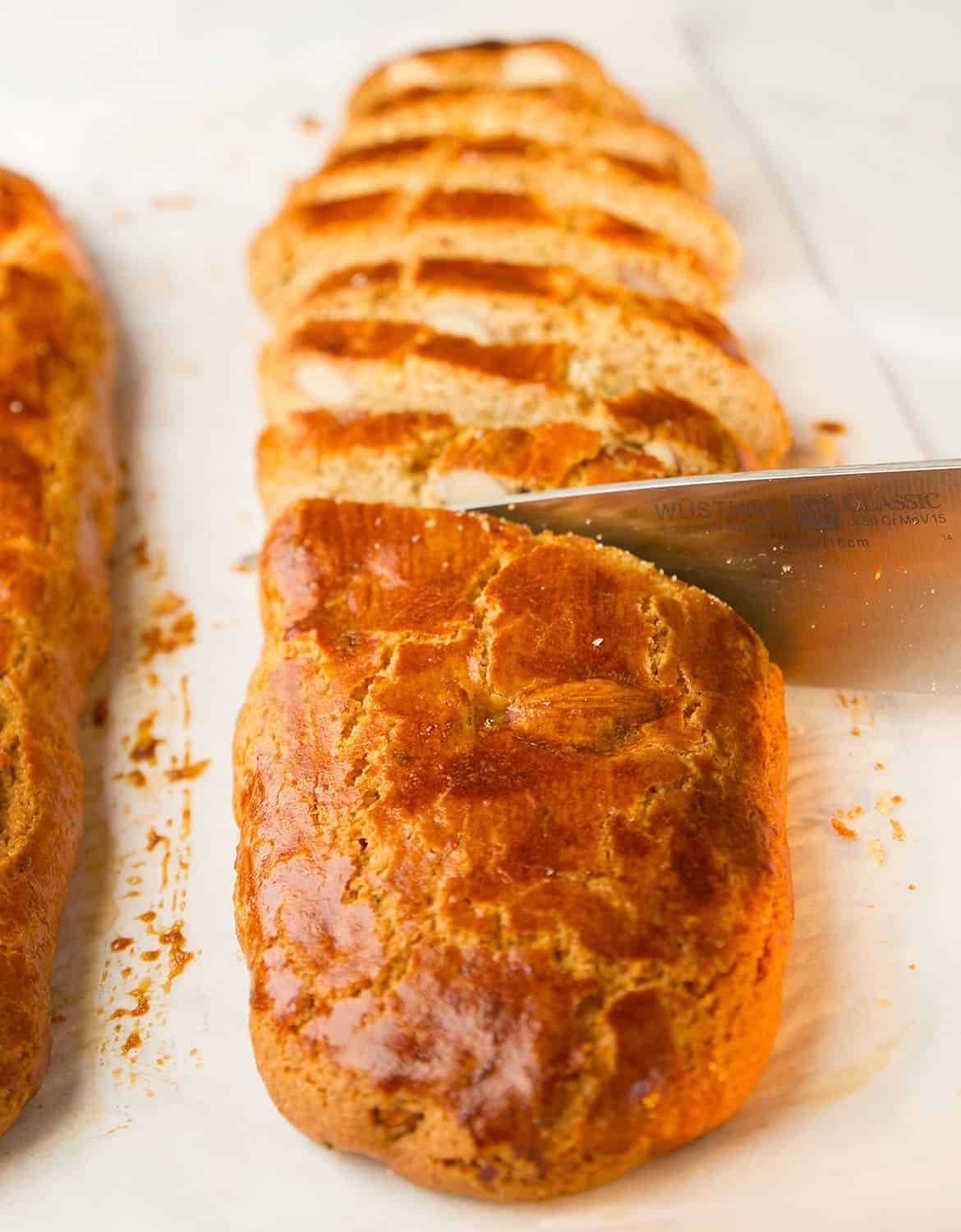 Wait, it's not finished yet, one more step to make them crunchier!
Reduce oven temperature to 250 F
Bake the biscotti slices 10 minutes per side
Let them cool, make yourself a cup of coffee and enjoy!
RECIPE NOTES AND TIPS
WHAT ARE BISCOTTI?
Biscotti, otherwise known as "cantucci", are the classic twice-baked Italian cookies from Tuscany and, if you haven't heard about them before, biscotti literally means twice (bis) cooked (cotti). Baking them twice might sound a bit time-consuming, but it's during this step that biscotti dry out and become crispy.
The extra time is worth it and the double-baking gives them their trademark crumbly dry crispness. Since they are dry and last much longer than other baked foods, biscotti were taken on long trips since ancient Roman times.
ALMONDS: first things first, it's worth toasting the almonds to bring out their flavor. Don't skip this step!
WHOLESOME INGREDIENTS: these delicious Italian almond biscotti are pretty healthy too.
You can easily replace white sugar with unrefined cane sugar and all-purpose flour with light spelt flour, which tastes delicious and has a nutty flavor. Plus, spelt is a nutritious whole grain, rich in vitamins, minerals, protein and easier to digest than wheat.
STORAGE: they last up to 2 weeks if stored in an airtight container (metal tins are the best!)
These awesome biscotti make the perfect Christmas gift, your family and friends will fall in love with them.
But if you're hungry for more cookie recipes, please have a look at these beautiful chocolate orange cookies and don't miss this amazing list of Christmas cookies, I'm sure you'll find what you're looking for!
If you make this recipe for almond biscotti, let me know! Leave a comment, rate it or tag a photo #theclevermeal on Instagram. I would love to hear from you!
Print Recipe
ALMOND BISCOTTI (Italian cantucci)
You can't resist these addictive crunchy almond biscotti, they're so crispy and mega delicious, with toasted almonds and hints of orange and honey. Easy to make and packed with healthy, wholesome ingredients.
Ingredients
2 cups

(240 grams)

all-purpose flour or spelt flour

1 cup

(150 grams)

Almonds, toasted

2

eggs

1/3 cup + 1 Tbsp

(85 grams)

sugar (I use unrefined cane sugar)

1/3 cup

(80ml)

vegetable oil (I use expeller pressed canola oil)

1

orange, zest

1 1/2

Tbsp

honey

1/2

Tbsp

aniseed, or more if you like (optional)*

1

tsp

vanilla extract

3/4

tsp

baking powder
Instructions
Preheat the oven to 350°F (no forced-fan) and line 1 large baking tray with parchment paper.

TOST THE ALMONDS: scatter the almonds over the prepared baking tray and toast them in the preheated oven until fragrant and lightly golden (it takes about 7 minutes), and set aside.

MAKE THE BATTER: In a medium bowl, whisk 1 egg and sugar together until the batter has become lighter in color and the sugar is thoroughly dissolved.

Then add vanilla extract, honey, orange zest, oil and mix well.

Stir in flour and baking powder. Mix until most of the flour is incorporated (see picture above), then add the almonds and using your hands gently bring the dough together inside the bowl. Make sure the almonds are distributed evenly.

MAKE THE LOGS: divide the dough into two flat logs (approx 2 inches wide), arrange them apart on the baking tray and flatten slightly. Try to make them as uniform in size and shape as possible (see the pictures above). If you find the dough a bit sticky, lightly wet your hands.

In a small bowl, beat the second egg and brush this egg wash over the logs. The egg wash gives a lovely golden color and makes the biscotti beautiful, but you can skip this step if you wish.

Bake them for about 25-30 minutes (27 mins for my oven), until the surface is firm to gentle pressure. Do not switch the oven off as these will need to be baked again, but reduce the heat to 250 F.

Let the logs cool on the baking tray for about 15 minutes, then use a sharp knife and gently slice them into 1/2-inch pieces. Better if you slice them on a chopping board, and be gentle when slicing.

Place the slices on the baking tray cut side down and return them to the oven for the second bake. Bake for about 10 minutes each side, a total of 20 minutes.
Notes
STORAGE: Italian almond biscotti keeps very well for about 2 weeks. However, humidity might ruin them, please store them in an airtight container, metal tins are the best!
SUBSTITUTIONS: traditionally made with almonds, you can replace the almonds with chocolate chips, hazelnuts, pine nuts or dried fruits like figs or sultanas. The possibilities are endless. Anise seeds are a must for the classic Italian almond biscotti, however, feel free to omit them if you wish.
ALMONDS: I highly recommend to toast the almonds to bring out their amazing flavor. I used whole almonds and I didn't chop them, but if you bake biscotti for the very first time you might chop your almonds, which will make the cutting easier.
ANISEED: aniseed is optional, but it adds a lovely and refreshing note. I love it and I'm sure you would love it too. Give it a try!
Since I try to eat as healthy as possible, when I bake cakes or other treats, I usually use wholesome ingredients like spelt flour, unrefined cane sugar and expeller pressed canola oil or olive oil.