This post may contain affiliate links. Please read my disclosure policy for more details.
These fabulous chocolate orange cookies are made using fresh orange juice and zest and they're dipped in scrumptious dark chocolate for an amazing treat! The cookie dough is SUPER EASY to mix in 1 bowl.
No mixer, no creaming butter, no chill time.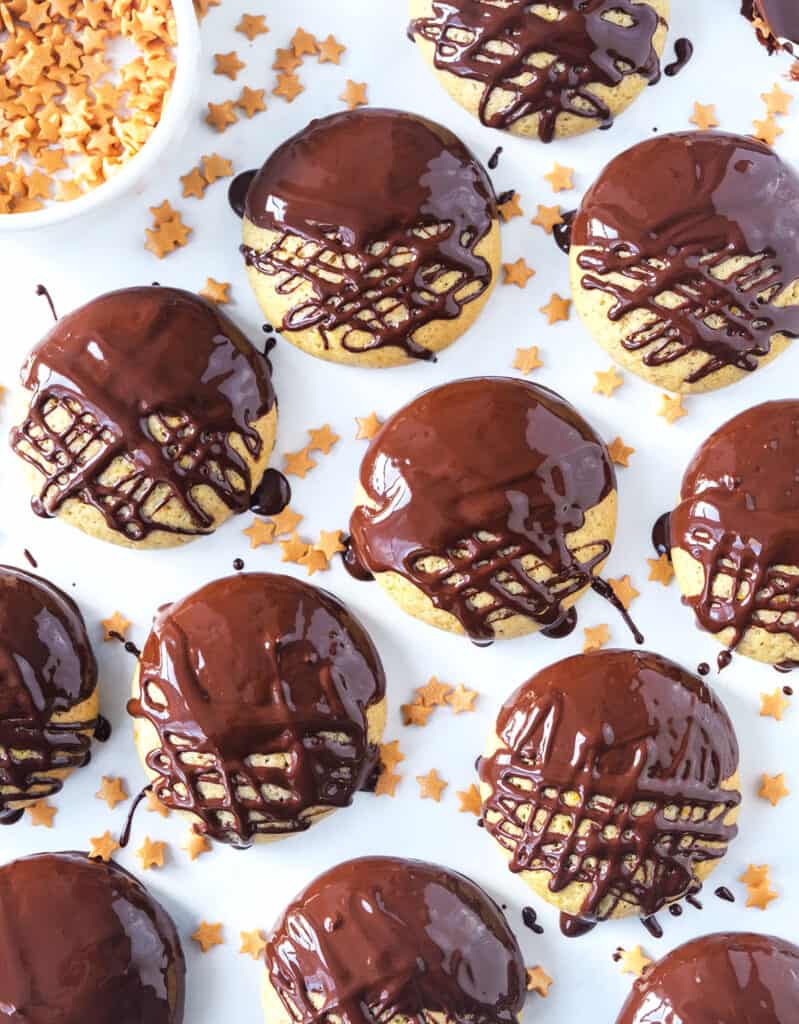 Nothing gets you in the holiday spirit quite like baking delicious cookies, and with this orange cookie recipe you can make your fantastic cookies from scratch!
I've been using this easy recipe for ages, and I love how simple, economical, and effortless it is.
All you have to do is mix the ingredients in one bowl, and the dough will come together in a breeze: smooth, pliable, and easy to work with.
And NO mixer, NO chill time, NO mess.
Bake, et voila'... you'll have 20 delicious chocolate orange cookies ready in 30 minutes!
They're also easy to decorate with your favorite sprinkles, and it's so fun to make them extra cute and festive.
And not only are these cookies easy to whip up, but they look and taste divine, tender inside and crisp outside, slightly spicy, and packed with orange flavor and chocolate goodness.
With the holiday season upon us, I'm sure these foolproof, budget-friendly chocolate orange cookies will be the perfect addition to your Christmas cookie tray!
List of the ingredients
Egg
Sugar
Vegetable oil
Flour
Oranges
Orange extract (optional)
Spices (cinnamon and ginger)
Salt
Leavens (baking powder and soda)
How to make chocolate orange cookies
(Note: this is a quick description, the full recipe is at the bottom of the page)
Beat egg and sugar in one bowl until pale.
Stir in vegetable oil, orange juice, zest, extract into the egg mixture.
Mix the flour, baking powder, baking soda, spices, and salt in a second bowl, then add this dry ingredients to the egg mixture.
Stir until the flour has been incorporated.
Bring the dough together gently by hands, inside the bowl.
Your cookie dough is now ready and smooth.
Roll each portion of dough between your hands into perfectly round balls.
Gently press down to flatten each ball of cookie dough into a disc.
Bake for about 13 minutes and let them cool on a rack.
Melt the chocolate in a microwave or on the stove (see tips below).
Dip each cookie halfway into the melted silky chocolate (if you wish, you can liberally drizzle more chocolate over the cookies for an extra decoration!).
While the melted chocolate is still soft and shiny, decorate each cookie with Christmas sprinkles (optional).
Your chocolate orange cookies are ready, enjoy!
RECIPE NOTES
A few notes about the ingredients
These chocolate orange cookie recipe starts as you might expect, with egg, sugar, flour, baking soda, baking powder, but these key ingredients make them extra special and flavorful:
Orange flavor: to maximise the orange flavor, I use orange zest, juice and also orange extract. To grate the orange zest, I also use my microplane.
Dark chocolate: orange and chocolate flavor are the stars of the show for these cookies, make sure to look for good-quality 70% dark chocolate chips or bar for this recipe.
Spices: For warm, cozy depth of flavor, ginger and cinnamon make the perfect combination and their spicy notes pair beautifully with orange and chocolate. Pumpkin pie spices or cinnamon work as well.
Last, but not least… salt: to make all the flavors pop!
How to melt the chocolate?
Here are a few simple rules to keep in mind for the best result:
Chop the chocolate into small pieces.
Microwave: melt the chocolate in short steps (10-15 secs) – not in one go – and stir vigorously after each time until smooth.
Water bath: the bowl should not touch the surface of the water.
Don't overheat the chocolate (temperatures should be max 130°F and 55°C).
Never expose melted chocolate to water, the chocolate will seize.
Can cookie dough be frozen?
Yes, you can freeze this cookie dough or, alternately, you can freeze unbaked cookies. Making the cookie dough in this recipe ahead of time and freeze it is a great way to save time during the Christmas rush. When you're ready to bake, just take them out of the freezer and arrange on a baking sheet.
Do you need to chill cookie dough?
Chilling cookie dough prior to baking usually lends itself to crispy, well-shaped and flavored cookies. If time allows, chilling the dough is a good practice and gives better results. But if you're short on time, and you want cookies in 30 minutes, you can skip this step in this recipe. These orange cookies will spread nicely in the oven, and stay soft and chewy for days. The main difference might be a lighter color and a slightly less crispy texture, but the cookies are still delicious.
More easy cookies recipes?
Looking for more Christmas cookies recipes, here you'll find a lovely collection of creative and irresistible cookies! Below a few of my easy cookie recipes that are also perfect all year round:
If you make these chocolate orange cookies, let me know! Leave a comment, rate it or tag a photo #theclevermeal on Instagram. I would love to hear from you!
And for more recipe updates, subscribe my newsletter and follow me on Instagram, Pinterest and Facebook.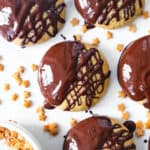 Print Recipe
Easy Chocolate Orange Cookies
These fabulous chocolate orange cookies are made using fresh orange juice and zest and they're dipped in scrumptious dark chocolate for an amazing treat! The cookie dough is SUPER EASY to mix in 1 bowl.Note: originally published in November 2019, the recipe has been tweaked and updated with new photos and notes.
Ingredients
1

large egg

½ cup + 1 Tbsp

(110 grams)

caster sugar

⅓ cup

(80 ml)

light olive oil (or your fav vegetable oil)

3 tablespoons

(45 ml)

orange juice (approx from 1/2 orange)

2

tablespoons

orange zest

1

teaspoon

orange extract (or vanilla extract)

2 ⅓ cup

(290 grams)

all-purpose flour

1

teaspoon

baking soda

1/2

teaspoon

baking powder

1/2 scant

teaspoon

fine salt

1

teaspoon

ground cinnamon

1

teaspoon

ground ginger
Dark chocolate
80 grams

dark chocolate chips or bar (break the bar into small pieces)
Instructions
Whisk egg and sugar together in a medium bowl until the batter has become lighter in color and the sugar is dissolved. Then add the vegetable oil, orange zest, orange juice, orange extract, and mix well.

Mix flour, baking powder, baking soda, salt (½ scant teaspoon, not more), and spices in a bowl until well combined, then stir the dry ingredients into the liquid mixture. Using a spoon or a whisker, mix everything until most of the flour is incorporated, then using your hands gently bring the dough together inside the bowl into a smooth ball. No need to transfer the dough onto a work surface.

Preheat the oven to 350°F/175 °C and place the oven rack in the middle position. Line 2 large baking sheets with parchment paper.

Gently roll each portion of dough between your hands into a smooth round ball (about 1.5 inches in diameter/each ball should be about 26 grams/0.9 oz each). Make sure they all have the same sizes, and place them onto the baking sheets leaving a couple of inches around each cookie. Flatten them with your fingers.

Bake them for about 13-15 minutes until they are barely golden brown on the edges and still soft (in my oven the baking time is 13 minutes). Transfer them onto a wire rack to cool completely.

Melt the chocolate on the stove: fill a medium saucepan with 3cm/1inch of water, place over a medium heat and bring to a very gentle simmer. Place a heatproof bowl on top of the saucepan so that it fits snuggly but doesn't touch the water. Add chocolate to the bowl, then leave to melt for a few minutes. Stir regularly, until smooth and glossy, turn the heart off, then transfer the bowl from the stove to a work surface. For the microwave: melt the chocolate in short steps (10-15 seconds each time) and stir with a spoon after each step. Repeat until it looks melted and smooth. Remember that chocolate seizes easily and fast, don't overheat it. 

Dip the cookies into the melted chocolate halfway and place them on a baking sheet lined with parchment paper, or drizzle the chocolate over if you wish. If you use sprinkles, you want to sprinkle the cookies straightaway while the chocolate decoration is still soft. Place cookies in the refrigerator for a few minutes until chocolate hardens. Ready!
Notes
Chocolate: 80 grams of chocolate is enough to dip your cookies halfway. If you wish to cover your cookies completely, a whole chocolate bar (3.5 oz/100 grams) should be enough. Storage: these orange cookies keep well, stored in an airtight container, for up to 1 week. *Chilling cookie dough prior to baking: it lends itself to crispy cookies. If time allows, chilling the dough is a good practice and gives better results. But you can skip this step in this recipe, the cookies will spread nicely in the oven. Freezing instructions: You can make the cookie dough and chill it in the refrigerator for up to 2-3 days. Allow the dough to come to room temperature then shape the cookies and bake. Unbaked cookie dough freezes well for up to 1 month.