This post may contain affiliate links. Please read my disclosure policy for more details.
Packing an exciting lunch box to keep your kids happy and healthy can be a challenge. That means coming up every day with new healthy lunch box ideas for them to take to school.
Plus, we want healthy and nutritionally balanced meals to look colorful and inviting, right? 
Although my 5 years old is not a fussy eater (I'm so lucky, I know!), packing lunch sometimes can be a real pain in you know what, especially during the Monday-to-Friday morning rush.
WHAT CAN I PUT IN A SCHOOL LUNCH BOX?
CARBS
Pasta, rice, bread, barley, couscous, crackers. Go for whole grains that contain more natural fiber and micronutrients while "white" bread, rice, and pasta are composed of heavily processed wheat grains.
FRUIT
Fresh fruit, any kind. If your kids get bored from pale apple slices in their lunch box, go for delicious and vibrant strawberries, blueberries, mango, kiwi or pineapple. They look stunning, make kids excited and they're high in antioxidants and vitamins.
VEGGIES
Colorful cherry tomatoes or fresh veggies like carrots, peppers or cucumber cut into batons are crunchy, inviting and are loaded with nutrients. If you have time, serve the crudites with homemade dips such as cheese dips or hummus, this is a great way to mix veggies + protein!
PROTEIN
Chicken, meatballs, or fish fingers whatever your kids prefer. Plus, don't forget some great vegetarian options: beans (colorful bean salad, bean patties, mashed beans, hummus) and eggs (hardboiled eggs, omelet, frittata).
DAIRY
dairy foods like milk and cheese are excellent sources of protein and contain valuable calcium.  Kids love milk, yogurt, soft cheese, mozzarella balls, cheddar, you can serve them on their own or add them to salad, pasta, rice and omelet.
To help you plan tasty, healthy packed lunches that your kids will love, I've got these 10 yummy suggestions to get you started.
This kid-friendly pasta salad is packed with lots of fresh veggies. Add some cheese such as little mozzarella balls, cheese cubes or grated parmesan or cheddar, plus a portion of fresh fruit.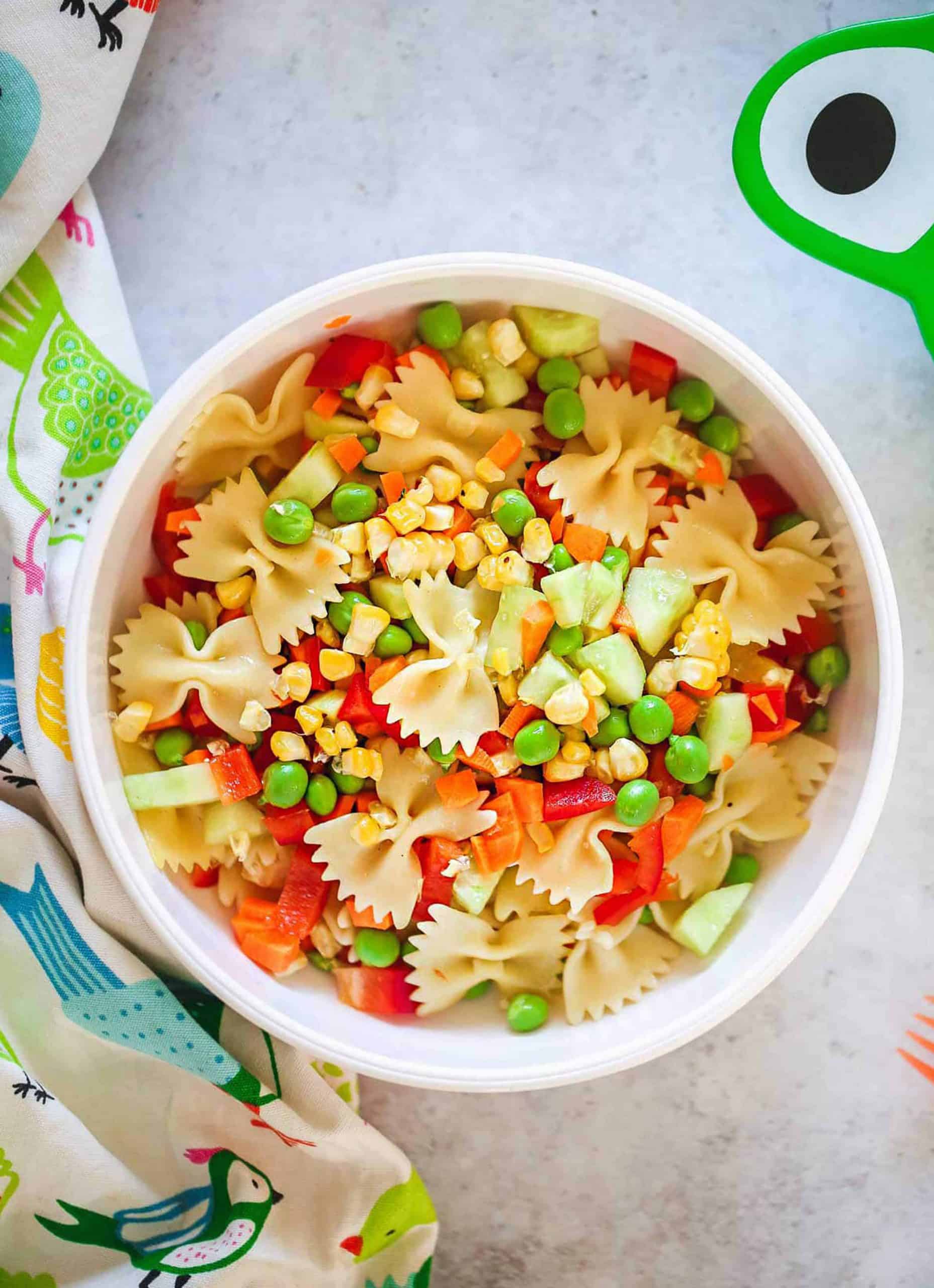 Frittata is a black canvas for vegetables and cheese of your choice. Mix eggs with thawed spinach or grated zucchini. Add cheese such as parmesan, feta, or grated cheddar and bake a yummy and balanced meal loaded with protein.
Don't forget fresh veggies like carrots or cherry tomatoes (but pls cut them into halves to avoid choking!), a small portion of fruit, and some whole-grain crackers or any other bread.
Chose a healthy topping, add vegetables and fruit on the side and make an exciting lunch box that your kids will love!
Cook 1 cup of whole wheat pasta and add cherry tomatoes, olive oil, fresh basil and make a delicious pasta salad.
Plus, add cheese or grilled chicken + fruit. Yummy and perfect for meal prep!
These "meatless" meatballs are made with black beans and make a healthy and cheaper alternative to the regular meatballs. They are soft and flavorsome, delicious with mashed potatoes and a mix of fresh and crunchy veggies.
If you run out of time, this is an example of a healthy snack/lunch box meal prep that contains whole grains, protein, fruits and cheese.
Turkey + cheddar + spinach and make healthy and lovely pinwheels that your kids will love!
Your kids will love these chicken nuggets, don't forget to serve plenty of veggies and fruit on the side.
You can make them ahead of time and freeze them!
I think these healthy lunch box ideas are brilliant, my boy loves them all and I hope your kids will enjoy them too!