This post may contain affiliate links. Please read my disclosure policy for more details.
Delicious cozy cream cheese pasta ready in 10 minutes, anyone? This super easy and cheap pasta recipe makes the perfect midweek last-minute meal.
Comfy and filling, It comes together in a flash, it costs about $ 1.20 per serving and the whole family will love it!
The cream cheese sauce is embarrassingly easy to make, but it turns your plain pasta dish into something good.
Mix garlic-infused olive oil, creamy cheese, savory parmesan, and delicious spaghetti. Then add freshly ground pepper or a good pinch of chili flakes, and an extra drizzle of olive oil to boost the flavor!
This was one of my go-to recipes when I was at uni, and it was so popular with my flatmates!
Easy peasy, but totally satisfying and perfect for your carb cravings, especially when you run out of time or money.
Good things don't get much easier than this!
WHAT YOU NEED FOR THIS RECIPE

Whole grain or regular pasta
Cream cheese
Parmesan cheese
Olive oil
Garlic
Chili flakes (optional)
Salt & pepper
HOW TO MAKE CREAM CHEESE PASTA?
(Full recipe at the bottom of the page)
Cook your pasta until al dente
Saute' garlic in olive oil until fragrant
Add cream cheese, pasta cooking water, parmesan, and stir well
Drain and add pasta to the skillet
Toss until well combined, adding some pasta water if needed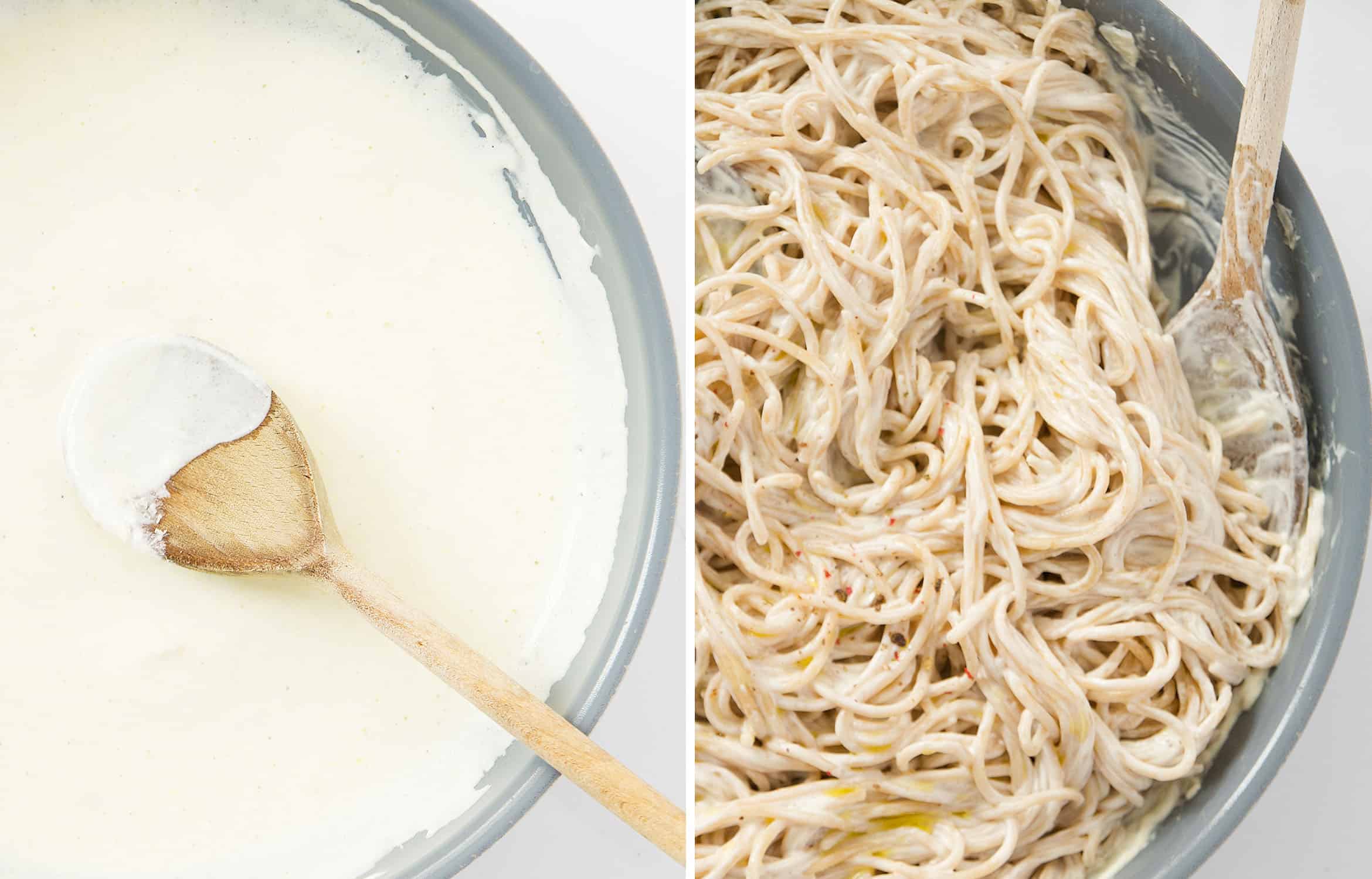 Serve with extra parmesan cheese, black pepper and a good drizzle of olive oil.
Enjoy!
RECIPE NOTES & QUESTIONS
This cream cheese pasta couldn't be easier and cheaper: you need only and a few basic ingredients, 10 minutes of prep time, and approximately $1.20 per servings.
Plus, this is a delicious bowl of whole-grain spaghetti tossed in a cream cheese sauce and drizzled with olive oil.
It's a homemade pasta dish, not canned sauces or canned noodles!
IS PASTA HEALTHY?
YES. Pasta is definitely part of a healthy diet, as long as it's eaten in moderation.
And If you switch to whole-grain pasta you'll get more natural fiber and micronutrients than white pasta.
I love whole grain pasta, and I try to sneak into my meals as much fiber as I can.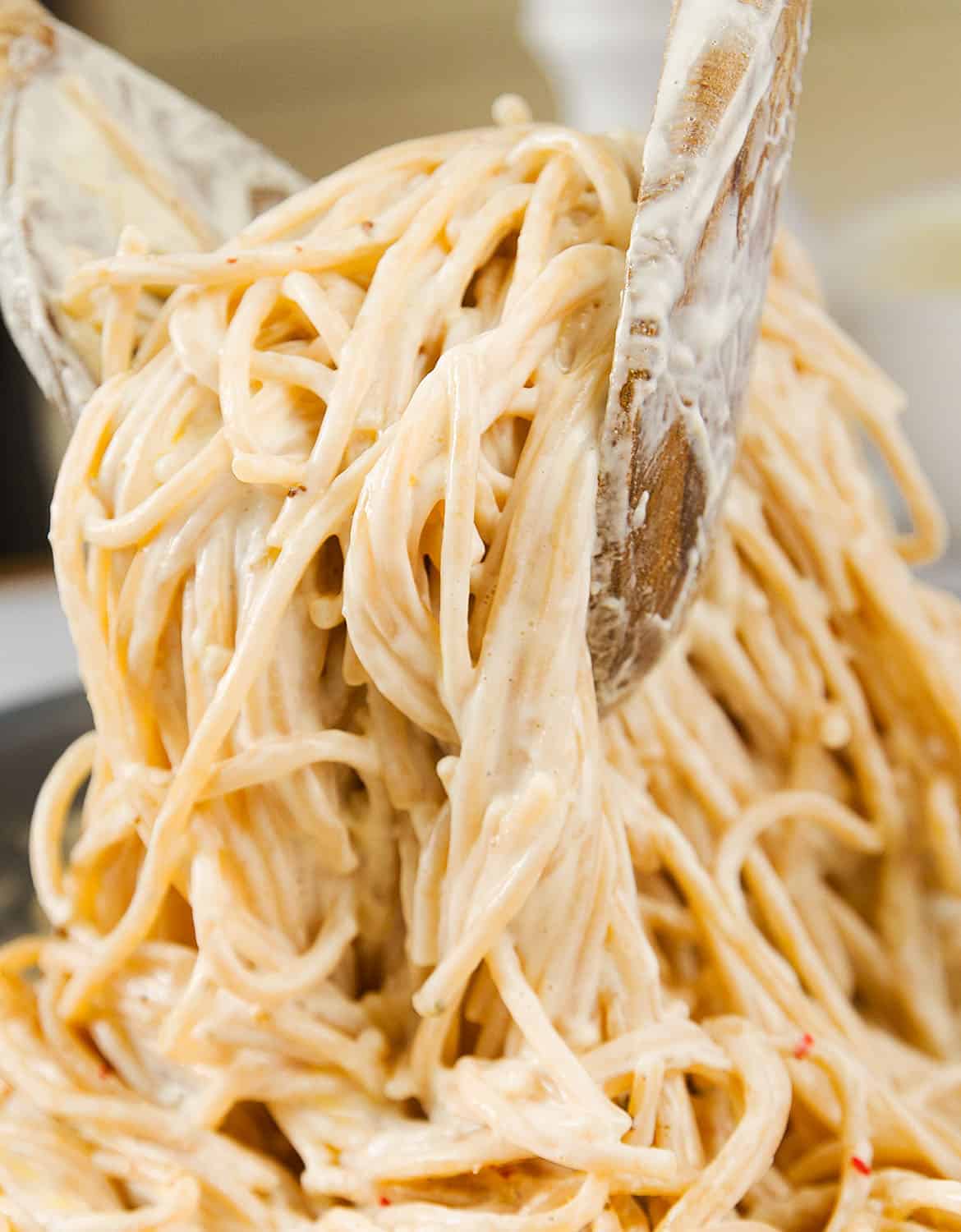 HOW TO MAKE THIS CREAM CHEESE PASTA TASTE SO GOOD?
First things first, ingredients matter.
Pasta
I'm Italian and, needless to say, I grew up eating pasta and I take the whole thing quite seriously ; ).
First things first, pasta brand matters, and when you chose pasta, have a proper look at the label and go for durum wheat semolina pasta, possibly made with brass or bronze dies.
Spaghetti or another short type of pasta like fusilli or penne work very well, but please: cook it until al dente!
Cheese
Yes, cheese helps! Good cream cheese mixed with some savory parmesan makes a delicious and quick sauce for your pasta. It's also important to save some of pasta cooking water which is full of starch and contributes to the creaminess of the final sauce.
Flavor
Gently saute garlic in olive oil over a low flame, so the flavor of the garlic has a chance to infuse the oil.
If you're not feeding children, I would suggest adding a good pinch of chili flakes for a little extra kick. And serve with good olive oil or extra virgin olive oil and freshly ground black pepper!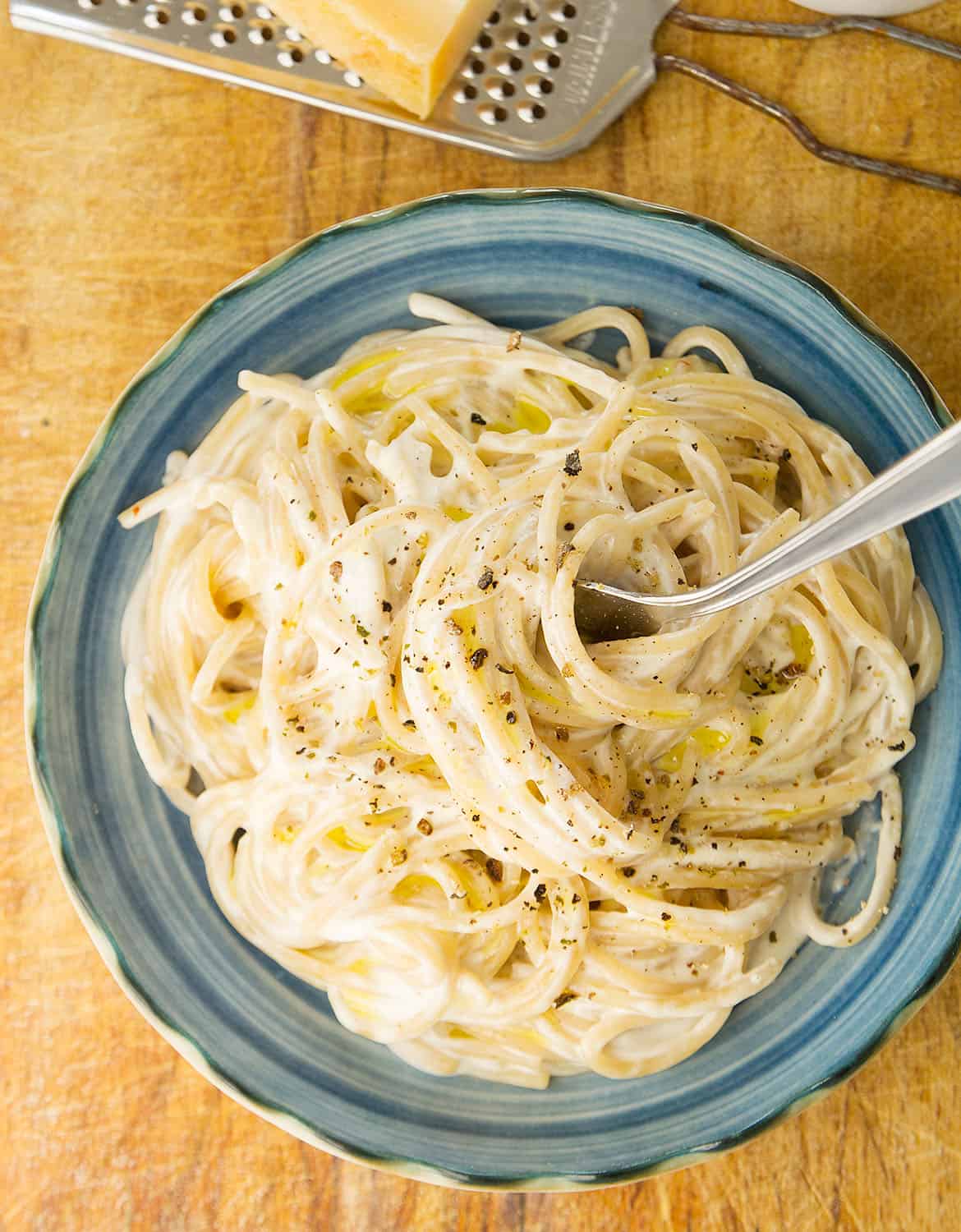 CAN I ADD OTHER INGREDIENTS?
YES, feel free to customize! This is a terrific versatile pasta recipe, which means that you can add your vegetables or protein of choice.
You can add whatever sauteed or roasted veggies such as:
Spinach
Mushrooms
Asparagus
Zucchini
Peppers
Peas
Or you simply can add fresh raw ingredients that work so well alongside the cheesy pasta and make a lovely and balanced meal:
Arugula
Basil
Cherry tomatoes
If you fancy a not vegetarian option, you can add:
Ham
Grilled chicken breast
Grilled or smoked salmon
Prawns
Bacon
Sausage
Sometimes, I add chopped sun-dried tomatoes, olives, and artichokes for a Mediterranean-inspired flavor.
Yes, the sky is the limit!
WHAT TO SERVE WITH THIS CREAM CHEESE PASTA?
You can make a super fast and refreshing vegan salad like an Italian tomato and cucumber salad or a protein-packed Mediterranean tomato, bean and tuna salad.
If you enjoy this super quick yummy cream cheese pasta, be sure to check these 10-minute pasta recipes:
If you make this recipe or if you have a question, let me know! Leave a comment or rate it : )
I would love to hear from you! x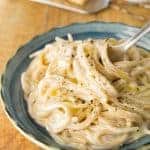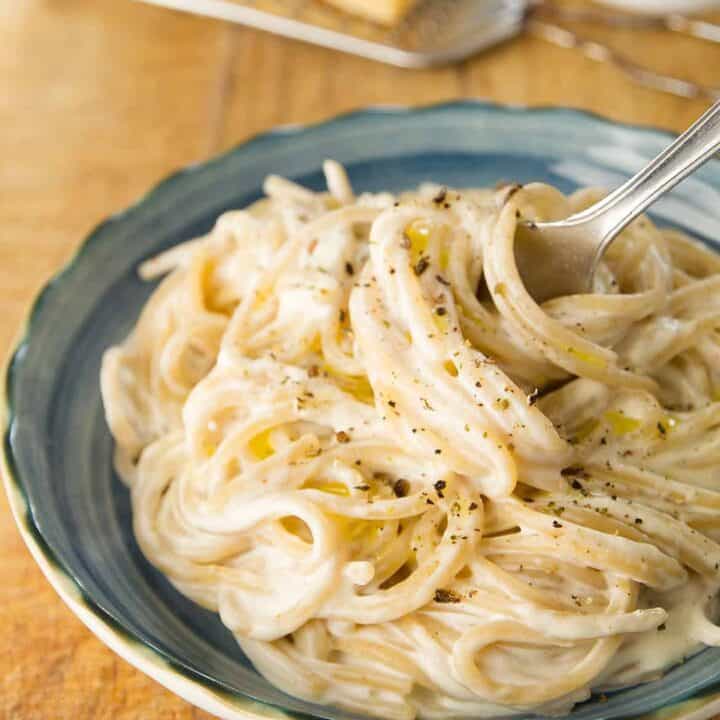 Print Recipe
10-MINUTE CREAM CHEESE PASTA
This is the creamy, filling and cozy cream cheese pasta makes everybody happy, perfect for any midweek carb cravings. Plus, it's budget-friendly and ready in a flash!
Servings: 2-3
Ingredients
1/2 lb

(225 grams)

pasta (spaghetti, penne, fusilli...)

3/4 cup

(160 grams) cream cheese*

1/4 cup

(30 grams) grated parmesan, plus more to serve

1

Tbsp

olive oil, plus more to serve

1-2

garlic cloves, minced or pressed

1/2 cup

(120 ml) cooking water, plus more if needed
salt and pepper, to taste

1/4-1/2

tsp

chili flakes, or according to taste

(optional)
Instructions
In a large pot of boiling salted water, cook pasta according to package directions until al dente.

Right before draining, reserve a cup of starchy pasta water.

Meanwhile, in a large skillet warm 1 Tbsp of olive oil and gently fry the garlic (plus a good pinch of chili flakes if you like) for 2-3 minutes. Use a low flame, do not let the garlic burn.

Then stir the cream cheese and about 1/2 cup of starchy pasta water. Stir to combine oil, cream cheese, water and create a nice and creamy emulsion. Add parmesan cheese and stir well. Your pasta sauce is ready.

Drain and add your pasta to the skillet. Stir well to evenly coat the pasta in the sauce, add more cooking water as needed for a smooth and creamy consistency.

Serve immediately with a drizzle of good olive oil or extra virgin olive oil, freshly grated parmesan, and freshly ground black pepper (if you don't use chili flakes). Enjoy!
Notes
QUANTITIES: the recipe makes 2 large servings or 3 smallish servings. CREAM CHEESE: I use cream cheese in the tub, Philadelphia to be more precise. SEASONING: the cooking pasta water contains salt,  so you're not supposed to add any salt to the cream cheese. However, you might want to taste the cream cheese anyway and adjust to your taste. PASTA SHAPE: I love spaghetti, but any pasta will work just fine, short, long, normal or fancy. Use dried not fresh pasta. PARMESAN:   finely grate your own parmesan, but don't use store-bought sandy parmesan, it will not melt. LEFTOVER: it keeps for a couple of days in the fridge. Add a tiny splash of water to loosen up the sauce if needed and reheat it on the stove or in the microwave. Note: I would advise to reheat only a short type of pasta like penne or fusilli rather than spaghetti.