This post may contain affiliate links. Please read my disclosure policy for more details.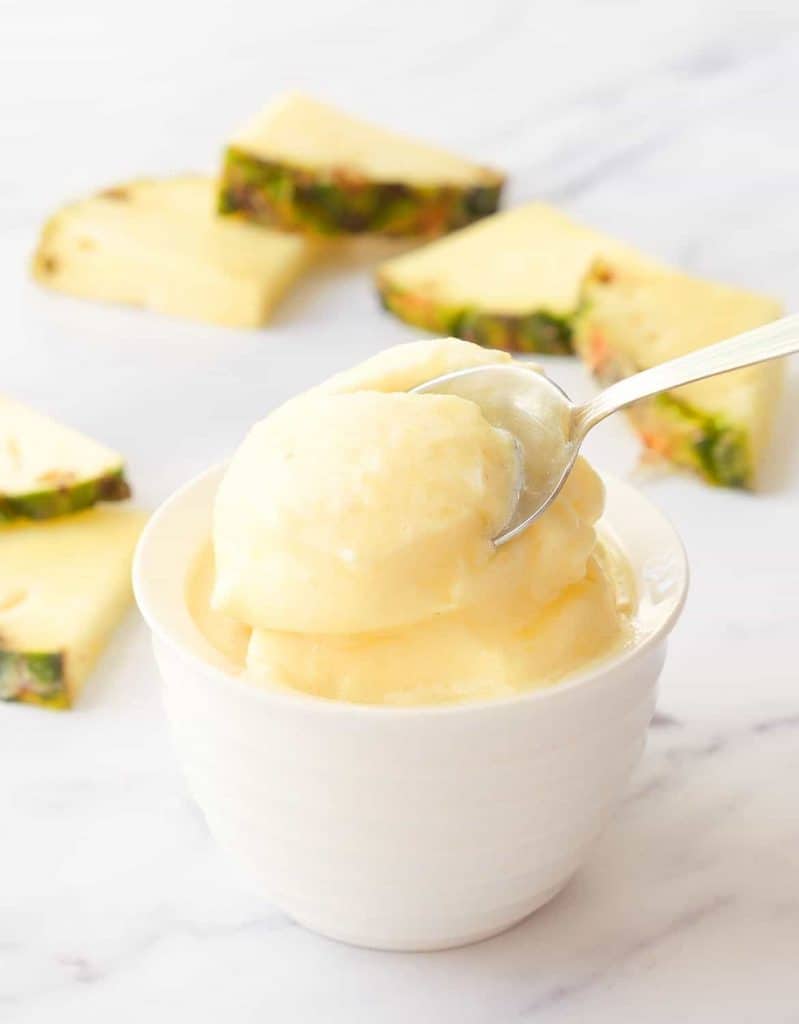 A refreshing, light, and super easy pineapple sorbet, anyone? This is the easiest recipe ever, embarrassingly easy, and has only 3 ingredients: pineapple, a little bit of sugar and water.
But wait, there's more!
It tastes delicious, it costs less than $1 per portion and it's no dairy, vegan, easy, low calories, and low fat.
And if you prefer to save yourself the hassle of peeling a fresh pineapple, or if you don't find a good bargain at your supermarket, go for canned pineapple.
Canned pineapple works just fine in this recipe, ready in seconds and you can use the canned juice as well.
There's also an added bonus: no ice cream maker needed, but only a blender or a food processor.
WHAT INGREDIENTS YOU NEED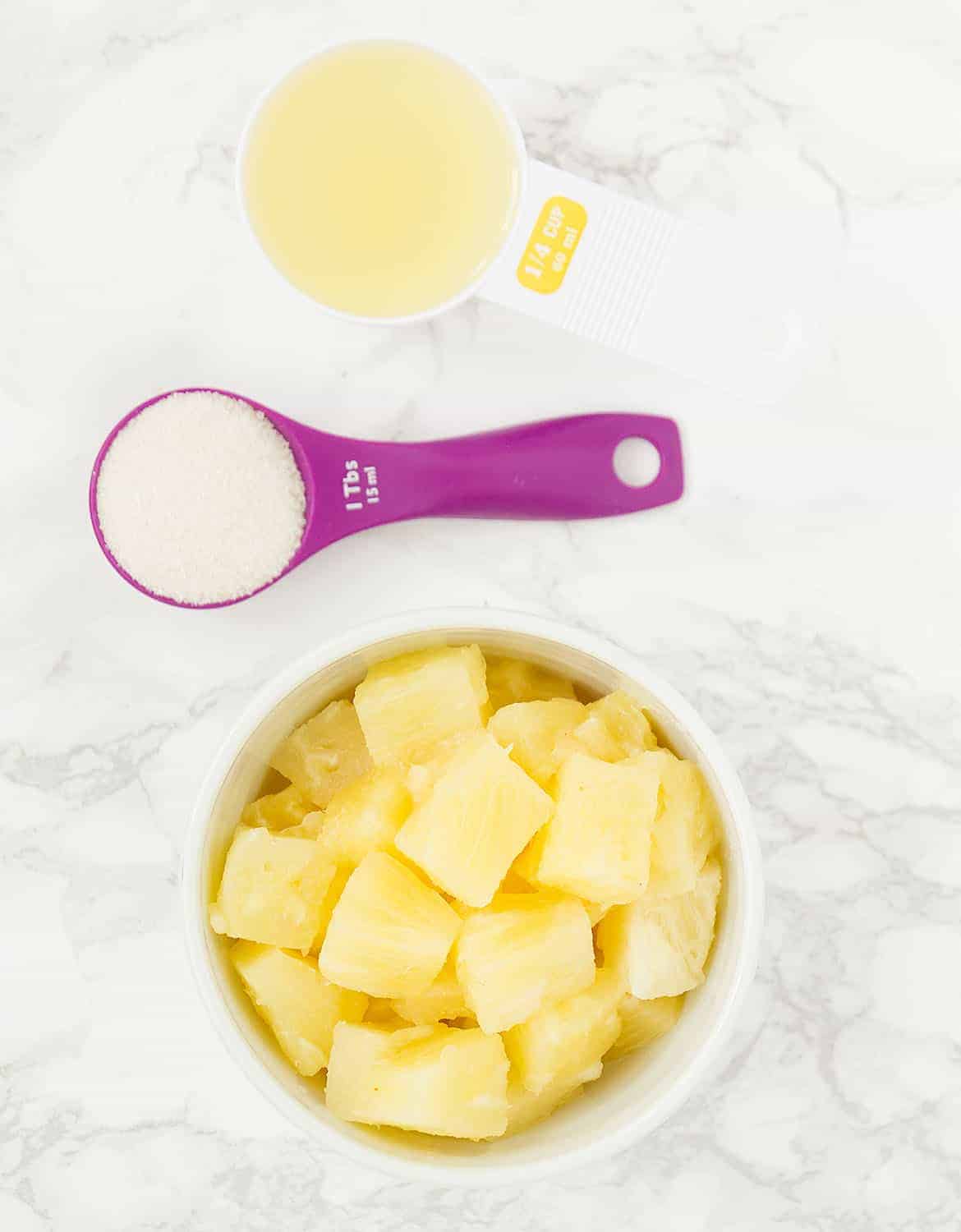 HOW TO MAKE IT
It couldn't be easier…
Freeze the pineapple chunks overnight or for at least 4 hours
Place frozen pineapple, water, and sugar into a powerful food processor (mine is 12 cups, perfect size for a family of 4!).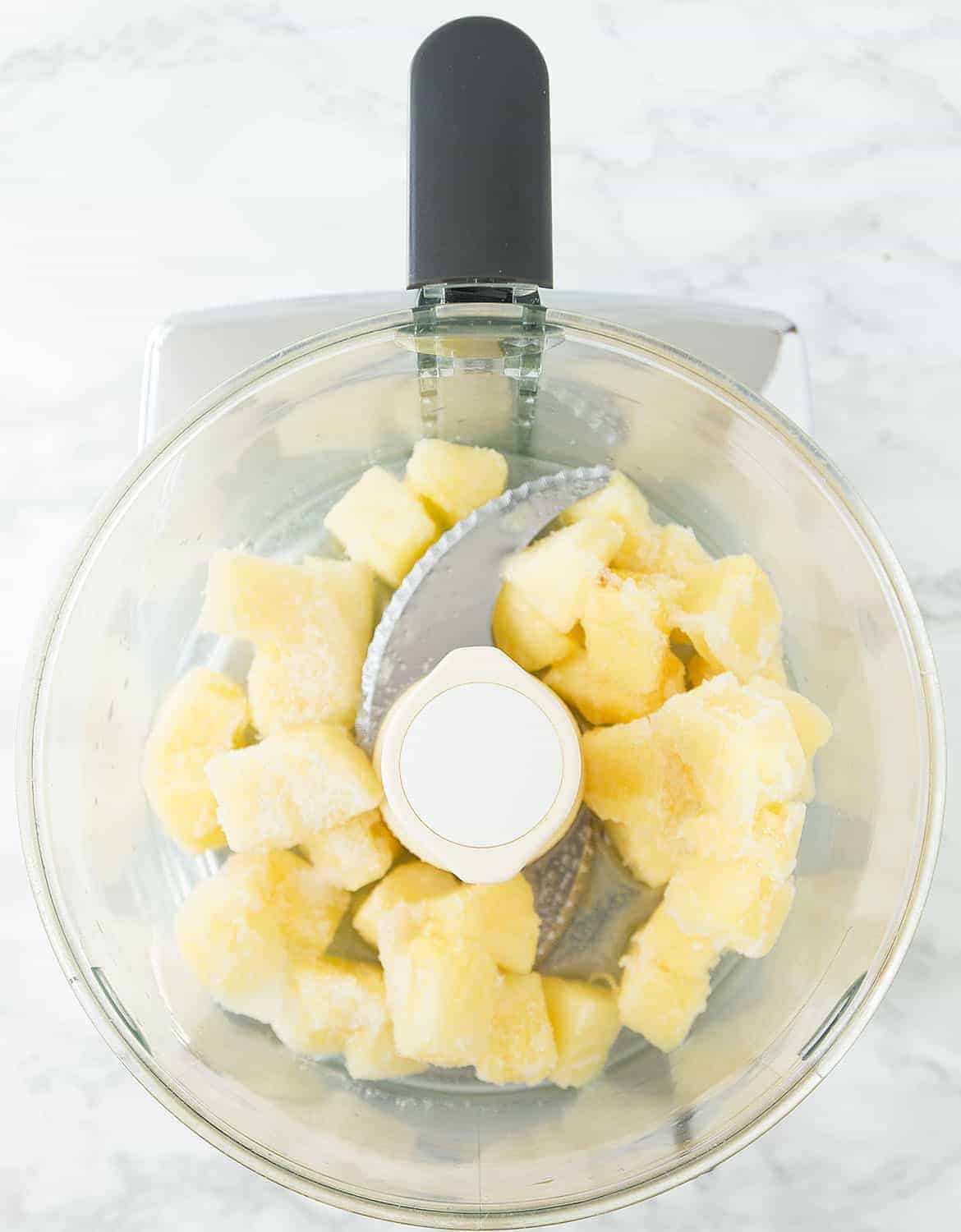 Blend frozen pineapple, sugar and water (or pineapple juice)
Serve immediately and enjoy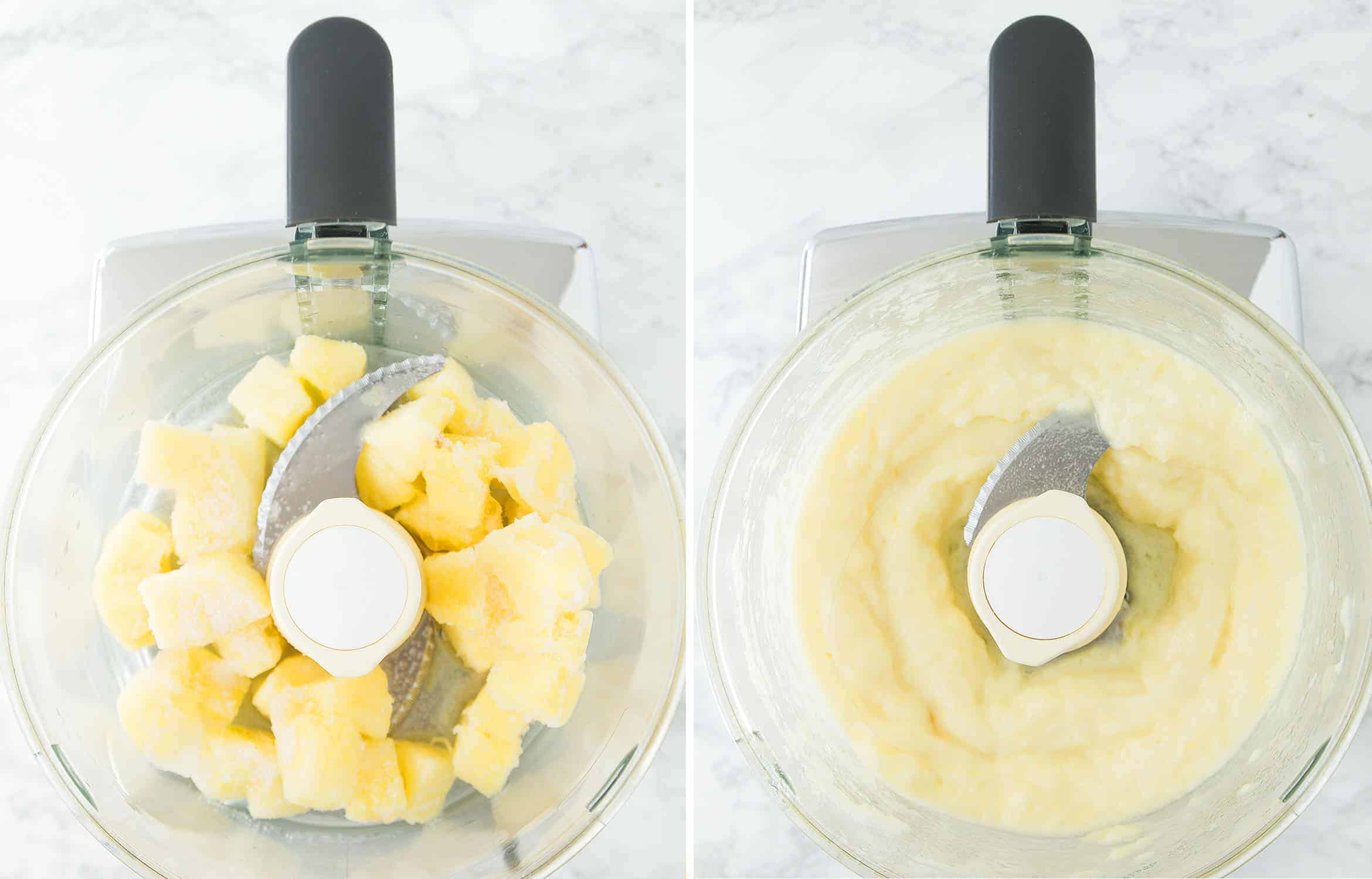 RECIPE NOTES & QUESTIONS
Making homemade pineapple sorbet is a great way to save money, but savor fresh, delicious and healthy desserts ready in no time, perfect to impress your friends or your kids.
Bonus? This refreshing, healthy and budget-friendly pineapple sorbet is ready in less than 5 minutes!
FRESH OR CANNED PINEAPPLE?
The calories, carbs, and sugar in canned pineapple are a bit higher than in fresh pineapple because the canned fruit is typically packed in fruit juice. One cup of fresh pineapple chunks has 82 calories while one cup of drained, canned pineapple chunks has 109 calories.
However, the canning does not deteriorate the nutritional composition of pineapple except vitamin C, all the components of canned pineapple are almost similar.
If you go for canned pineapple, choose only unsweetened pineapple chunks or pineapple chunks canned in 100-percent fruit juice, healthier than the heavy syrup options, loaded with sugar and calories.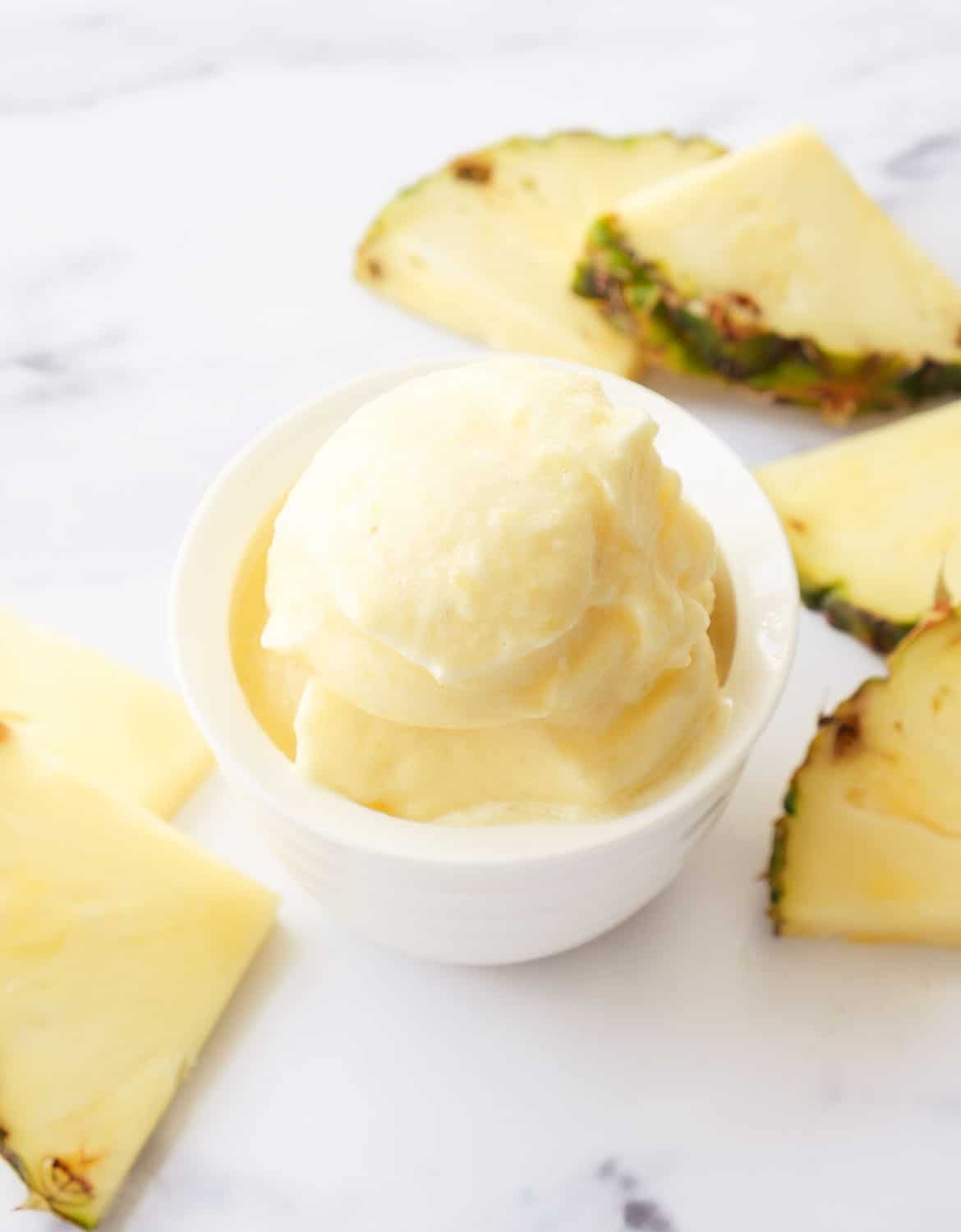 HOW TO CHOOSE A PINEAPPLE?
Choose a sweet and ripe pineapple paying attention to three elements: color, feel, and smell.
As a general rule, you want a pineapple that is golden-yellow from top to bottom and when you squeeze it, it has to feel slightly soft. Once color and feel are ok, smell the bottom. If the bottom smells sweet and fruity, that's the one.
FRESH OR CANNED PINEAPPLE FOR THIS SORBET?
I did a little research (have a look above) and I discovered that canned pineapple is slightly higher in sugar and calories and lower in vitamin C than its fresh counterpart.
I love fresh and sweet pineapple and I usually make my fruit salad and sorbet only using fresh fruit. However, I tried to make this sorbet with canned pineapple a few times and it turned out to be delicious.
It's easy, totally fuss-free, and perfect when you feel lazy and want sorbet only for two. Choose only good and unsweetened pineapple chunks or pineapple chunks canned in 100-percent fruit juice.
SUGAR
This pineapple sorbet is naturally sweet and adding only a tiny amount of sugar makes it delicious and delicate, not oversweet.
I used a little amount of unrefined cane sugar, less processed than white sugar, but feel free to add a bit more if you've got a sweet tooth ; )
If you love healthy fruit desserts you might have a look at these easy recipes:
If you make this recipe, let me know! Leave a comment, rate it or tag a photo #theclevermeal on Instagram. I would love to hear from you!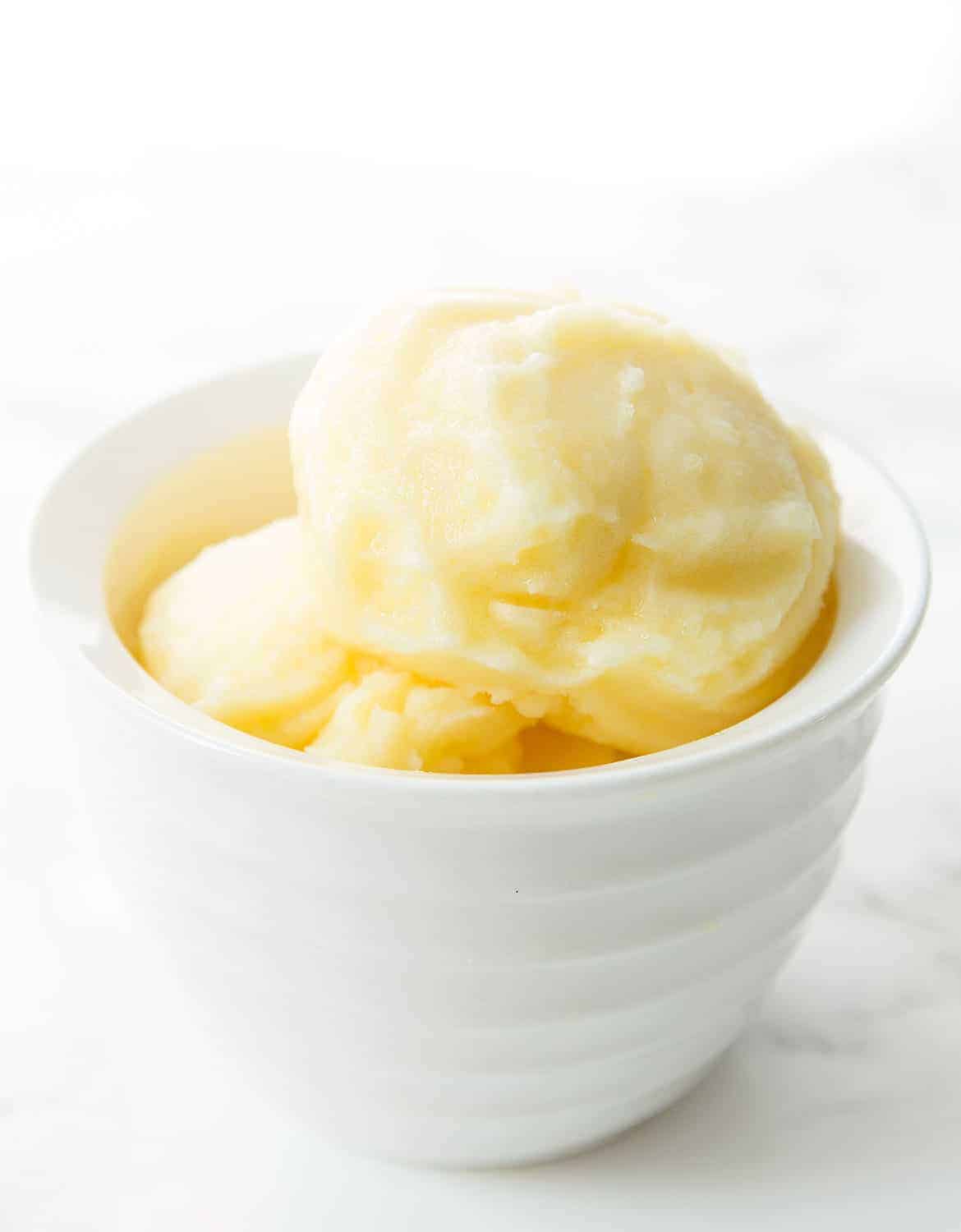 Print Recipe
Easy pineapple sorbet
This refreshing light pineapple sorbet is embarrassingly easy to make with only 3 ingredients: pineapple, a little bit of sugar and water (or canned pineapple juice). You can save yourself the hassle of peeling a fresh pineapple, simply using canned pineapple (as I did!). 
Ingredients
1 1/2

cup

fresh or 1 can (15 oz)unsweetened pineapple chunks

1/4

cup

water or unsweetened pineapple juice

1

Tbsp

unrefined cane sugar (or white sugar or honey)
Instructions
Peel, core and cut pineapple in chunks if you use fresh pineapple or drain well 1 can (15 oz) of pineapple chunks, reserving the canned juice.

Place pineapple chunks in a zippered bag and freeze overnight or for at least 4 hours.

Place the frozen pineapple in a food processor or in a blender, add sugar and juice or water. If you use fresh pineapple and if it turns out to be not as sweet as you expected, add 2 Tbsp of sugar rather than 1.

Blend until smooth, but not liquified. If you like a soft sorbet, serve immediately, but If you like a firmer sorbet, chill the pineapple mixture in the refrigerator for at least one hour. Enjoy!
Notes
Storage: store in an airtight container, preferably metal or glass. It keeps in the freezer for about 3 weeks. 
Note:
the nutritional values are only estimates for 1 serving. They are provided by an online nutrition calculator and they should not be considered as a substitute for a nutritionist's advice.
Nutrition
Calories:
144
kcal
|
Carbohydrates:
37
g
|
Protein:
1
g
|
Fat:
1
g
|
Saturated Fat:
1
g
|
Sodium:
3
mg
|
Potassium:
268
mg
|
Fiber:
3
g
|
Sugar:
30
g
|
Vitamin A:
122
IU
|
Vitamin C:
103
mg
|
Calcium:
27
mg
|
Iron:
1
mg