This post may contain affiliate links. Please read my disclosure policy for more details.
Simple, elegant, and delicious, this celery salad with parmesan makes a refreshing, semi-sweet salad or side that is perfect to impress and ready in less than 15 minutes.
It's also healthy, light, and looks so festive!
I've been making this simple yet delightful celery salad for several years. It requires minimal prep time, it tastes so fresh and looks absolutely amazing on the table.
It's a salad that is elegant enough for a special occasion meal, but it's so easy to make for everyday dinners and lunches too.

I love how this recipe celebrates the crispy, crunchy, wonderful celery.
Not only is the low-calorie vegetable economical and available year-round, but it's also packed with vitamins, fiber and antioxidants.
Although the juicy and bright pomegranate arils look stunning, the real star of the show in this salad is the combination of crisp celery and nutty parmesan cheese tossed with a tangy lemon dressing.
It's juicy, it's crispy and it's full of flavor. Everyone loves it.
If you are looking for a light yet delicious salad to add your holiday menu, you've just found it!
List of the ingredients
Celery
Pomegranate arils (optional)
Pear or apple
Shaved Parmesan cheese
Lemon
Extra virgin olive oil
Honey
Salt & pepper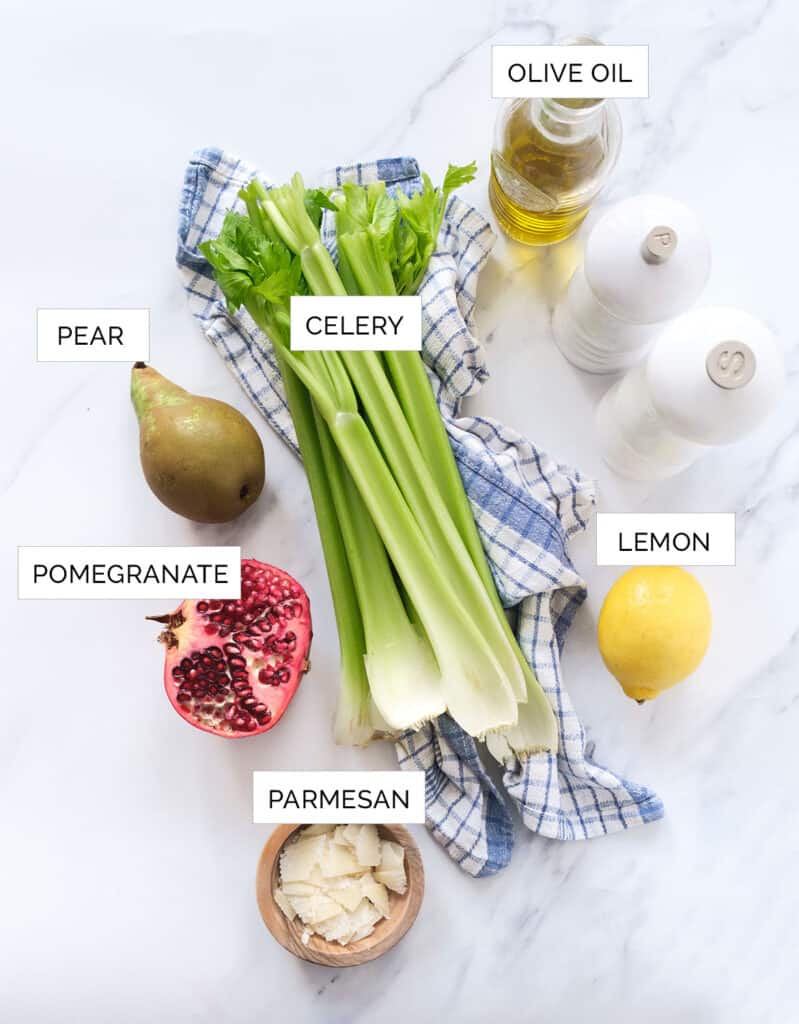 How to make this celery salad recipe
(Note: this is a quick description, the full recipe is at the bottom of the page)
Slice celery and pear. Prepping the ingredients involves a bit of slicing, but using a handy mandoline saves so much time!
Shave the parmesan cheese.
Add the sliced ingredients to a salad bowl with part of the shaved parmesan.
Place the dressing ingredients into a glass jar with lid and shake.
Pour the dressing over the salad and toss gently.
Garnish with the pomegranate arils and the rest of the shaved parmesan.
Ready to serve!
Recipe notes
Celery salad ingredients
Celery: use a bunch of celery with crisp, firm, bright stalks. The ribs should be straight and rigid with fresh and bright green leaves.
Parmesan cheese: it adds a delicious umami flavor and offers a rich, salty contrast to the aromatic celery and sweet pear.
Extra virgin olive oil: it's the best vegetable oil for flavor, nutrition and gives the dressing body and richness.
Fresh lemon juicy: zippy and bright, perfect with celery and parmesan. But you can use apple cider vinegar instead of fresh lemon.
Honey: it brings extra sweetness and texture to the dressing and creates a lovely contrast with the salty parmesan.
Pear: a sweet, juicy pear makes this salad extra special, but an apple would work too.
Pomegranate arils (optional): they look super lovely and taste fresh. Otherwise dried cranberries, with their chewy texture and bright color, also make a perfect festive garnish. But I leave them both totally optional.
Nuts: I didn't include any nuts in this recipe, but you're welcome to garnish this salad with toasted almonds, pecans, or walnuts to add extra texture.
Salt and pepper: make sure to adjust the seasoning to your taste.
How long does this celery salad keep?
Celery salad leftovers keep well in the fridge for about 1 day. Before serving, pour off some of the excess liquid. And if you added sliced pear, keep in mind that the slices will eventually brown and look less appetizing. It's just a natural oxidation process.
Make it ahead
If you plan to make this salad ahead for a dinner party, store sliced celery in a separate container, and add shaved parmesan, sliced pear, dressing, and arils when it's time to serve.
More easy yet impressive salads
If you make this festive celery salad, let me know! Leave a comment, rate it or tag a photo #theclevermeal on Instagram. I would love to hear from you!
Print Recipe
Celery salad with parmesan
Impress for less with this healthy and refreshing celery salad, it makes a glamorous starter to any dinner party and it's ready in less than 15 minutes.Note: originally published in November 2019, the recipe has been tweaked and updated with new photos and notes.
Ingredients
8

long celery stalks, thinly sliced

1

pear or apple, thinly sliced

¼-½

pomegranate, arils (optional)

⅓

cup

shaved Parmesan
Dressing
2

tablespoon

extra virgin olive oil, plus more fro drizzling if you wish

1

tablespoon

lemon juice

1

teaspoon

honey

¼ heaped

teaspoon

fine salt,  plus more to taste

⅛

teaspoon

black pepper,  plus more to taste
Instructions
Separate the celery ribs, trim the stalks, but keep the most tender celery leaves. Wash and pat them dry, then finely chop the leaves, and slice the celery ribs into 1/4 inch thick pieces. Add everything to a large salad bowl.

Wash and cut the pear or the apple into two halves, remove the core, and slice each half into 1/4 inch thick pieces. Add to the salad bowl.

If you don't use store-bought shaved parmesan cheese, you can do it yourself by finely slicing the with a peeler or a serrated knife. Add half of it to the salad bowl and keep the rest to garnish the salad before serving.

Remove the arils from half pomegranade. To reduce the mess, I suggest you do to remove the arils while keeping the pomegranate submerged into a bowl full of water. Pat dry the arils and set aside.

Place the dressing ingredients into a jar with a lid (I start with 1/4 heaped tsp of salt) and shake well until emulsified. Pour the dressing over the salad, toss gently. Taste and adjust the seasoning to your taste.

Top with the pomegranate arils and the reserved shaved parmesan cheese. The quantity of arils depend on the size of the serving plate of bowl (trust your judgment).

Serve the celery salad straight away at room temperature.
Notes
STORAGE: this salad keeps well, covered and chilled, for about 1 day (before serving, pour off some of the excess liquid). But if f you plan to make this salad ahead, I would suggest you to store sliced celery in a separate container. Then add pomegranate arils, parmesan, and dressing when ready to serve.