This post may contain affiliate links. Please read my disclosure policy for more details.
I love this zesty lemon ricotta pasta with spinach, it makes a delish weeknight meal ready in less than 15 minutes. Simple, fresh ingredients, delicious flavor, and minimal effort.
This no-cook sauce is one of my go-to recipes from when I was at uni and can be made in no time. Mix creamy ricotta, parmesan cheese, garlic, extra virgin olive oil, and refreshing lemon. Your pasta sauce is ready.
Easy peasy, economical, perfect for your carb cravings and so good.
If you're a big fan of lemons like me, you'll love how their juice and zest transform a simple dish into something that tastes pure sunshine. And what about the creamy ricotta? I love it, especially when I used to buy fresh ricotta from the cheese counter in Italy (ahhh distant memories!)
To make this easy pasta dish healthier and more filling, don't forget to add your greens. You could swap spinach for other delicious vegetables, or even protein like grilled chicken or salmon.  The sky is the limit!
Watch how to make it
What ingredients you need
Pasta
Ricotta
Parmesan cheese
Baby spinach
Lemon
Extra virgin olive oil
Garlic
Salt and pepper
Combine ricotta, parmesan, extra virgin olive oil, garlic, lemon zest, salt and pepper
Mix well, taste and make sure you're happy with the seasoning
Meanwhile, cook your pasta until al dente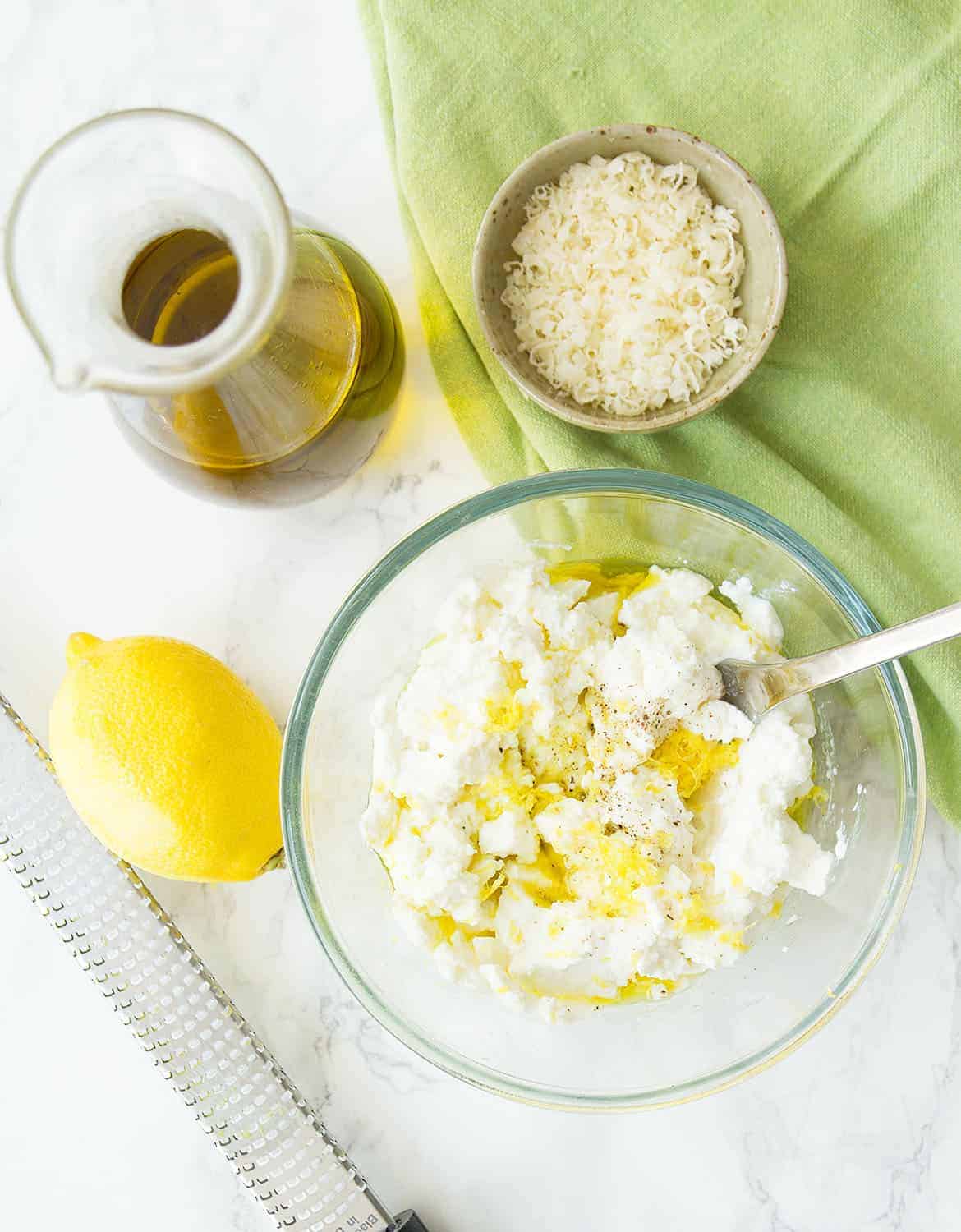 Reserve some pasta cooking water
Add spinach to the pot and cook for 1 minute
Drain pasta and spinach and return to the pot
Add the ricotta sauce, the cooking water, and stir well
Serve with a drizzle of olive oil,  freshly grated Parmesan cheese, and lemon wedges (optional)
Enjoy… Buon appetito! 
Recipe notes & tips
If you fancy fresh and creamy spaghetti ready in no time, inexpensive, and kids approved, this recipe is for you!
Plus, if you go for whole grain pasta you'll get more natural fiber and micronutrients than white pasta. Whole-grain is the healthier option also when it comes to a bowl of spaghetti, and makes you feel fuller longer which is a great bonus. We love it and we consume it nearly on a regular basis.
HOW TO ADD SPINACH TO PASTA?
Blanched (quickly boiled) spinach works fine in this recipe, and cooking spinach and pasta all in one pot saves time and washing up.  However, make sure not to overcook it, which will result in the loss of nutrients, flavor, and green color.
Recipe updated: originally posted in July 2019, I've tweaked the post adding more notes and new pictures.
SUBSTITUTIONS
What about adding a twist? This terrific recipe is so versatile, feel free to add more vegetables or even protein of your choice. Here are a few variations that taste delicious along with the lemon and ricotta combo.
Add them to the pot when you stir in the ricotta mixture. 
Sauteed or grilled vegetables: asparagus, peas, zucchini, artichokes
Arugula, basil, chives
Cherry tomatoes or chopped sun-dried tomatoes
Grilled chicken
Grilled or smoked salmon
MORE EASY PASTA DISHES READY IN 15 MINUTES OR LESS?
If you make this vibrant lemon ricotta pasta with spinach, leave a comment, rate it, or tag a photo #theclevermeal on Instagram.
I would love to hear from you!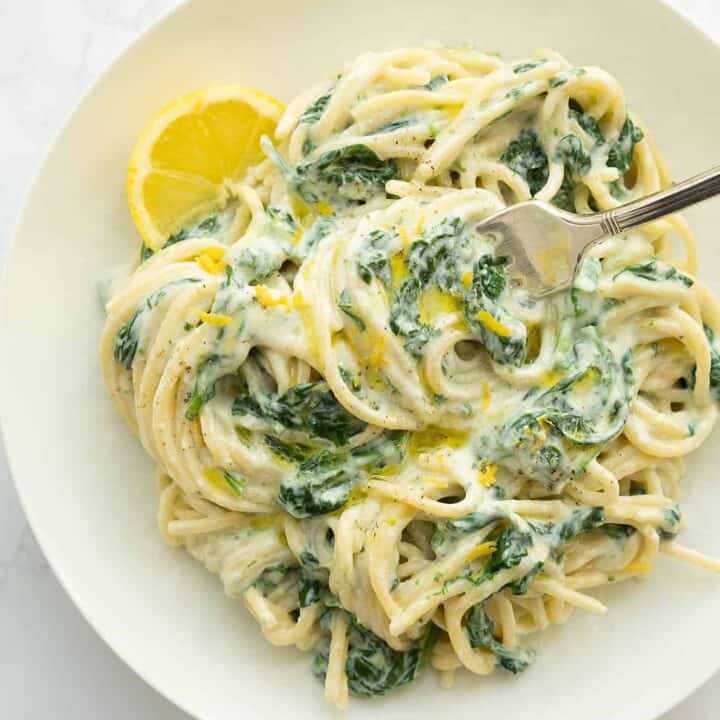 Print Recipe
Lemon ricotta pasta & spinach
This light and zesty lemon ricotta pasta with spinach makes a delish weeknight meal ready in less than 15 minutes. Simple, fresh ingredients, delicious flavor, and minimal effort.
Ingredients
1/2 lb

(8oz/220 grams) pasta (spaghetti, linguine, penne, fusilli...)

1 cup

(9oz/250 grams)

whole-milk ricotta

8 oz

(230 grams) fresh baby spinach, washed

1/3 cup

(35 grams) grated Parmesan cheese, plus extra to serve

1

unwaxed lemon, zest and juice

3

lemon wedges, to serve (optional)

1

Tbsp

extra virgin olive oil, plus extra for drizzling

1

garlic clove, grated or pressed
salt and black pepper, to taste
Instructions
In a large pot of boiling salted water, cook pasta according to package directions until al dente. Meanwhile, make the ricotta sauce.

In a medium bowl, combine ricotta, olive oil, parmesan cheese, garlic, lemon zest and juice. Season with 1/4 tsp of salt and a good pinch of pepper.

Stir until well combined, taste and make sure you're happy with the seasoning.

In the last minute of the pasta's cooking time, reserve 1/2 cup of the cooking water, then and add spinach to the pot. Stir well and push the leaves down to submerge them in water.

After 1 minute, drain and return pasta and spinach to the same pot.

Add the ricotta sauce and part of the reserved cooking water. Stir well to evenly coat the pasta in the sauce, add more cooking water as needed, you want a smooth and creamy texture.

Serve immediately and garnish with grated or shaved Parmesan cheese, a drizzle of extra virgin olive oil and lemon wedges if desired (for extra freshly squeezed juice, but I leave it optional). Plus, I love adding a good pinch of red pepper flakes, you might give it a go. Enjoy!
Notes
Cooking water: add pasta water gradually, you might not need all of it. You don't want to water down the flavor, but only make spaghetti nice and moist. If you think the reserved water is not enough, you might add a few Tbsps of milk. Pasta: you can use any short, large or long pasta shapes that work well to capture the creamy ricotta. I love spaghetti, but penne, fusilli, conchiglie work fine. Mini pasta shapes like orzo or even elbow macaroni don't work well in the recipe. NOTE: Nutritional values are estimates only.
Nutrition
Calories:
538
kcal
|
Carbohydrates:
64
g
|
Protein:
26
g
|
Fat:
20
g
|
Saturated Fat:
10
g
|
Cholesterol:
53
mg
|
Sodium:
314
mg
|
Potassium:
743
mg
|
Fiber:
5
g
|
Sugar:
4
g
|
Vitamin A:
7661
IU
|
Vitamin C:
41
mg
|
Calcium:
403
mg
|
Iron:
4
mg